Bitcoin (BTC) Morning Update: A Small Correction to Complete Head & Shoulders..And an Intro to New Technique! Find out more in this Analysis!

SUMMARY
Bitcoin overnight action adhered to projection. The below chart now provides a forward discernment for the price pathway. The Yellow line is the Neck Line of the Head & Shoulders Bottom pattern. The Left Shoulder and Head formations are complete and so a small correction now will complete not only the Right Shoulder but also the Elliott Wave blue circled 4. This will most likely be a three wave type of correction but it could also be a bit more lateral and complex w,x,y type.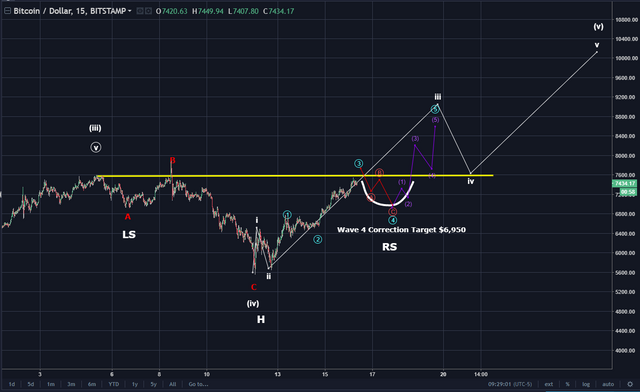 The volume also confirms the Head & Shoulders pattern. This is bullish. This pattern must accomplish two stages: Completion of Pattern and Confirmation. The completion will be when the Right Shoulder completes and Confirmation will be when the Neck Line is breached decisively.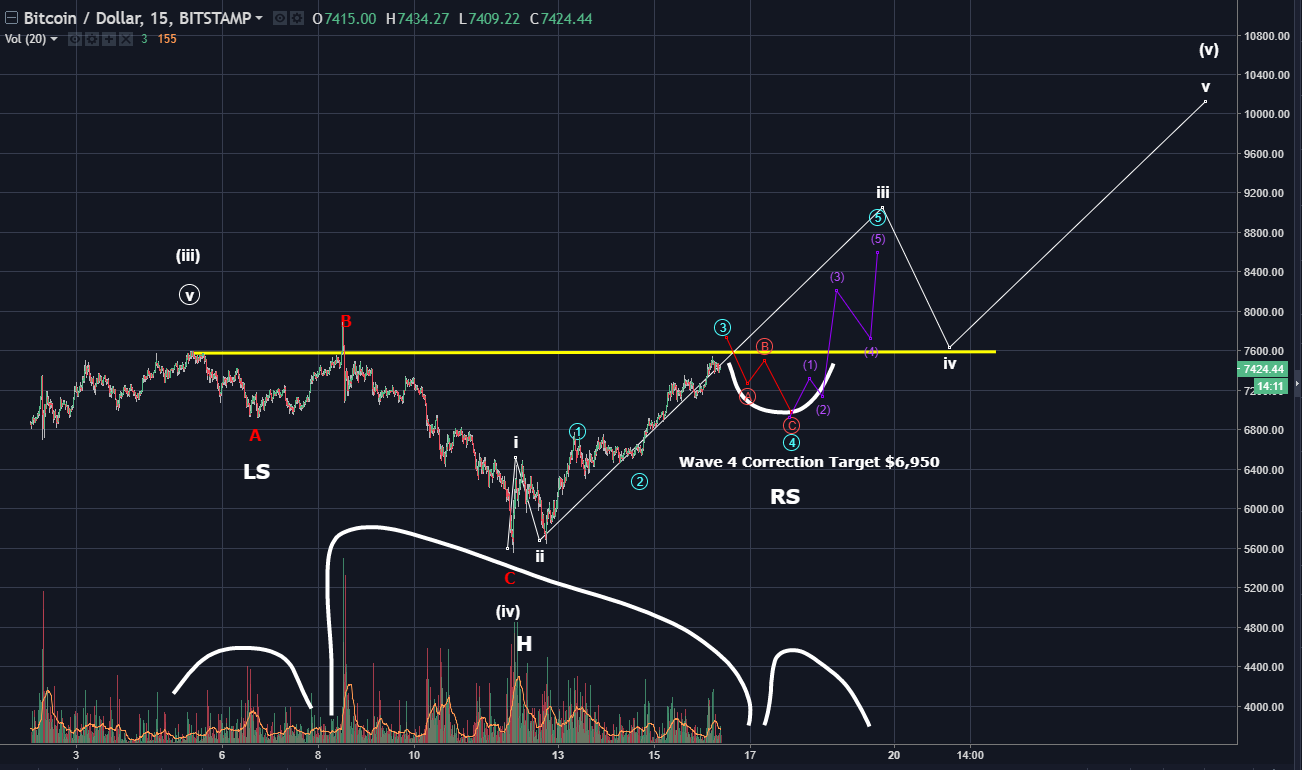 One aspect to consistently consider is on the buyer/seller perspectives at each price stage. Note the yellow Neck Line from the leftmost side. This was a resistance that had repelled the price now about four times. This means there were a goodly number of sellers at this price level and hence a formidable resistance such that it repelled prices back down to $5,500. Now look to the rightmost side. Just recently, the Neck Line was touched by the price and most likely it'll repel it to complete the Right Shoulder. However, note that each time a resistance is hit, it weakens. This means the number of sellers dwindle with each hit and repel. Therefore, I believe this Neck Line resistance, once formidable last week; it's now very weakened and so expected to be breached this week. So, consider trying to position the buyer/seller perspective for each chart pattern and Elliott Waves. I will be including this perspective going forward.
Please consider reviewing these Tutorials on:
Elliott Wave Counting Tutorial #1
Elliott Wave Counting Tutorial #2
Laddering and Buy/Sell Setups.
Laddering Example with EOS
Tutorial on the use of Fibonacci & Elliott Waves
These Technical Analysis Books: Elliott Wave Priniciple & Technical Analysis of Stock Trends are highly recommended
Follow me on Twitter for Real Time Alerts!!
--
--


If this blog post has entertained or helped you to profit, please follow, upvote, resteem and/or consider buying me a beer:
BTS Wallet - haejin1970
BTC Wallet - 15ugC4U4k3qsxEXT5YF7ukz3pjtnw2im8B
ETH Wallet - 0x1Ab87962dD59BBfFe33819772C950F0B38554030
LTC Wallet - LecCNCzkt4vjVq2i3bgYiebmr9GbYo6FQf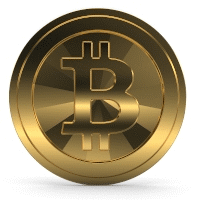 Legal Mumbo Jumbo
: This is only my opinion, make of it what you wish. What does this mean? It means it's not advice nor recommendation to either buy or sell anything! It's only meant for use as informative or entertainment purposes.**