The Big Long – Revisiting Helikopter Ben's Top 10 Predictions for 2018 – 12/30/18
Always expect the unexpected, especially in volatile, emerging new technologies. The following is a review of last year's predictions.
1 - Interest Rates Will Rise: This is the only prediction I am doubling down on from last year. The 10 yr US treasury note currently sits at 2.42% after ending last year at 2.47%, doing a round trip during the year, going as low as 2.03%. The 10 yr US treasury note will yield higher than 2.42% at the end of 2018
Correct. The 10 yr US treasury note currently yields 2.74%, falling rather hard from a high of 3.25% on October 5th. I thought perhaps 2018 could produce a market-crashing rally in the 10 yr to a more historic range of 4 to 6 %, but that has yet to happen. I expect this to eventually occur, but I suppose it takes quite a bit of time to reverse a 35 year trend.
2 - Crypto Crash: No coins in the top 10 in terms of market capitalization will be higher in USD price by the end of 2018. As the tide recedes, all coins will suffer. Here is a list of the current top 10 at the end of 2017.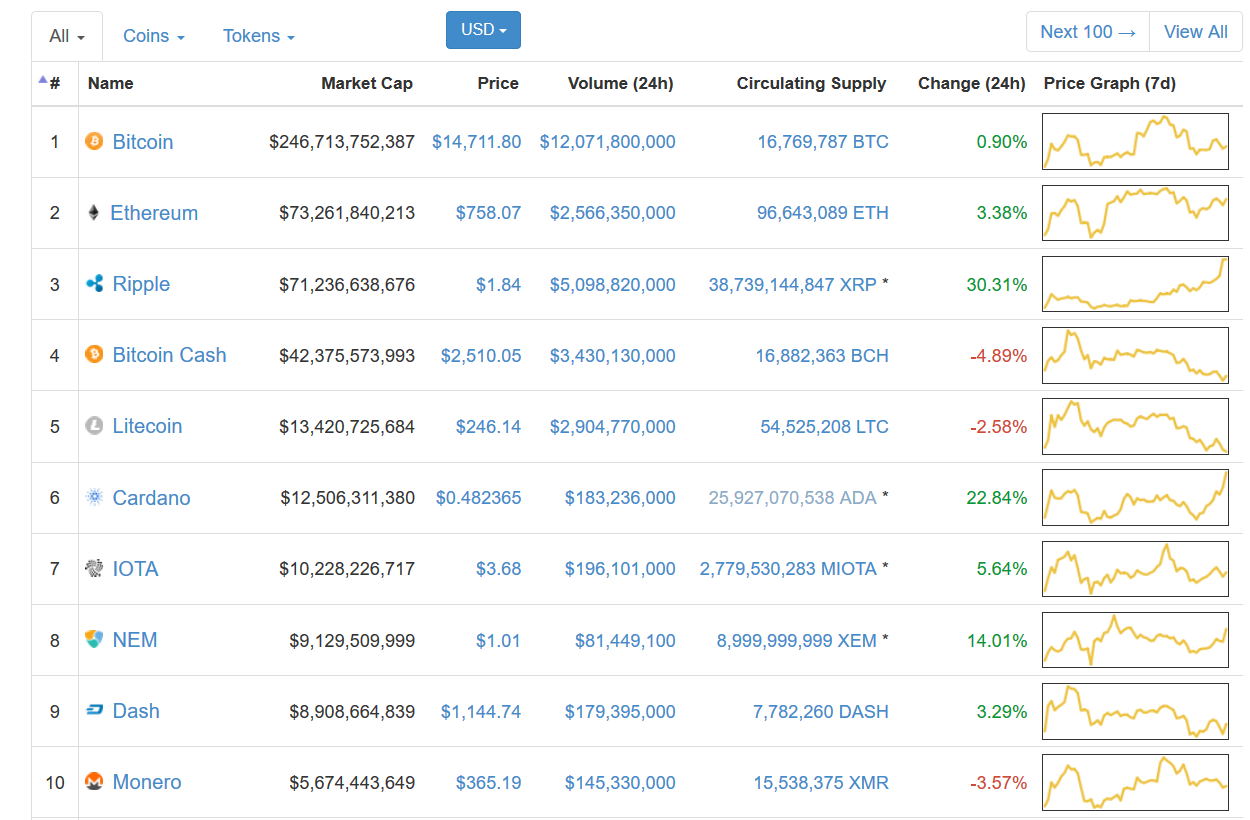 coinmarketcap.com
Nailed it. As you can see, none of these assets are even remotely close to their 2017 highs. The collapse is mostly over in my opinion.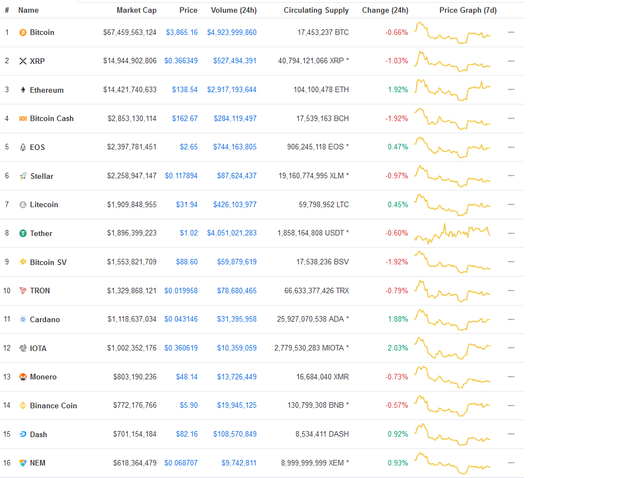 coinmarketcap.com
3 - Steem will gain in market share in the crypto space: Steem is currently at the #39 spot in terms of market cap. It will move up in the ranks by the end of the year.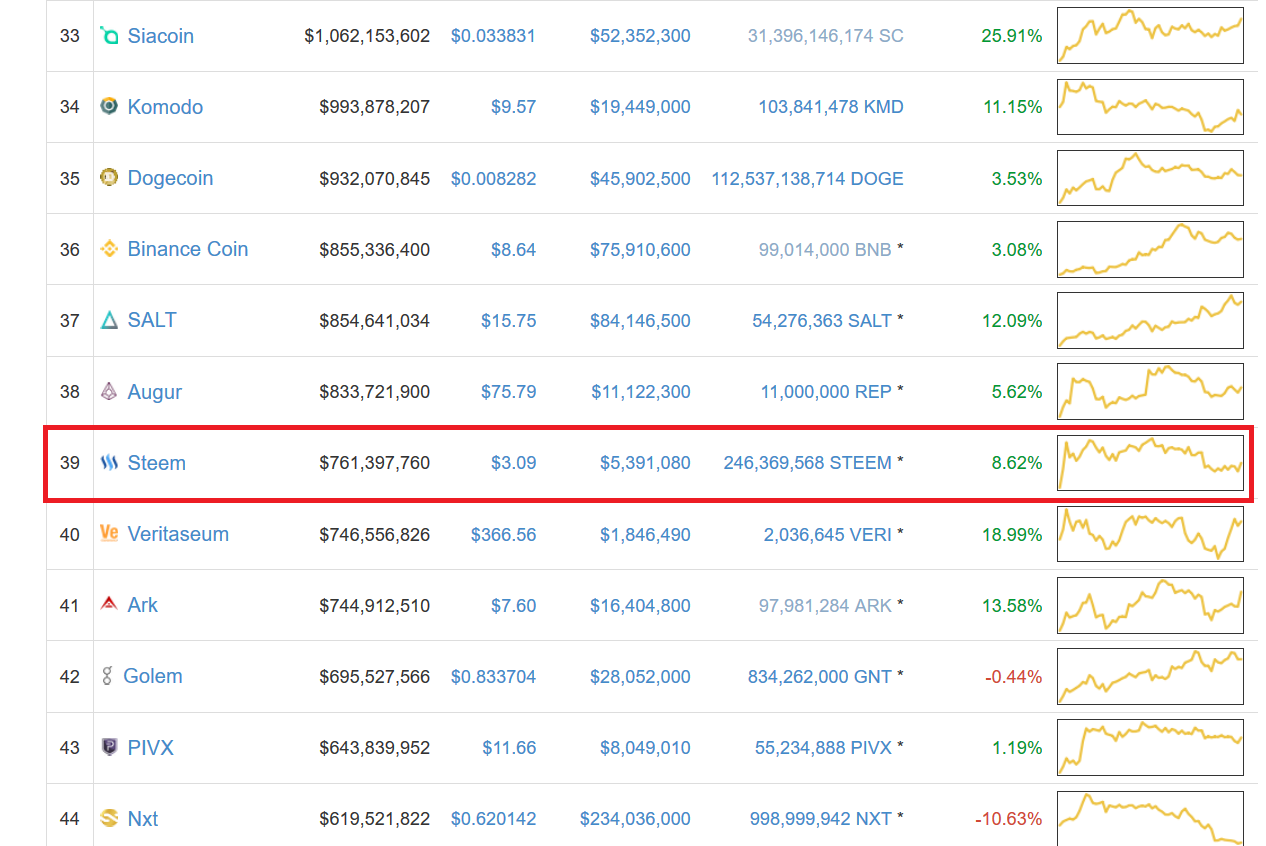 coinmarketcap.com
Wrong. Steem currently sits at #52. Steemit, Inc. has undergone a restructuring of its business and laid off 70% of its team, all blamed on the bear market. Although Steemit, Inc. is a company operating separately from the steem blockchain, for all intents and purposes, Steemit, Inc. is integral to the ongoing operation of the blockchain. One silver lining: this speaks to the resilience of blockchains. It will be very difficult to kill them. No single company is more powerful than the blockchain itself.
4 - The flippening will come close but not happen in 2018. Bitcoin will continue to lose market share to competing systems, but one will not overtake it until after 2018.
The first part is correct. Many folks were calling for the flippening, in which Ethereum overtakes bitcoin in terms of market cap, would occur in 2018. I thought it was too early, and I was right. However, the second part of the prediction was wrong. Bitcoin gained in dominance over the course of the year.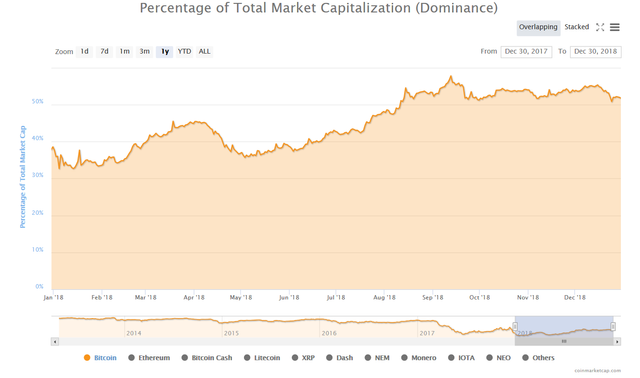 coinmarketcap.com
However, I see this as just another correction in an overall bear market, ongoing for years. So far that has been the correct view.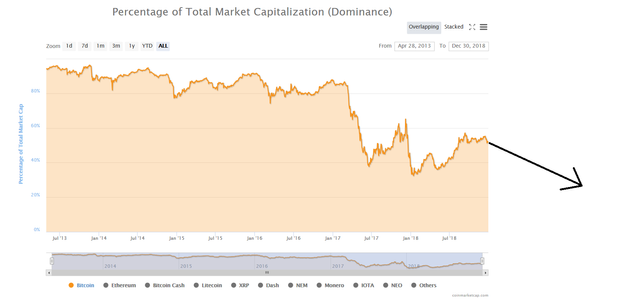 coinmarketcap.com
5 - No major bitcoin forks: The bitcoin forks (bitcoin cash, bitcoin gold, ect) will be a thing of the past. No major bitoin forks will make it into the top ten in terms of market cap. Bitcoin Cash Plus, bitcoin interest, and possibly a few more are slated to fork after the first of the year, but none will make it into the top 10 on coinmarketcap.com.
Technically correct. However, bitcoin cash had a major fork spawning bitcoin SV, currently sitting at #9 in terms of market capitalization.
6 - At least one major crypto exchange will become insolvent and shut down.
Centralized exchanges are the definitive eyesore of the crypto space. Although this prediction is technically incorrect (the hacked exchanges of 2018 unfortunately seem to still be operational), the level of direct hacking and theft of centralized exchanges is unacceptable, as $787 million of coin were stolen from the users of centralized exchanges this year. Decentralized exchanges can't come fast enough.
7 - One major protocol failure will occur in a top 10 coin, resulting in massive financial losses for users, until a hard fork is deployed to solve the problem.
Wrong. A major bug was found in bitcoin core software, allowing attackers to potentially split the network through ddos attacks and possibly create more bitcoin than the supply schedule dictates, but this bug was fixed before it got exploited. Also, a major vulnerability was patched in monero, which could have potentially allowed attackers to burn funds.
An ethereum multisig contract developed by parity resulted in the loss of about 513,000 ETH. Talk of hard forking to recover the lost funds never gained traction and has yet to be deployed.
Although major vulnerabilities were found and one was exploited, no hard forks were executed to recover funds. I am fascinated at how resilient this technology is with respect to security and, in Vitalik Buterin's words "moderately but not infinitely strong immutability." This is the ultimate goal we are after and ethereum is still the leader IMHO.
8 - At least one fiat currency will hyperinflate. I made this prediction last year and Venezuela was the unfortunate victim. This year?
It looks like Venezuela will take the prize again this year.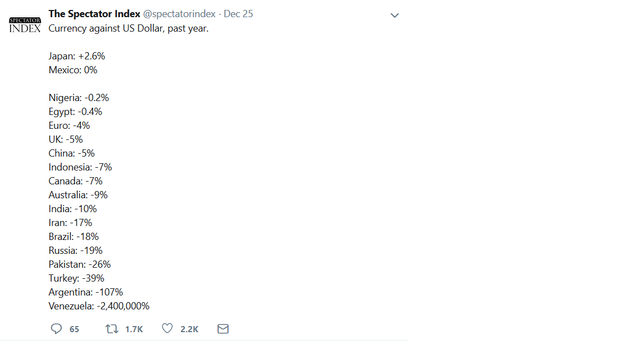 https://twitter.com/spectatorindex/status/1077737146318958592
9 - Proof of Work coins will lose market share: Specifically, bitcoin cash and litecoin will fall out of the top 5, most likely replaced by POS (or some derivative of POS) coins. Only bitcoin will remain, but it will lose market share over the course of the year. See #4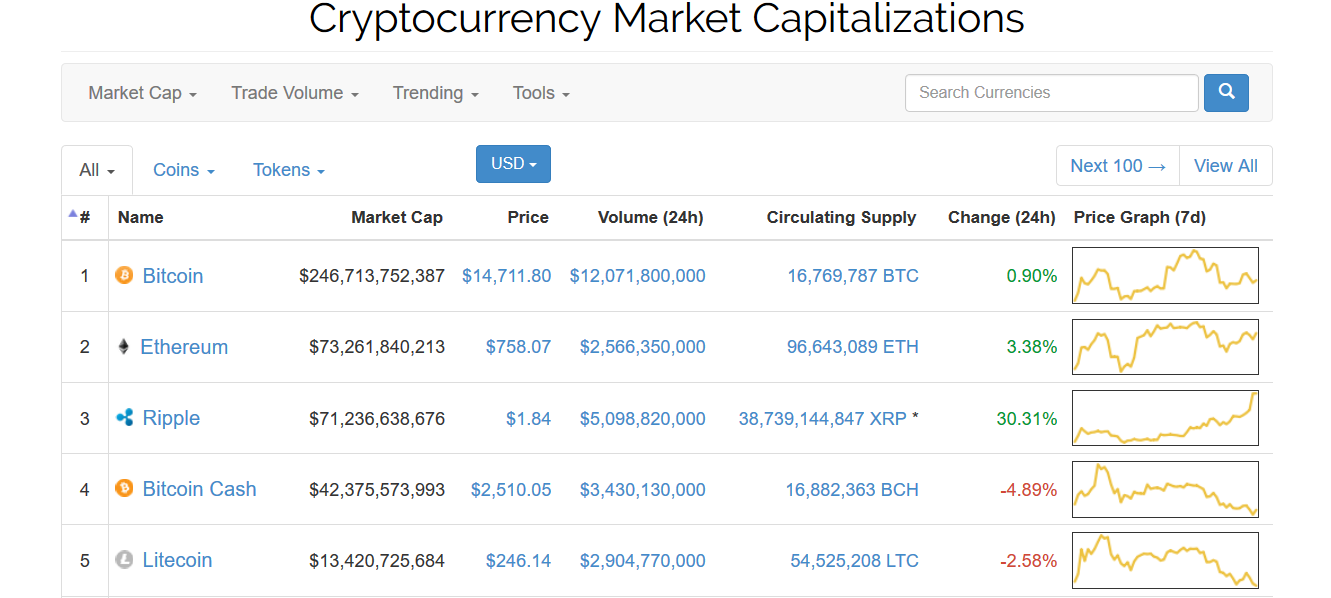 coinmarketcap.com
Technically wrong, but mostly right. Litecoin did fall out of the top 5, replaced by EOS, which uses DPOS. Bitcoin remained but did not lose market share over the course of the year. Both Dash and Monero, which are POW coins, fell out of the top ten. POW is definitely losing market share.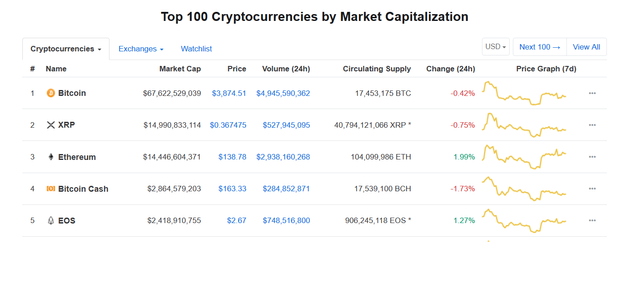 coinmarketcap.com
10 - At least one of these predictions will be wrong.
Of course.
---
disclaimer: None of this is advice of any kind.