AiBB - HARNESSING THE POWER OF Ai IN CRYPTO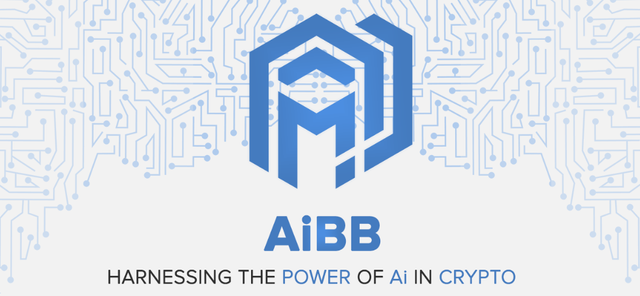 Computing already transformed investment trading once when it added the power to make huge numbers of calculations in a near-instant and to track markets to shift by the second--and faster. Now machine learning and AI trading systems are poised to foster a second industry transformation.
With the advent of blockchain technology, many companies like AiBB have begun to introduce AI into the cryptocurrency system, because artificial intelligence saves time and simplifies the work of any platform. And such a startup AiBB also introduces ai on its platform for more convenient and safe work for its clients.
In past year , the cryptocurrency trade increased more than ten times. Currently, there are well over fifteen hundred different cryptocurrencies and over ten thousand different exchanges. The total cryptocurrency market reached $800 billion in January 2018 and is estimated to pass the $1 trillion mark by the end of the year.
 AiBB provides even more growth in the cryptocurrency market by bringing together reliable trade data, news, security and public education. aibb want every individual involved in the cryptocurrency space empowered with the right tools and understanding of their investments on a secured, reliable and decentralized platform.  
when it comes to buying crypto in 2018, Prior to even buying crypto, people have a notion that because there is no physical element to it, they can not convert it into hard cash in their bank account.  And they're partially right! The process to fund crypto is to wire transfer, e-transfer or use a credit card to send your money to a 3rd party broker or crypto institute. To withdraw you need to wait a minimum of 5 days for it to hit your bank account.  
 Aibb platform fix this by partnering with various exchanges and acquiring an electronic money license to convert crypto to fiat on the application easily and faster than ever before. 
Further, these days whole crypto market price volatility is too high,  Price volatility happens in two circumstances: first, when there is a lack of accurate assessment of the underlying value of a security and second: where there is a lack of market depth. this problem can be resolved through better information and investor education in the crypto-currency market and the second problem can be resolved via increasing the volume of investors.  
 This problem can be solved by introducing more market players into this space so that no one big investor can dominate the particular cryptocurrency and engage in price manipulation.  
 Conclusion  AiBB seems like a solid company without any visible problems at first sight. There are no glaring red flags and nothing indicates a scam, especially the fact that their bot is not a miraculous tool that promises to make you rich, only an artificial intelligence whose objective is to aid investors with information and simple tips.The company seems to have a solid business plan and a clear goal of its future, so that is also a positive point about it. In fact, there are not many concerns to be raised about the plans of the company for the future. 
For more informations
Website: https://aibb.io
WhitePaper: https://aibb.io/Assets/AiBB-Whitepaper.pdf
Telegram: https://t.me/aibbsale
Facebook: https://www.facebook.com/aibb.io
Twitter: https://twitter.com/aibbio
Medium: https://aibb.io/
ANN: https://bitcointalk.org/index.php?topic=4849610 
Author - Hirushaperera