OPP OPENWIFI - NEW ERA OF WIFI
 Hello my dear friend. Peace and prosperous greetings are always for all of you who are reading this article. In this meeting, I will introduce future projects aimed at offering a one-stop platform for users of this Project.Many countries and citizens have been left behind in a new revolution called Blockchain, we will connect the dots and offer the best service using best practices from top global organizations.The project I am about to introduce is called "OPP OPEN WIFI".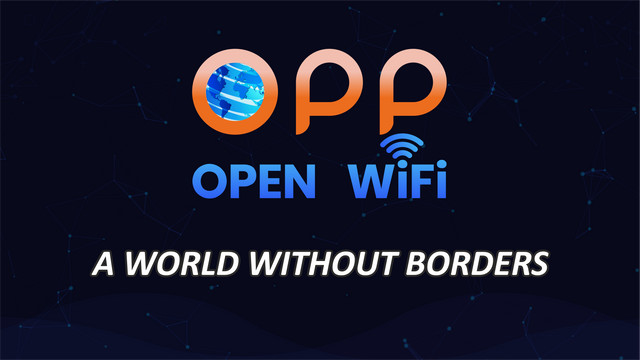 In 2017, the development of our world reached its apogee. Internet technologies and digital opportunities are growing exponentially, their growth has reached such a level that it is already difficult to imagine a person without the possibility of accessing the Internet network from anywhere in the world. Despite the fact that a whole family of standards for the transmission of digital data streams via radio channels, which people are accustomed to call Wi-Fi, is currently developing, still most of the world's population — more than 4 billion people — still does not have access to the Internet, and the rest are forced to pay for it.  
openwifi trying to Monetise unused mobile data allowance. openwifi  have developed technology, a mobile app and a home / business router, which allows openwifi Hotspot Hosts to share and monetise that unused data. Hotspot Hosts decide how much unused data they are happy to donate. openwifi app will activate the hotspot function on their handset and create a WiFi Hotspot called opp open wifi. It is totally secure, free to access and open for anyone nearby that needs it. Here's the good bit, the app only needs to be active for 1 hour a day and openwifi will make daily payments to the Hotspot Host's wallet using openwifi OPP Token. If the Hotspot Host has more than one device – no problem – openwifi pay for each device including your home and business. 
 openwifi  pay using openwifi  OPP Tokens. Hotspot Hosts will log in to openwifi Dashboard and will be able to see the daily payments coming in and their balance going up. OPP tokens can be changed into fiat currency, (USD, EURO, GBP, etc), the balance can be transferred into their bank or they can send credit to their OPP credit card (no bank account required). They can also visit openwifi online shopping mall and enjoy an amazing retail experience with many global brand partners! All of this can be done from the dashboard for maximum convenience and ease. openwifi aim to recruit just 1% of the active smartphone holders. This will create a global WiFi Hotspot that will help hundreds of millions of people every day just by making their day a little bit easier! The app will be available for free download from December 2018. 
How platform works 
 In order to become a Hotspot Host you need to register and then download our mobile app or request a home / business router from our website. The first 100,000 routers will be provided completely free of charge.  You decide how much data you wish to donate. Our app will activate the mobile hotspot function on your smart device and "OPP OPEN WIFI" will be seen by guest Users wishing to access the web. The system is totally secure for both the Hotspot Host and the guest user. The system is designed to work with home and business WiFi too. 
How you can earn money
 You only need to make your Hotspot active for 1 hour per day to qualify for payment. openwifi will pay you for each device that you use to contribute to the Global Network. openwifi  aim to pay you enough to cover all or part of the costs of your internet supplier and mobile phone supplier.If you want to make a little more, no problem. openwifi pay you for reading messages from chosen sponsors. You tell us how many messages you are happy to receive each day and openwifi pay for you for each one you read. If you join our referral program openwifi will also pay you for sharing our media messages amongst your followers and friends.The more you can do to help us spread the word then the more openwifi can do to help you too. 
Conclusion -  openifi offers comprehensive solutions to real problems in a hyped industry. Keep an eye on this one as it is a unique profitable business with a experienced team. It's rarity on the ICO market, and the financial aspect of the project is straightforward enough, so it all comes back to their ability to get people onto their platform in the first place visionx project looks very advanced but is quite in early stages at the moment . It could turn out to be one of the most promising projects of 2018 and 2019. 
FOR MORE INFORMATIONS 
 Web Site: https://www.oppopenwifi.com
Whitepaper: https://www.oppopenwifi.com/oppwhite20180627.pdf?t=v6
Twitter: https://twitter.com/oppopenwifi
Facebook: https://web.facebook.com/OPPopenWiFi/?_rdc=1&_rdr
Telegram: https://t.me/oppopenwifi
Youtube: https://www.youtube.com/watch?v=wCVfOJYJZ2I 
Author - Hirusha Perera
Bitcointalk  - hirushaperera ( https://bitcointalk.org/index.php?action=profile;u=1824365 )
Eth Address - 0x728d847E40e634CdE99bE154F6388D456Acf2ddb