ESSENTIA: INTEROPERATING DATA FOR THE NEW INTERNET

In this 21st century, technology has become the backbone of everything we do. The advancement in technology has resulted in the invention of blockchain, an awesome and amazing technology. Blockchain is the world's leading software platform for digital assets and best known for being the technology behind cryptocurrencies. Encouragingly, blockchain technology is not just useful for creating digital currencies or developing new financial technologies. Blockchains can be used for a wide variety of applications, such as tracking ownership or the provenance of documents, digital assets, physical assets or voting right.
PROBLEMS OF TODAY WITH REGARDS TO DATA SECURITY AND PRIVACY
Despite the advancement of new technologies, there is still a problem with data security and privacy. Unfortunately, there are no user friendly secure tools and services that effectively and efficiently protect and their data, while interacting with third-parties. It is obvious that you and I, who are users of technology, no longer have right or power over our own private digital data. Users currently lack essential services and solutions that protect their privacy, data, IDs or assets. Data and information of millions of internet users are exposed to uncountable risks. Internet users now give out their personal information, locations, social relations, financial details and the likes without knowing what these data are being used for and where the data are going. No wonder there are rampant incidents of data breaches and leaks, identity and money theft, scams, surveillance, content-censorship and privacy violations nowadays because our data security and privacy have been compromised.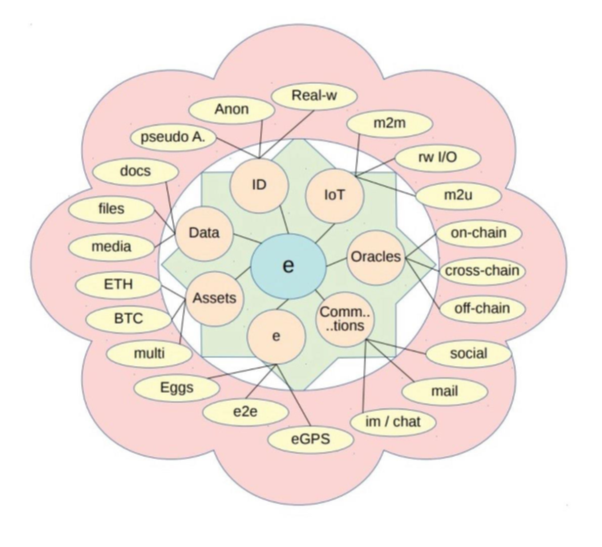 ESSENTIA, THE SOLUTION TO TODAY'S DATA PROBLEMS
This unfortunate menace facing today's ecosystem attracted the ingenuity of some genius people which has led to the invention of Essentia. Essentia is a modular framework that is bootstrapped from a Seed by deriving its extended keys in a hierarchical deterministic way and by associating to them their related "data" that are available encrypted on decentralized storage or on local copies/backups. Essentia has come to fill the solution gap of the current digital data insecurity and makes available a complete and versatile multi-chain framework. Its primary goal is to empower users with a toolset of decentralized solutions which seamlessly integrate with on-chain or off-chain systems, services or resources. Essentia operate in the the following ways;
• Essentia protects users' privacy, needs and security by developing a bleeding-edge and user-friendly framework. The Essentia framework gives users the sole proprietorship to their digital data and enables them to act anonymously, pseudo-anonymously or publicly without any intrusion.
• With Essentia, users can decide whether or not to share their data in part or in full and when, how and where that data is shared. So users will be the main source and regulators of their data. Their digital data will no longer be manipulated from any other source. The issues of scam, money and identity theft, and data breaches and leaks are going to be a thing of the past.
• One important and unique aspect of Essentia is that, it provides secure, trustable and decentralized software environment solutions that can run on all major OSs and hardware.
• The good news is that Essentia links the user, decentralized resources and traditional systems. It enables anyone, anywhere to take advantage in full of current and future technologies.
Relax and be happy now because we have got Essentia. Now your data, ID's, account, logins, personal information and other relevant and private digital data are going to be managed by yourself. Thanks to Essentia. Let's all get involved and invest in this useful and important project.
ROADMAP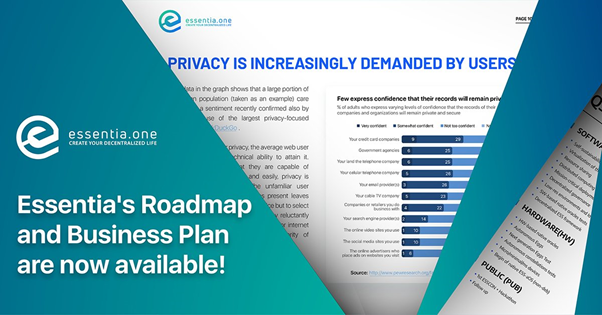 Invest into this awesome project now. Our token will be fairly distributed as indicated in the diagram below.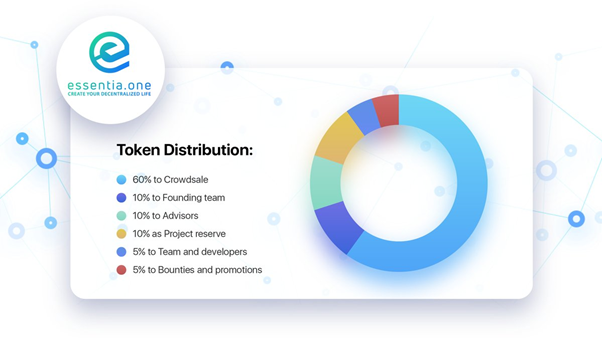 For further information on this project, visit and join us on;
WEBSITE: https://essentia.one/
ANN THREAD: https://bitcointalk.org/index.php?topic=2704531.0
WHITEPAPER: https://essentia.one/whitepaper.pdf
FACEBOOK: https://www.facebook.com/essentiaone/
TWITTER: https://twitter.com/Essentia_one
TELEGRAM: https://t.me/essentia_one
PROOF OF AUTHORSHIP:
Bitcointalk Username: iamike
Profile link: https://bitcointalk.org/index.php?action=profile;u=1549253