ProBit Exchange: The Most Professional, Global and Secure Marketplace for Digital Assets.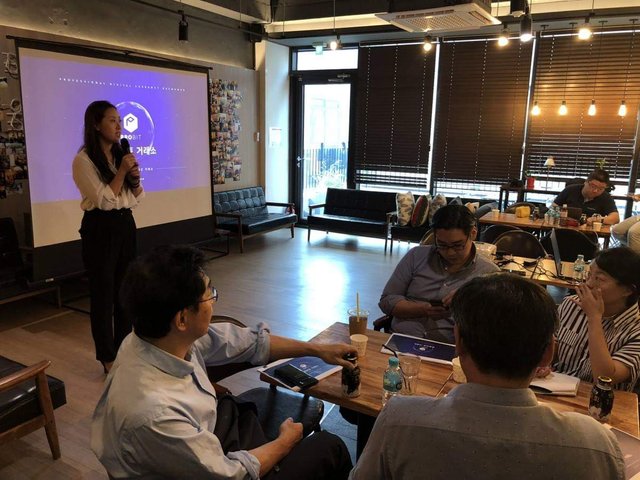 Accelerating digitalization, faster Internet transmission speeds, continuous accumulation of big data, the application of mathematic and cryptographic technologies in the digital era: these are the factors that create a need for developing a cryptocurrency exchange systems based on of Blockchain technology due to its advanced features: decentralization, openness, autonomy, irreversibility, and privacy protection
Since its creation, Cryptocurrencies have changed the payment system in the way we have never experienced before. Making international payments is faster, cheaper and more easier using Bitcoin and other cryptocurrencies. Today, the total cryptocurrency market capitalization, led by Bitcoin, is more than $250 billion. All this change is possible thanks to the technology at the heart of virtual currencies: Blockchain - a digitized, decentralized, public ledger that records transactions block by block, which allows market participants to keep track of cryptocurrency transactions without central record keeping. Blockchain has many valuable characteristics such as decentralized, immutable, irrevocable and transparent. These characteristics help Blockchain become a very reliable means of recording data which can replace traditional methods of recording data and bring radical changes to many industries. With that many potential applications in business and life, Blockchain is gaining worldwide adoption. According to IDC, Global spending on Blockchain solutions in 2018 is $2.1 billion. More than that, Blockchain provides a new way of managing trust and can make organisations more transparent, decentralised, efficient and secure.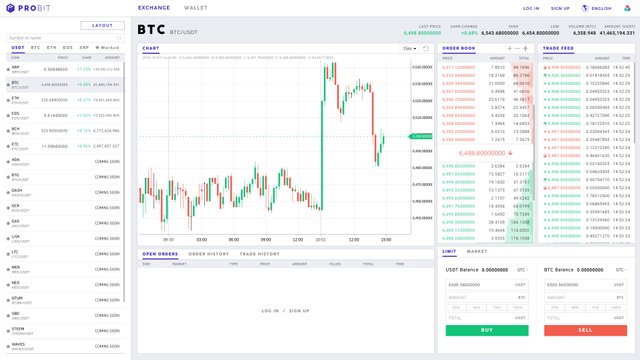 Introducing ProBit Exchange
The world of finance is changing fast. In the past years, there has been an explosion of interest in cryptocurrencies around the world. The world is dynamic constantly shifting, and presents new opportunities. This new opportunities need to be decoded and make it meaningful to help make life easier, simplier and faster. Having identified this, a blockchain-based automated trading platform and token, ProBit, the first among the best decentralized platform of its kind was created. We aim to build the ProBit platform that will guide this new technology into the future, starting with a new innovative cryptocurrency exchange.
It is the vision of ProBit to build a platform that would be the most global, professional, and secure digital asset exchange for traders. ProBit aims to make its services easily accessible to everyone. Professionally, ProBit built a world-class trading engine to provide fast and robust trading experience through a customizable dashboard and multi-lingual customer service, and future developments such as margin trading and ICO platforms. Security is also important and necessary as far as digital assets exchange are concern. ProBit will provide a wide hypothetical options for traders to secure their digital assets so they can feel safe to store and trade assets on the exchange.
No one will like to trade in a site with slow processing pace because it makes it tiresome and hectic. ProBit platform uses an ultra modern technology. Its matching engine is one of the world's fastest among the competitors. It can handle more than 1,500,000 transactions per second and at a very fast processing speed.
ProBit platform will not limit itself to the above features but will also stretch its tentacles to deliver the best of services. ProBit will provide 24/7 trading platform, Continuous support and improvement and Multilanguage support to its users. Trust me it will not be limited to these features too. More are in the pipeline.
ProBit want every cryto enthusiast to have a fair share of its platform to that is why ProBit will have coverage on all major devices and platform which include Chrome, Safari, Edge, mobile web clients, Android and iOS devices.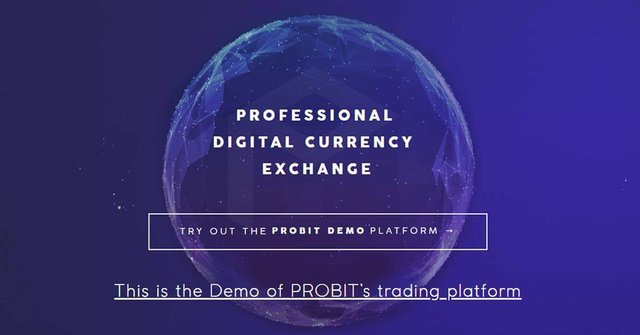 ProBit Token
The utility token which will be used to pay for fees on the ProBit exchange will be PROB, an ERC-20 standard token. ProBit will issue 200,000,000 PROB, never to increase. PROB can be acquired at the issuance of the tokens or at ProBit exchange. Trading fee, listing fee and all other fees for ProBit Exchange will be paid in PROB.
ProBit Token (PROB) Information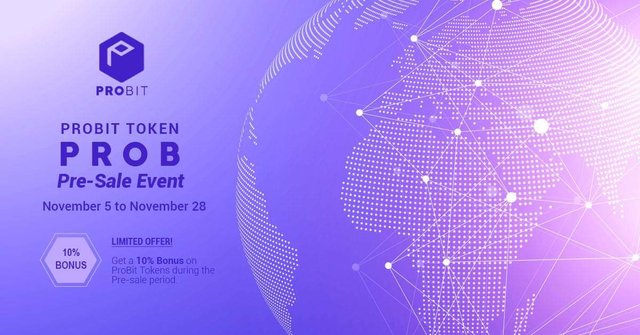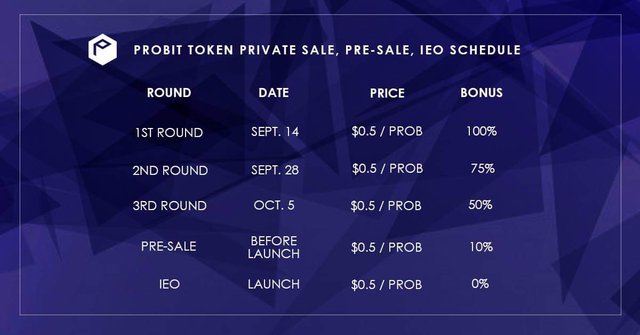 In a nutshell, ProBit is an excellent and awesome project with strong and competent team members. ProBit is there to provide the best service we all need. For more information you may need about ProBit and ProBit Token (PROB), visit the links below;
Website: https://www.probit.com/en-us
Telegram page: https://t.me/ProbitEnglish
Facebook: https://www.facebook.com/probitexchange
Twitter: https://twitter.com/ProBit_Exchange
LinkedIn: https://www.linkedin.com/company/probit-exchange/
Proof of Authorship
Bitcointalk username: iamike
Bitcointalk profile link: https://bitcointalk.org/index.php?action=profile;u=1549253