REVITALIZING THE PREMIUM CONTENT INDUSTRY
Introduction
Accelerating digitalization, faster Internet transmission speeds, continuous accumulation of big data, the application of mathematic and cryptographic technologies in the digital era: these are the factors that create a need for developing data recording systems based on of Blockchain technology due to its advanced features: decentralization, openness, autonomy, irreversibility, and privacy protection. Blockchain - a digitized, decentralized, public ledger that records transactions block by block, which allows market participants to keep track of cryptocurrency transactions without central record keeping. Blockchain has many valuable characteristics such as decentralized, immutable, irrevocable and transparent. These characteristics help Blockchain become a very reliable means of recording data which can replace traditional methods of recording data and bring radical changes to many industries. Banking is only the beginning, there are more than 40 big industries that Blockchain could transform including: industrial IOT, cloud storage, cloud computing, digital copyrights, insurance, real estate, healthcare, supply chain management, and more. With that many potential applications in business and life, Blockchain is gaining worldwide adoption. According to IDC, Global spending on Blockchain solutions in 2018 is $2.1 billion. Netscribe predicts that there will be 42.8% expansion of the Blockchain industry every year to 2022. More than that, Blockchain provides a new way of managing trust and can make organisations more transparent, decentralised, efficient and secure.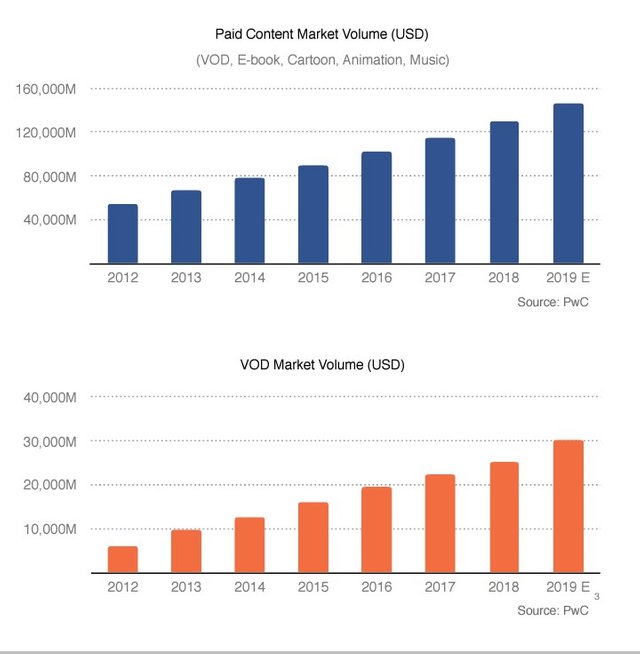 Problems in the Content Industry
Statistical data shows that there has been a tremendous increase in the market size of the online paid content for the past years but resources have concentrated to a handful of content consuming "platforms" causing monopolization of "data" by the large, influential platforms. In other words, despite the growth in the digital market, the power over these digital platforms still lies in the hands of few individuals who own the few digital platforms we have around for contents. Huge profits are made from the high quality contents provided on their platforms without providing adequate benefits to content providers. That is, the data gained from users of the platform are not shared with content providers but remains with the creators of the digital platforms. To provide a solution to the problem above, some content providers have also decided to create or develop their own platform for content distribution.
The cost of operation in running Information Technology (IT) based digital platforms of their own are very expensive which is also causing an increase in the production cost of content providers. Aside the high cost in production, development of new platforms have resulted in the lowering of both quantitative and qualitative value of their creation and causing harm to consumers' experience.
Furthermore, the consumers who make great contribution to the platforms by creating valuable "data" through their activities, are not compensated for their contribution.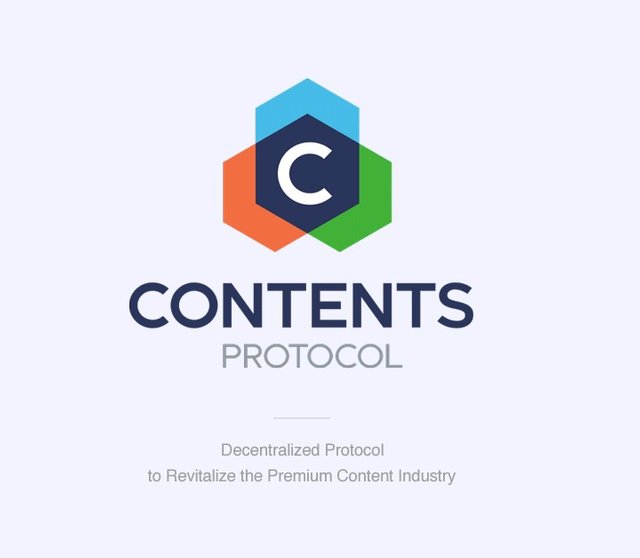 Introducing Content Protocol
Having identified the above problems in the content industry, a blockchain-based automated content platform and token, Content Protocol, the first among the best decentralized platform of its kind is created. Contents Protocol seeks to make the content industry the best for all stakeholder. The decentralized nature of blockchain network will help the content protocol team to create an ecosystem which would be conducive and favourable for all stakeholders in the content industry. This would help ensure transparency in all transactions in the ecosystem. To ensure that this becomes a reality, the developers will start gradually on a smaller scale until the masses adopt it on a full scale.
Content protocol will ensure that consumers are not neglected but compensated. Consumers will be experiencing the biggest change through Contents Protocol, because they have never experienced such compensation system before in the traditional practices. A portion of the data usage fee will be allocated to the consumers as their compensation for creating such data, through a system designed by Contents Protocol.
Content Protocol has a good relationship with mainstream content providers so customers can be hopeful of being provided with the best of services on the platform.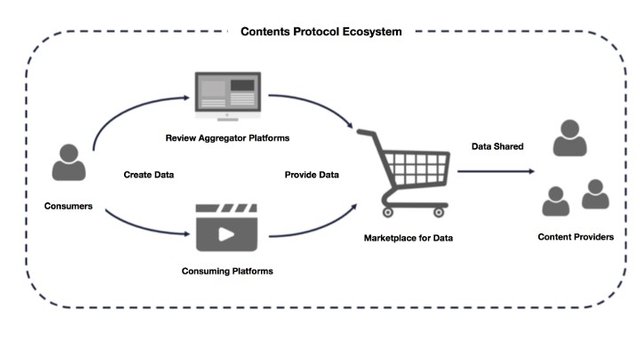 In conclusion, we all love content. We always have and we always will. Therefore, we deserve to consume "better" content. However, the current system is making it more difficult for the content providers to create better content and preventing the consumers from their "active" consumption behaviors. Contents Protocol was born to address and solve this problem in the content ecosystem.
I entreat each and everyone to join this amazing and great project with excellent idea and strong competent team managers for the contents ecosystem by investing in the ongoing token sale that is being organize by Contents Protocol. Lets make it a reality. Together we can change the industry.
For more information about this project visit;
Website: https://contentsprotocol.io/
Whitepaper: https://drive.google.com/file/d/1OJizH-oS8yxJgO-RPnUKJQiU45bW4I_5/view?usp=sharing
Telegram: https://t.me/contents_protocol_en
Twitter: https://twitter.com/contents_prtcl
Facebook: https://www.facebook.com/ContentsProtocol/
Proof of Authorship
Bitcointalk username: iamike
Profile link: https://bitcointalk.org/index.php?action=profile;u=1549253
Ethereum address: 0xD51f34D83486a8508f1c5A31c6be7EE9CBA8E3E2