CRYPTO ENTHUSIASTS HAVE FINALLY BEEN PROVIDED WITH A FULL CRYPTO FINANCIAL ECOSYSTEM.


INTRODUCTION
Crpytocurrencies were invented to improve upon the payment system of the world through a digital peer-to-peer transaction even though currently it is being stored as assets of value despite its volatility. The Financial Industry is improving at a faster rate and the blockchain technology seems to be one of the latest developments which has caught the attention of the entire globe over a decade now. Ever since the blockchain technology was invented by Satoshi Nakamoto a decade ago crypto enthusiasts have identified that the blockchain solution could be adopted unto different platforms and not only for transactions.
WHAT ARE SOME OF THE PROBLEMS FACING CRYPTO FINANCIAL PLATFORMS?
In as much as the blockchain solution has been presented to us most platforms have not been able to tap from its full potential in providing other financial solutions to the crypto community. Hence, we have a whole lot of developments from the blockchain technology such as Decentralized Exchange platforms, Smart Contracts, Decentralized Marketplaces etc. The blockchain technology is greatly admired because of its level of transparency, immutability and level of security that it offers. Despite all these features, solutions that have been provided to the crypto community over some years now are not serving the average crypto enthusiast to the best of capability. Most platforms that are created are not well secured to prevent attacks form hackers and this has created a whole lot of insecurity in the crypto community. The crypto community have suffered attacks of hacking some exchanges like Coin Rail, Mt. Gox
The question on board is we know perfectly that the blockchain technology is very secured so how come we are not able to secure platforms that are established on it from all sorts of security breaches. This has created some sort of negative perception about investing into cryptocurrencies to the outside world to the extent that some people even tag Bitcoin as a ponzy scheme in this era. Anyway, we cannot blame them absolutely because they are basing all their arguments upon all the successful attacks that some platforms have suffered.
Furthermore, we are also faced with a whole lot of platforms that have not been able to provide all the solutions suggested by their members hence limiting the activities of such users. Talk about bug fixes, poor service delivery and unachievable goals you can have a whole number of projects of such kind in the crypto space. One cannot say whether this is out of pure selfishness or greed just to take the funds of investors and invest it into some unrealistic project which are only white coated to look like something formidable. The lack of a complete solution for crypto enthusiasts in their activities have resulted in the interacting on different platforms by some users and this consumes time, increases cost of transactions when moving funds from one platform to another.
Another common problem that we see on some decentralized exchange platforms is the common pair of Bitcoin, Ethereum and USDT which are only available for trading. This poses as a great challenge for other crypto enthusiasts who prefer to use other altcoins such as Ripple, EOS, Litecoin etc. This greatly affects the trading volume on most exchange platforms since some users would not like the idea of necessary converting their cryptocurrencies to the only limited pairs in order to trade. Remember, you never know the price at which someone bought into some cryptocurrencies.
This trend has greatly affected the interests that investors have in the crypto space these days. In addition to this, cryptocurrencies have assumed another use of being stored as assets but this function has been quite unstable due to the high volatility of the crypto market.
VELIC'S APPROACH IN SOLVING THE FOREMENTIONED PROBLEMS
VELIC envisions a single platform that would help manage the crypto assets of users for the best trading experiences. In view of this, they plan to develop a decentralized ecosystem which would provide all the financial solutions that crypto enthusiasts need to conduct their transactions and the beauty with this is that all these are going to be done using one Velic Account on the platform.
How VELIC secures its Ecosystem beyond the reach of Hackers
Security is of a great concern to any investor when it comes to investing on any platform hence VELIC is establishing its Ecosystem based on a Secret Sharing Technology which distributes private keys to some verified members for safety. This system was designed in order to make it highly impossible for hackers to get access to the funds of members because they cannot hack all the trusted members at the same time. This is the feature that prone most centralized platforms like the Over the Counter/Exchange platforms to be hacked because most of their security systems are based on one single platform.
To further enhance the security of the platform, the shared private keys are stored within the VELIC Vault which is also another component of the ecosystem all geared towards keeping the funds of members safe. The rise of Bitcoin brought to bear the huge number of holders that had lost access to their private keys and up-to-date they cannot retrieve their coins from their wallets. Safe keeping of private keys has become a great burden to most crypto enthusiasts even though most of them try their best to keep it safe but you can never prevent accidents which also leads to the loss of these private keys sometimes. The VELIC Ecosystem through its special Vault would allow members to safely retrieve their private keys in case they lose them.
TOKEN AND TOKEN DETAILS
The VELIC Ecosystem would interact with three different tokens namely: VELT (VELIC Token), VELA (VELIC Authority) and VELD (VELIC Dollar). The platform has been integrated to allow these tokens be used differently on the platform. VELT would be the token which would be used as a means of payment for services on the platform. The benefit of using VELT as a means of payment for services on the platform is that transactions paid using the VELT tokens are at a reduced rate.
Another token also worthy of mentioning is the VELIC Authority which can be exchanged on a 1:1 ratio. Members who wish to have the VELA Token would have to purchase VELT Tokens and later exchanged it with the ratio above. Why exchange VELT Tokens for VELA? The VELIC platform would reward all members who hold VELA with a percentage of fees that the platform accumulates based on transactions occurring on the platform. The distribution of these VELT tokens would be based on the amount of VELA in a user's portfolio.
To save guard all members against all the harsh bear market and volatility of cryptocurrencies, the VELIC platform would also issue a stable coin called VELIC Dollar (VELD) which would serve the purposes of a stable coin like USDT.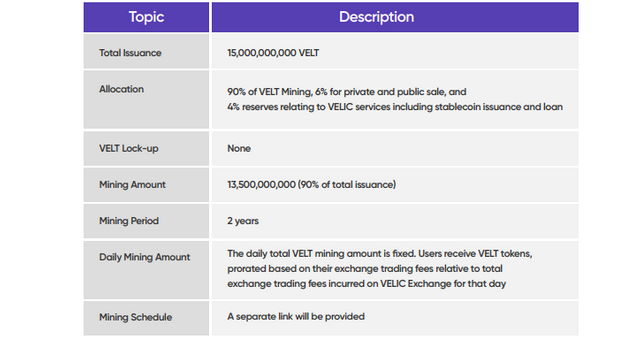 PRODUCT OFFERED THE VELIC ECOSYSTEM
The VELIC Ecosystem provides a wide range of financial services for its members in various forms. To begin with the platform provides its members the opportunity to have their assets being managed by the platform. The platform makes available both investment platform that generates money either passively or actively to its members. With a highly advanced knowledge of the crypto market the assets of users would be managed effectively for them to gain profits. Furthermore, loans would be provided for members to ease them of crypto bear market. Belows are some of the investment products that VELIC offers to its members.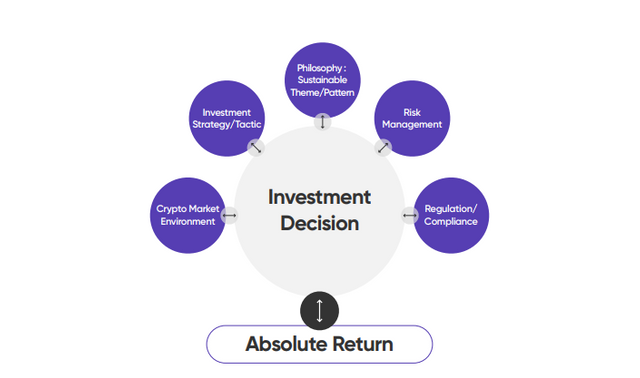 To sustain members in times of crypto bear market where it is very difficult to cash out of the crypto space, members can use their crypto assets to serve as a collateral and secure a loan from the platform. Please refer to the whitepaper for more information about all the interest rates and charges applied in securing a loan. The laid down process of securing a loan on the platform is displayed below: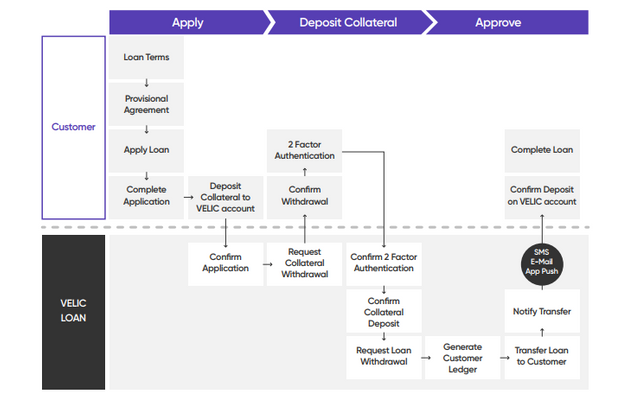 The VELIC Ecosystem also comprises a decentralized Exchange platform that ensures easy and simple trading experiences coupled with high level of security. All the security measures such as Know Your Customer and Anti-Money Laundering would all be inculcated into the platform to ensure the safety of users. The Exchange platform would also offer another service of Initial Exchange Offerings which would help in the sales of tokens of other projects in the crypto space.


ROADMAP
The developmental milestones of the VELIC project would be carried through the milestones displayed below.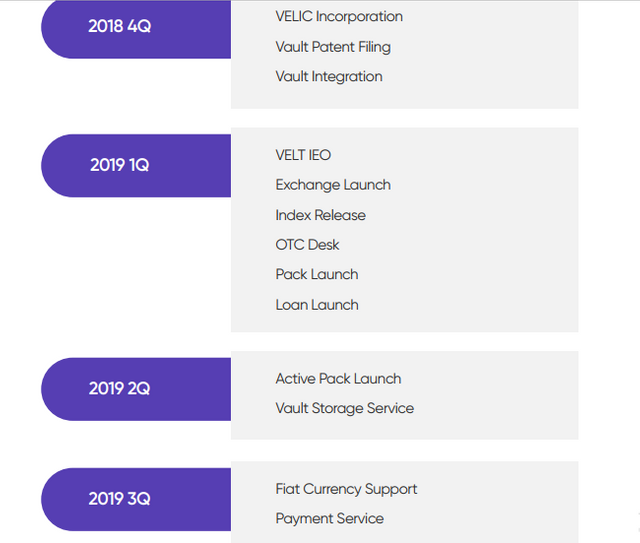 TEAM MEMBERS
This project is backed by a group of experienced individuals who have in-depth knowledge in their various fields of disciplines. Below is a picture of the Management team showing their qualifications and areas of discipline.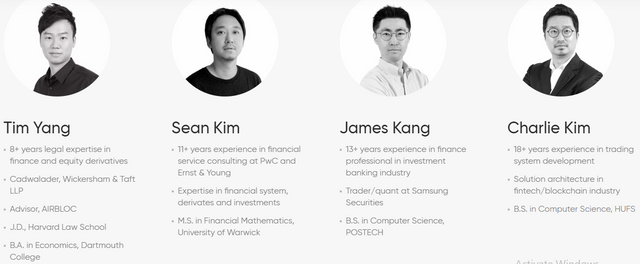 CONCLUSION
The VELIC Ecosystem basically provides a platform where crypto enthusiasts can have their crypto assets managed effectively for them. Funds that members get are safely stored in the personal accounts which is safely kept on a Secret Sharing protocol. Potential Investment packages are also made available to members to generate a constant stream of income. Lastly, in times of need the platform provides members with loan assistance with very flexible terms.
For more information about this informatin visit the contact lines below:
Authorship
Email: [email protected]
Bitcointalk Username: Aponkye1

For all the latest news, recent interviews and any other hot topics in this industry look upon Crypto Adventure and get well informed about the recent developments in this industry.