8 Digital Currency Exchanges with USD to Bitcoin!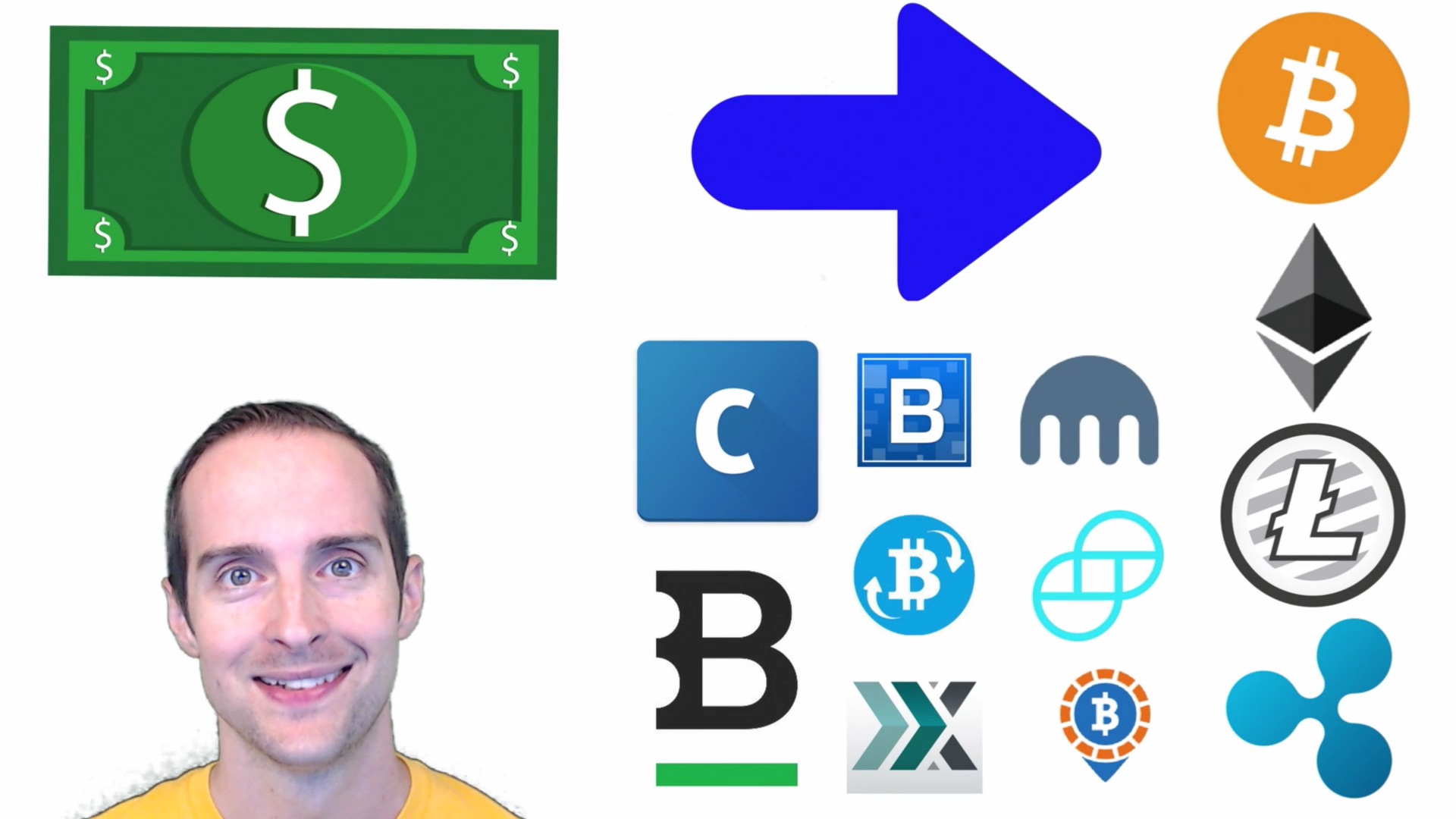 How do we trade fiat currencies such as USD with digital currencies such as Bitcoin, Ethereum, or Litecoin which then are easy to swap with Steem and SBD using any Digital Currency Exchange or DCE?
Would you read this post or watch the matching video because you will see eight cryptocurrency exchanges where we can trade fiat currencies like US dollars, CAD, EUR, GBP, RUB, CNY, AUD, or any other currency issued by a government into BTC, ETH, LTC, and many others through Bitcoin exchanges?
Thank you very much to @gmichelbkk for converting the transcription of the YouTube video from GoTranscript into this beautiful post for Steemit, which is much faster to read than the video and has all of the highlights in screenshots! Our workflow begins with me filming the video, publishing it, and then paying about $0.75 a minute for the transcription on GoTranscript. Michel then edits the transcription for best reading here on Steemit especially by adding screenshots and removing the majority of the self-promotional and awkward language I use in the videos. Before posting Michel's transcription, I make final edits and then post exclusively now to Steemit instead of even using my own blog on my website! Hopefully explaining my workflow is useful for you in understanding how these posts arrive here!
Eight cryptocurrency exchanges to buy and sell Bitcoin in fiat like USD, EUR, and CAD.

I'm going to show you now eight cryptocurrency exchanges, with the hope that at least one of them will work for you in any country of the world.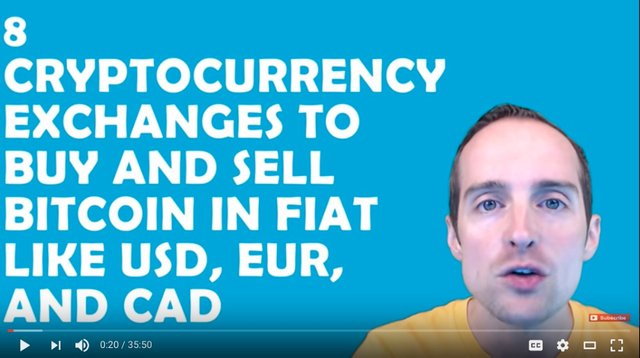 What I'll do first is just show you the website address, and then show you a little bit more detail about each one. If you haven't heard of these websites before, I recommend that you take a look at them yourself and maybe sign up for an account and see if you can deposit using what they offer.
I hope this will give you insight as to which ones are worth using.
The top two exchanges in my opinion, and this is just from my personal experience, are coinbase.com and bitstamp.net. Between these two exchanges, especially if you can make a wire transfer and ACH transfer, or a SEPA transfer in Europe, you should be able to buy Bitcoin on either of them.
Coinbase is available in 30 plus countries and I think that you can use Bitstamp in most of the world if you can make a wire transfer over there.
Kraken.com and gdax.com may also work for you, as well as gemini.com and xbtce.com.
Finally, you have localbitcoins.com and wallofcoins.com.
Now, these last two exchanges are significantly different from the first six.
Coinbase, Bitstamp, Kraken, Gdax, Gemini and xBTCe all require that you basically set up an account online and make some kind of bank transfer to them, or if you've already got Bitcoin or other currencies, you can just deposit that.
Now, you can actually use cash out of your wallet to go make a deposit with LocalBitcoins or Wall of Coins. With Wall of Coins you deposit directly into someone's bank account, and with LocalBitcoins, you can interact directly with other sellers.
I highly recommend figuring out if you can use one of these first six, because they are the best ways to buy Bitcoin online with fiat. However, if you can't use any of them, you may be able to use LocalBitcoins or Wall of Coins.
Once you have got Bitcoin, what you can do to buy an altcoin is either use bittrex.com, which can be pronounced "bit T rex dot com" and is currently my favorite, or poloniex.com, which is the one I've used the most.
Once you have bought Bitcoin on one of these other eight websites I mentioned, then you can buy into all these other cryptocurrencies you're excited about like Ethereum, Litecoin, Steem, Dash or New Economy Movement.
Whatever you are excited about, you can get into that easily on Bittrex and Poloniex. These other 8 websites are consistently adding more as well.
That's the basic of how you get started.
What I'll do now is give you a more in-depth look at each of these different websites that I hope will be helpful if you've never heard of several of them, or if you want to see how they can potentially work for you.
Coinbase.com

The number one website I've used personally is coinbase.com.
There's a link to this on my resources page on my website, and I'm grateful that 177 people have already signed up for Coinbase through my link, and actually bought or sold at least $100 of Bitcoin.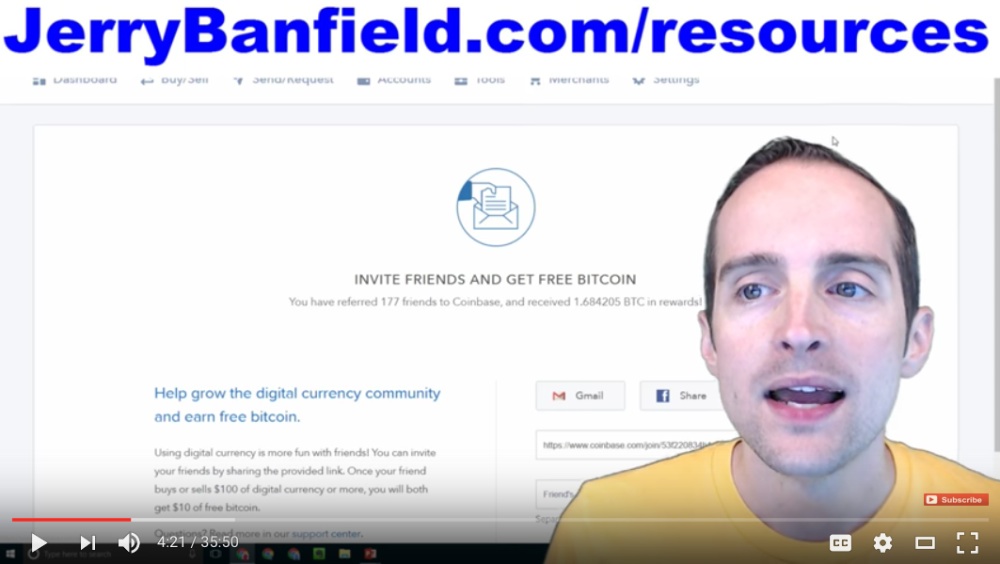 If you want to signup for Coinbase, would you please use this link, because Coinbase gives you and I, each of us, $10 in Bitcoin when you signup.
Coinbase is what I've used to buy and sell over a hundred thousand dollars of Bitcoin because it's really fast. All I do is go into the dashboard and I can buy and sell with a 1% fee. Coinbase also allows me to make ACH transfers with no fee directly back and forth between my bank account and it also accepts wire transfers.
Now, the main problem with Coinbase is that it's not available everywhere, and features may be limited by your country.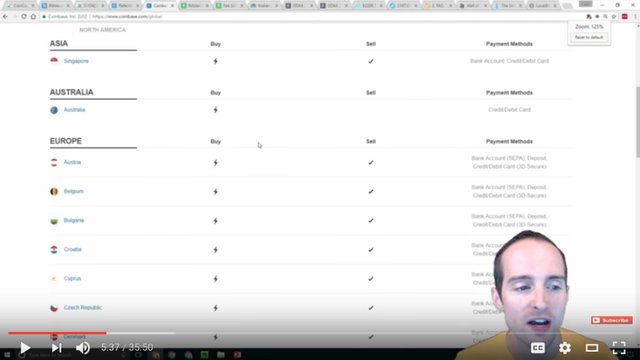 Now, if you're in Australia, it can be tough to buy in with a lot of websites, but you can buy in with a debit or credit card supposedly on Coinbase.
Coinbase is available in Singapore and in most of Europe where you can use your bank account deposit and a credit or debit card.
You can also use a credit or debit card to buy in Canada. However, I recommend against Coinbase in Canada because there are better options available elsewhere.
Now, in the United States, you can use your PayPal account. You can deposit with your bank account and withdraw. It's very easy. You can also use a credit or debit card, and that's where I'm located.
Now, if you don't like to use Coinbase, or if it's not available in your country, I recommend using bitstamp.net.
Bitstamp.net

The fees are lower than Coinbase for bitstamp.net and they seem to be based in the UK. I recommend, if you're in Europe, to use Bitstamp because it is a great option. It says "rest of the world" here on their wire transfer.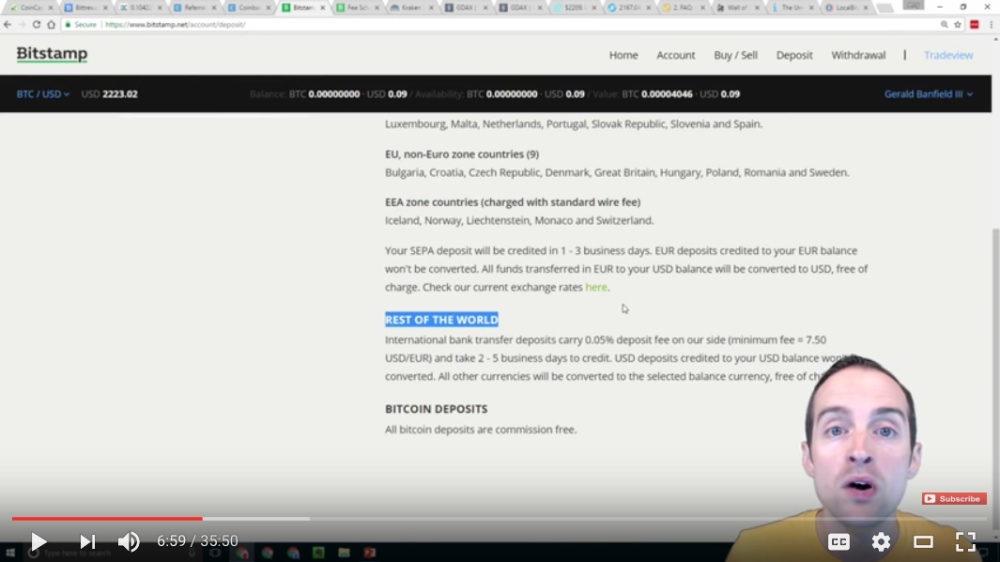 Now, the basic thing you need to be able to do to buy Bitcoin with one of the six websites I showed you, is to be able to do a wire transfer from your bank.
If you're in Malaysia, you will need to be able to do an international wire transfer.
Bitstamp has the option to register an account all over the world and you should be able to wire almost any currency straight to Bitstamp according to their deposit instructions.
"International Bank transfer deposits, US dollars, all other currencies will be converted to the selected balance currency."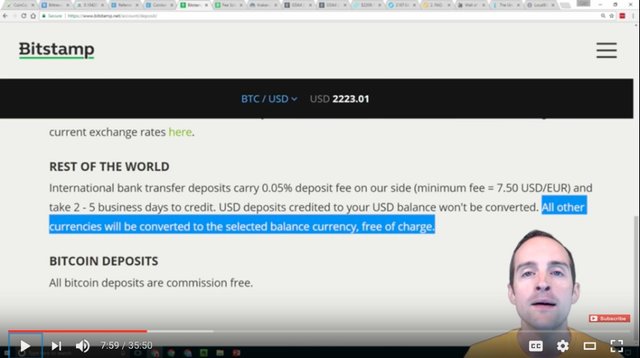 This means you should be able to wire from almost any country in the world straight to bitstamp.net, and then get your deposit on there.
Bitstamp is extremely fast to buy and sell. I transferred $130,000 in transactions in one day when I sold my Dash masternode, it went through incredibly quick and it was easy to do. Bitstamp.net is outstanding for buying Bitcoin, and I think in almost any country in the world, you should be able to do an international bank transfer with a pretty low fee, and then get that credited to your account.
If you're in the US, it's pretty easy to buy Bitcoin on lots of different websites, but if you're in the rest of the world, not in the US or Europe, bitstamp.net should work good for you. Now, would you please comment if I'm wrong to help other people learn whether it's available in your specific country or not.
The cool thing is that you can actually use your credit card, at least in the US where I'm at, but also in many other countries in the world.
Now, the fee is big!
If I drop a $5,000 purchase on my credit card, that's a $250 fee.
"Ouch!"
Then, what if you buy it and the price goes down?
That's even worse.
Sure, you could buy it at 5%, the price could go up 20% and it might be worth it.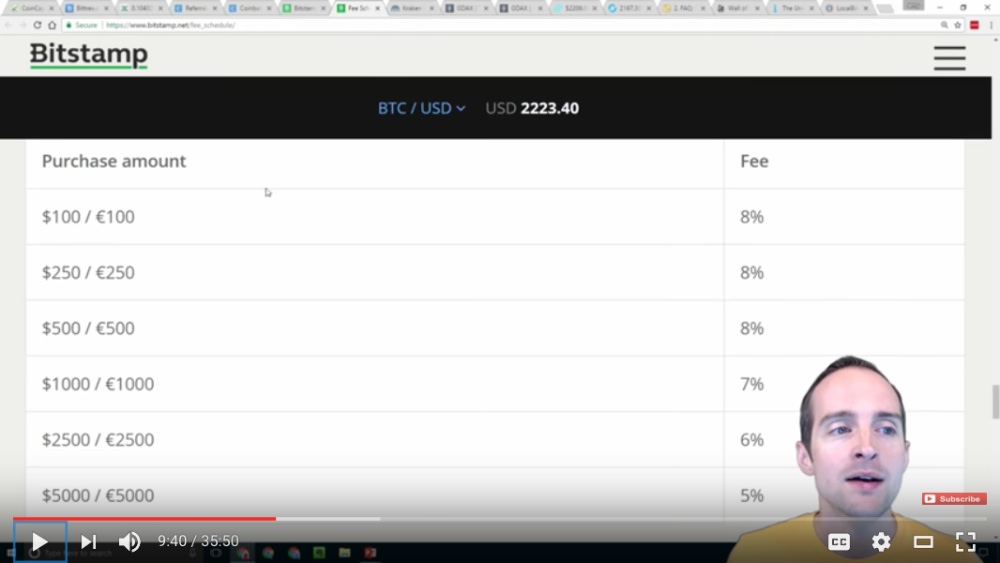 Still, you should be able to use bitstamp.net to drop it straight on your credit card, which I think is outstanding.
Now, if you don't have cash in the bank, and you're going to just put it on a credit card, I'd highly recommend against that.
However, I trust your judgment, maybe you can make something good out of it.
In my opinion, the top two options in my mind to buy Bitcoin with fiat currency online are coinbase.com, which is really easy to use and available in 30 plus countries, and bitstamp.net.
If I had to just rank one of them, I'd probably say that Bitstamp is the top globally, and in the US, Coinbase is extremely convenient for me personally.
Now, what I highly recommend is to check out both of them first and if you can't use either of them, or if you've already used them and want something else, then there are more options.
However, these tend to be a bit more limited than Coinbase and Bitstamp.
Kraken.com

Now, you should be able in lots of different areas to buy on to kraken.com as well. You can do the very same type of deposit as Bitstamp.
You can use a SEPA deposit if you're in Europe and that's free, you can use a bank wire out of the US, you can do a bank wire in Europe, you can do a US dollar bank wire deposit outside the US or you can even do Japanese yen.
If you're in Canada you can do a Canadian wire deposit for free, you can also withdraw straight in these methods as well.
You need to be able to do a wire deposit anywhere except Europe to get on to Kraken.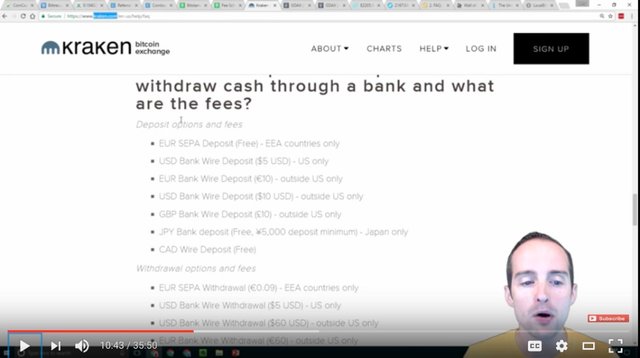 If I'm reading this correctly, you may also be able to do a Japanese yen bank deposit straight on there.
Between Kraken and Bitstamp, you should be able to buy Bitcoin in whatever country you're in, and the fees are pretty good.
On Kraken, you've got some more possibilities, and you can trade as well. Kraken has a lot of different currencies you can buy.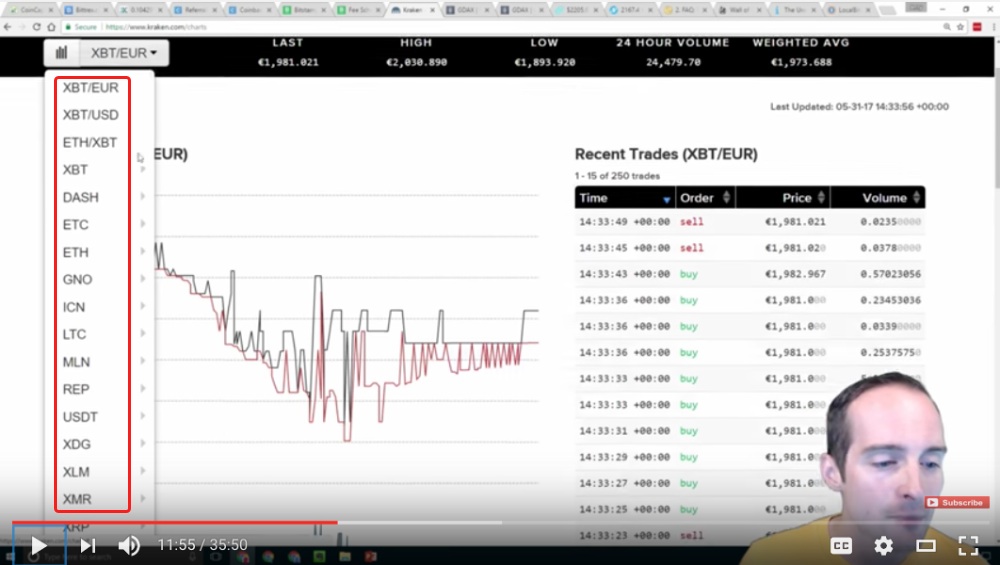 On Bitstamp right now you can only buy Ripple and Bitcoin with your fiat currency, while on Coinbase you can only currently buy Litecoin, Bitcoin, and Ethereum.
Kraken is one of the few where you can make a deposit and it looks like you can do it for most of the world, then there's a lot of trading pairs. You can go Dash, Ethereum, or Ethereum Classic, and there are several other things you can trade straight on Kraken as well, which might eliminate the step of going to sign up also on Bittrex or Poloniex, to give you the ability to trade a lot more of these different cryptocurrencies.
Kraken is a great option if you want to give it a try. If you don't know what an international bank wire transfer is and that sounds intimidating, look into it, just go to your bank, ask how you do it, or google it online. You want to be able to do an international bank wire transfer if you want to buy Bitcoin online.
Gdax.com

Now, you've also got gdax.com in the US, which has Bitcoin, Ethereum and Litecoin. Gdax is well connected with Coinbase, I'm not sure if they own it or if it's a partner somehow, but it's basically like an extension of Coinbase. In terms of the countries it works in, they are very similar to the ones that it works in for Coinbase.
You can send a wire transfer into Gdax, you can also deposit with ACH or SEPA on Gdax as well, and then you can withdraw up to $10,000 a day on it. You can deposit on Gdax, however just like Coinbase it doesn't work in Canada, it does work in Europe and in the UK, but Australia and Singapore have limited trading functionality as well.
Gemini.com

There is another website called gemini.com.
Gemini works for the US and Canada, but also for Hong Kong and South Korea. If you're in one of these countries specifically, you might be interested in making a deposit through this site instead of using one of the other websites.
Singapore, the United Kingdom and Puerto Rico, are also supported.
On Gemini you can buy in with US dollars in Canada, I hope they'd support Canadian dollars, but it looks like they just do Bitcoin/US dollars on everything.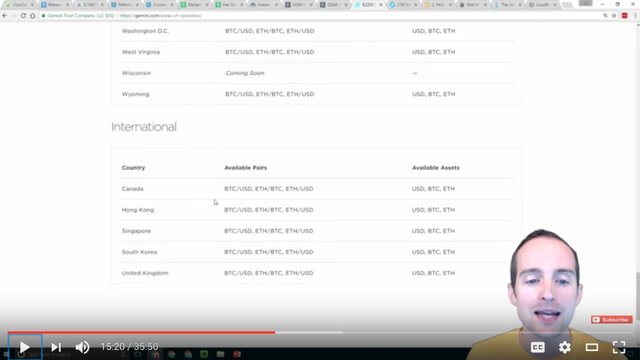 In fact, you can buy Bitcoin in the US as well as Canada, Hong Kong, Singapore, and South Korea on Gemini using the US dollar, and that looks good to me.
XBTCe.com

Now, there's also xBTCe, which has a knowledge base in Russian as well as these other languages.
You'd hope that with support documents in Russian and Chinese they'd be able to get Russian and Chinese customers on board on xBTCe.com.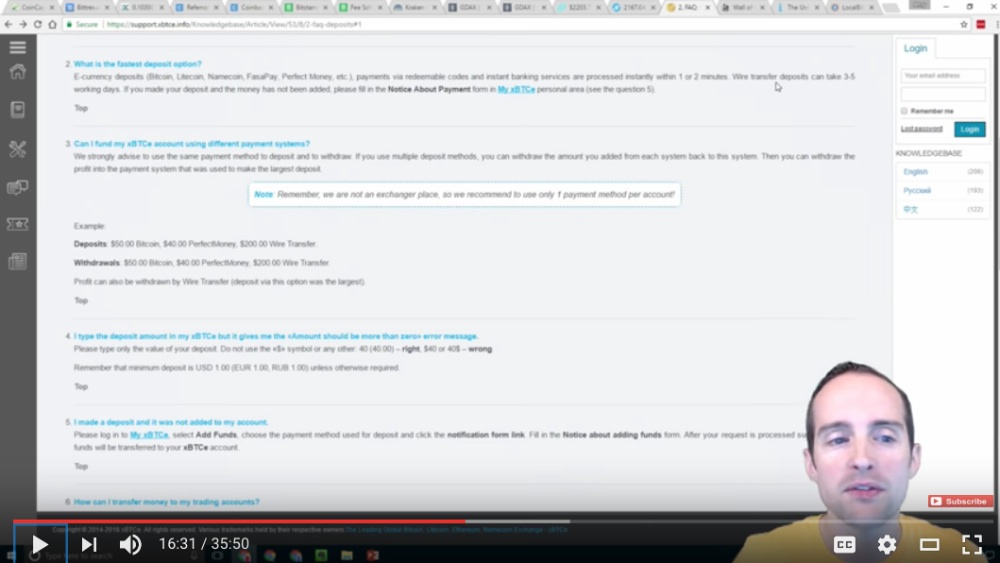 They've got listed here wire transfer and Perfect Money. They also have FasaPay and others listed as well. Basically, this looks like you're going to need to be able to make wire transfers as well.
However, it says "Profit can also be withdrawn by wire transfer."
xBTCe might work for you as well, and that's a basic coverage.
As a quick summary, Coinbase and Bitstamp.net are my two top choices, Kraken and Gdax, Gemini and xbtce, also look like excellent options.
These are six websites where you can essentially deal straight with the exchange, and in terms of getting the best price that is what you want.
Now, with these final two, you have to deal with individual sellers essentially.
Wallofcoins.com

Now, I've used Wall of Coins on over $50,000 of Bitcoin transactions.
I have a course on my website that shows how I used Wall of Coins to buy Bitcoin and then sell it marked up 10%. You can enroll in the course for free using this link with a free coupon: http://u.jerrybanfield.com/courses/btc111?coupon=steem
Now, I also got my bank account closed because I did too many transactions for too high of a dollar amount. If you want to do that successfully, you will have to do it on a smaller dollar amount.
Wall of Coins allows you to buy Bitcoin directly from other sellers and this currently works in the US, and it may have functionality in your country.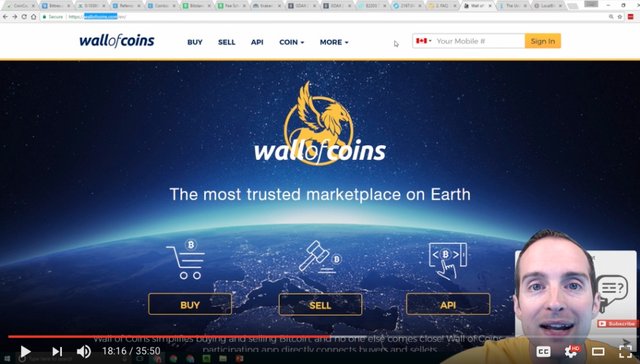 Just try it out and see if there's any accounts available for your country, if not, then it doesn't work for you.
Wall of Coins is nice because you can use cash directly from your wallet and I know the owner. I also have a half percent ownership in the company as well, so it's important to disclose that up front here.
I've used Wall of Coins to buy, but mostly sell about $50,000 or so in Bitcoin. What I would do is buy Bitcoin on some of these other websites, put it for sale on Wall of Coins, and mark it up. There's essentially a convenience fee that you get for being able to pay directly in cash.
How does Wall of Coins work?
As a seller, you sign up and connect your bank account to Wall of Coins, you then deposit your Bitcoin, and I think they have Dash available now as well. You deposit that on Wall of Coins, buyers come along and make cash deposits in your bank account. Once you confirm the deposit, then Wall of Coins gives the buyer their Bitcoin or Dash, and you've already got the cash deposit in your bank account.
If you do this on small amounts, like buy $180 or less at once, this can work really well. The banks typically aren't that interested in smaller deposits.
Now, where I went wrong is that I was taking two plus thousand dollar deposits at once and the bank got kind of curious as to why people all over the country were making huge cash deposits into my bank account all at once. I sold more than $10,000 in two or three weeks, and then my bank flipped and just closed my account.
This is a great fast way to buy some Bitcoin online if you want to directly deposit cash into a bank account in the US. I like it because you know that Wall of Coins has the Bitcoin there. You don't have to deal directly with the seller using Wall of Coins.
If you're in the US, then this might work really good for you.
Localbitcoins.com

Another option is localbitcoins.com.
Now please, would you continue to read through this? I'll mention some problems at the end of this section.
You have 248 countries on localbitcoins.com currently where you can buy and sell Bitcoin near you.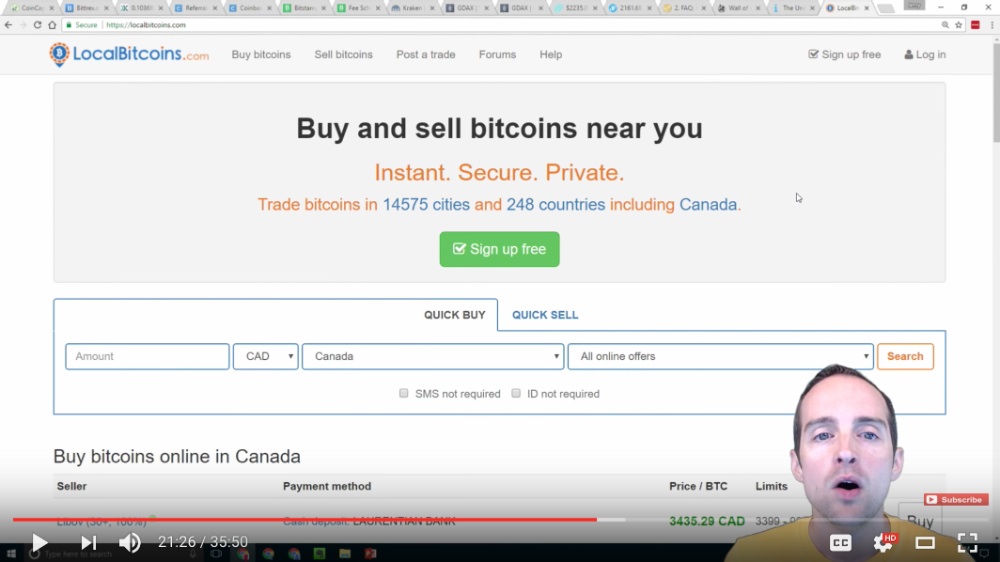 Now, this is a good solution if you are having a hard time with using these other websites. I do not recommend using LocalBitcoins or Wall of Coins if you can use one of these others.
It might be real easy to just go give someone $100 in cash somewhere and buy Bitcoin, but it's much better to get Coinbase, get one of these set up if you can.
They each have different payment methods and you need to be aware of the exact terms and conditions. I've never used LocalBitcoins before so you may have other issues with it. However, I'll give you the set up simply.
What you can do on LocalBitcoins is go transact with a seller near you who has Bitcoin, and then buy the Bitcoin directly from them. Now, there are all kinds of things that you could potentially go wrong with this. However, LocalBitcoins seems to do a good job. They've got feedback ratings and you can see how much sellers have done.
This one for example is a cash deposit to a specific bank and you can look at this seller. You can see how long it takes them. You can see the confirmed trades. You can see the feedback score. You can see all these things verified on the page.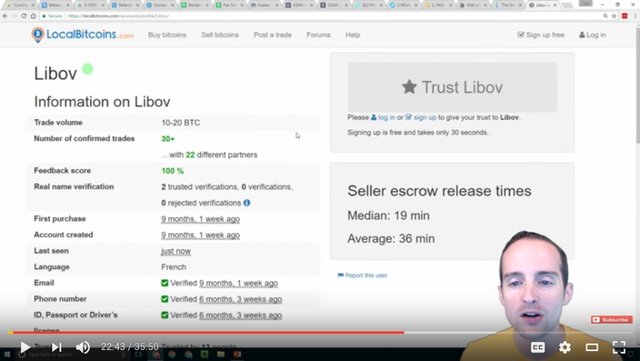 What you do essentially is pick a local seller and the price you pay per Bitcoin. Now, you're likely to get some marked-up prices on this website because you're essentially paying a cash convenience fee.
If you use Canadian dollars on a site like Bitstamp, you can buy Bitcoin for about $3,000 Canadian dollars. You'll see that the lowest price is $3,400 Canadian dollars for Bitcoin, and that means you're paying a significant markup.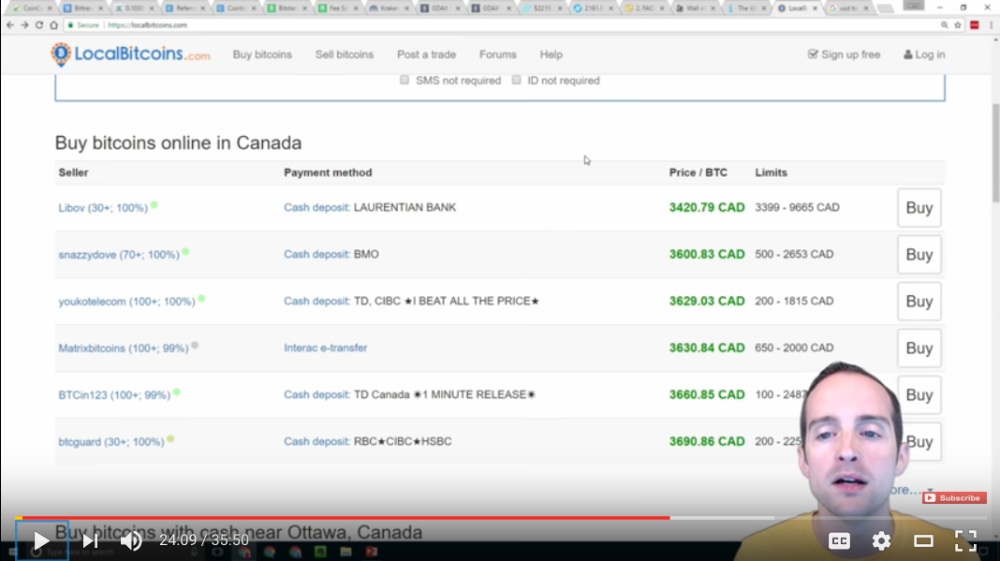 You can essentially buy a bunch of Bitcoin on one of these other websites and sell it on LocalBitcoins at a 10 plus percent markup. You'll see this is currently about a 13 to 15% markup here.
If you can't use one of the other methods, LocalBitcoins will give you the chance to buy in, but you're likely to pay a premium for dealing directly with another seller. Now, this might be a really good opportunity also to use LocalBitcoins if you can buy on Bitstamp.
If you can go buy $10,000 of Bitcoin with a wire transfer on Bitstamp, you could then probably sell it for $11,000 on LocalBitcoins. I would imagine that's what most of the sellers are doing on LocalBitcoins.
This is a really good opportunity.
You can then buy online in Canada or you can meet directly with another seller in person and buy cash. There are different sellers, they take things like PayPal, there are all kinds of different options, so if you explore on LocalBitcoins, you can figure out what's the best for you.
Warning!

Now, problems with LocalBitcoins and this could be a similar issue with Wall of Coins.
Sometimes Bitcoin is being used as a payment by some of the illegal markets like drug dealing and everything else you can get on the black market, and then the way they're able to cash out is to conduct these local transactions.
For example, a drug dealer tells you that you'll pay in Bitcoin. You give the drug dealer the Bitcoin. They give you the drugs, and then the drug dealer goes to sell the Bitcoin on LocalBitcoins.
Now, you can run into some of these things in buying and selling locally on either end.
One of the reasons I've stopped selling on Wall of Coins and I haven't even started to sell on LocalBitcoins, even when I can see I could easily make 10% per transaction, is that I don't want to get in the middle of someone else's money laundering scheme without my own knowledge.
That would be pretty stupid, and there are court cases and stories on the news of people going to jail being involved in money laundering using things like LocalBitcoins.
Wall of Coins might be too new to have got into anything like that. These can be an issue using something like LocalBitcoins.
Summary

I hope in presenting all this to you I've given you a comprehensive look at different ways to buy and sell Bitcoin, and then from once you've got Bitcoin, you can easily buy into everything else.
If you use a website like Coinbase, Bitstamp, Kraken or Gdax you can actually buy straight into something besides Bitcoin as well.
You can buy into Ethereum directly on Gdax with US dollars, same thing on Coinbase along with Litecoin. On Bitstamp you can buy directly into Ripple currently with US dollars. On Kraken, I believe there are lots of options you can buy straight in with US dollars and I'm not sure about BTC-e specifically.
All it looks like right now on LocalBitcoins is Bitcoin, but on Wall of Coins, you can actually buy straight into Dash as well with US dollars.
I hope this has provided you a comprehensive look at how to get a hold of Bitcoin.
Then once you've got Bitcoin, you can deposit it either on bittrex.com or poloniex.com, then you can turn it into all these other currencies.
Investment opportunities

Some of the very best investment opportunities can be to buy into some of these altcoins.
Now if you've looked at the charts, Ethereum just went from $170 to $230 in the last couple of days. I'd say that would have been a great investment, but I thought it was overvalued at the time.
Now Ripple was as high as 30+ cents, and it is down to 22 cents.
Some of these other currencies have had just explosive increases like Stratis, which is up 32%, and that I've never even heard of or used.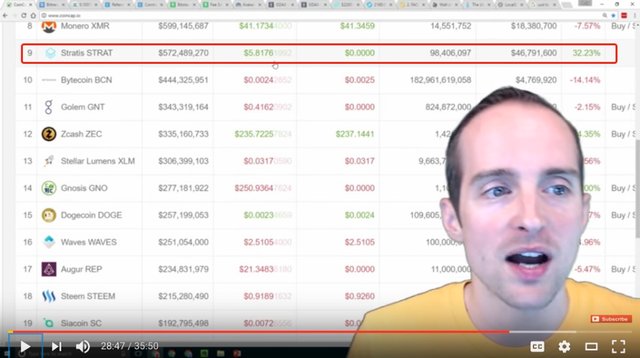 Then, some of these other currencies are down significantly. PIVX went as low as under a dollar, it is back up over $1.60 today. It's just crazy. Some of the most fun I have is to trade in these other currencies.
Once you've got your Bitcoin, Ethereum or Litecoin, and have a system where you can buy US dollars or Euros or whatever you're using, you could put it on to Bittrex and start trading.
You can see these Bitcoin markets up here on Bittrex.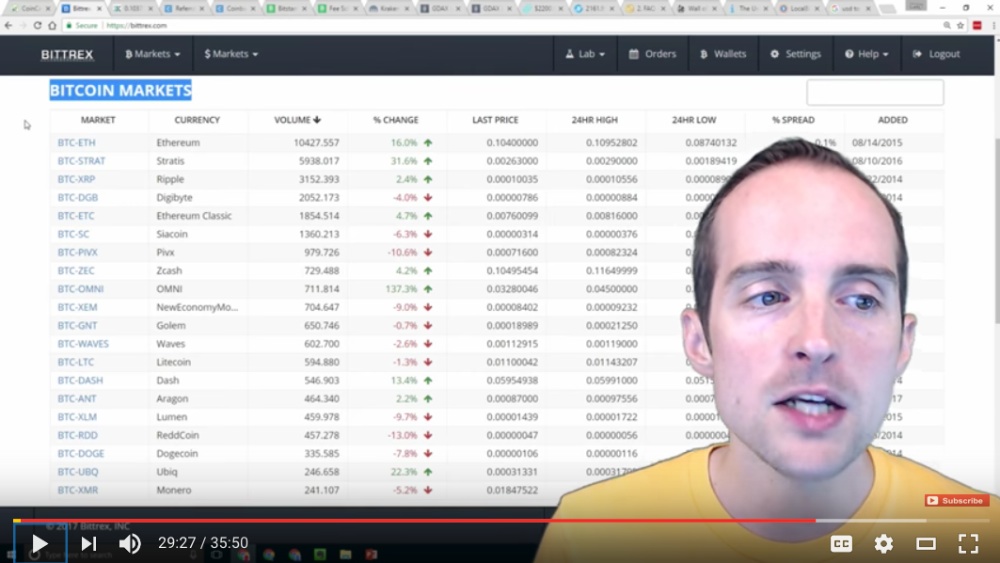 You can trade all kinds of things on these markets, you can have lots of fun, and you can invest at the same time.
I think that one of the best ways, if you don't know about any currency in particular and you just want to invest and make some money on it, is to split it up equally and buy across all the different market.
On Bittrex you can buy into 150+ currencies and if any of them absolutely blows up, then you're going to come out way ahead. If you don't know about any of the currencies, this is a great way to do it because it's a diversified portfolio.
That way you don't lose that much on any one particular currency, and if any of them blows up and goes up 10 or 100 times in value, you make so much on that one, that it will cover almost all the rest of the losses for your whole portfolio.
Then, as all the altcoins go up over time, you've got a good chance to just continuously build and build on your profit.
Another way to do it is to go all in on one specific currency. Now, this is better if you've researched and learned about your different options. There is one currency that I went all in and I'm really excited about. I'm so pumped up about it, that I've sold everything else and bought into that currency.
These are two different basic ways you can do your investing.
Thank you very much for reading this, I love you.
If you found this post helpful on Steemit, would you please upvote it and follow me because you will then be able to see more posts like this in your home feed?
Love,
Jerry Banfield