Elon Musk sets the story straight on the TSLA BTC sales...
Elon Musk and TSLA sell bitcoin, they must hate it! Not so fast...
The mainstream media has been running with the story that Elon Musk is exiting bitcoin.
They have been printing headline after headline of TSLA giving up on their bitcoin bet etc.
However, things aren't always what they seem...
TSLA had their earnings announcement today and the big takeaway people seemed to have was that TSLA had sold some of their bitcoin...
Elon Musk posted this on his Twitter regarding the sale: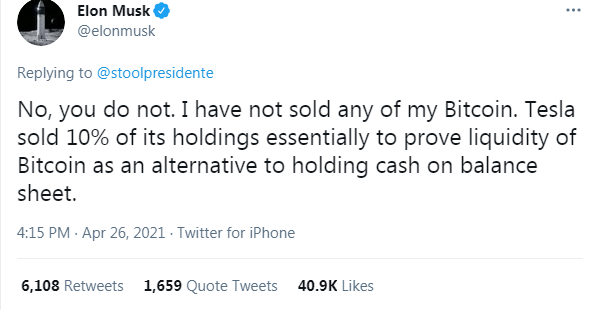 (Source: https://twitter.com/elonmusk/status/1386821144037236737)
TSLA sold 10% of their bitcoin holdings and headlines and comments popped up everywhere proclaiming that bitcoin and TSLA were parting ways.
However, as you can see above, that is not the case.
Elon says that they sold 10% to show that bitcoin is a liquid investment that can be liquidated whenever needed.
While that sounds a little suspect to me, it is what it is.
The best way to prove it would be buy more bitcoin again Mr. Musk...
Others seem to like the move though: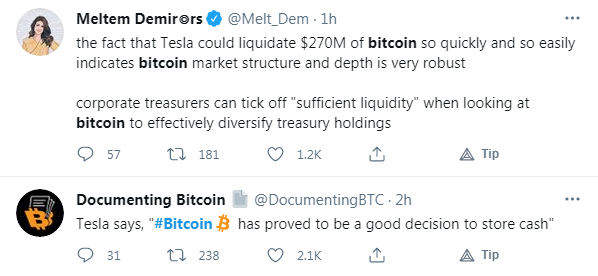 (Source: https://twitter.com/search?q=bitcoin&src=typed_query)
Get your popcorn, things are getting interesting around here!
Oh, and don't look now but STEEM is getting close to a dollar again, that was fast.