Looks like a bottom to me!
The 1 HR BTC Chart looks like it's putting in a bottom
I may have bought a little early, but I think the lows are being put in as we speak.
The price got as low as $30k and is now already back over $40k.
That's exactly the kind of price action you see at the lows.
Check this out: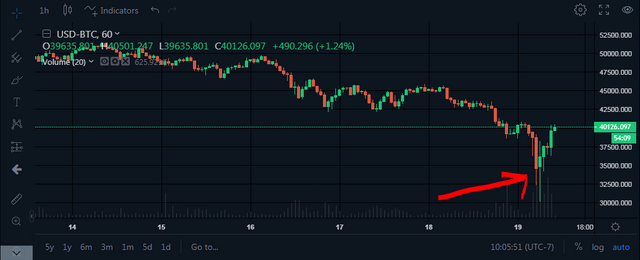 (Source: https://bittrex.com/Market/Index?MarketName=USD-BTC)
That is a massive V bounce which is exactly what you tend to see at bottoms.
We are currently $10k off the lows and looking like the bottom is in.
We may retrace some of this bounce in the coming hours, but over the medium term I think that was the lows.
Looking for a move back over $42k to feel very good about the lows being in.
The bad news is that i was buying up around $44k instead of $30k, oh well, such is life.
Anyone out there get the lows on this drop?