According to a recent report, less than 1% of all bitcoin transactions involve money laundering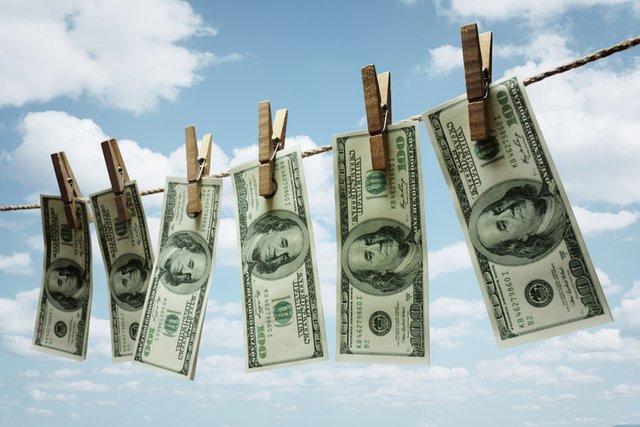 In a recent report by the FDD and Ellicit, a bitcoin forensics company, it was shown that less than 1% of all bitcoin transactions were involved in some form of money laundering.
Let that sink in for a moment...
Less than 1%!
I am not exactly sure how they were able to come up with that number, but I would imagine and venture to say that much more than 1% of all cash transactions are involved in some sort of money laundering, but that is just an outright guess on my part.
Given that, should we outlaw cash?!
That is the line of thinking that many of bitcoin's critics have used to throw cold water on the bitcoin idea.
Some information about the report:
The report was written by FDD and Ellicit (the former of which can be found here: http://www.defenddemocracy.org/) in order to help analyze and show the flow of funds using the bitcoin network.
The results indicate that money laundering isn't nearly the problem that some people think it is.
Specifically, this was a quote form the report:
"The amount of observed Bitcoin laundering is small and darknet marketplaces such as Silk Road and, later, AlphaBay are generally the source of almost all of the illicit Bitcoins laundered through conversion services."
(Source: https://cointelegraph.com/news/bitcoin-laundering-less-than-one-percent-of-all-transactions)
Which basically means, get rid of such marketplaces, and the amount of money laundering drops significantly. Judging by recent US regulatory action, I would imagine that they know this already.
Surprisingly, or not surprisingly depending on your view point, the vast majority of money laundering was said to be coming from Europe.
*According to the report, more than 5 times as many illicit bitcoin transactions take place in Europe vs. North America.
Their suggestion?
AML and KYC regulations need to improve.
AML = Anti Money Laundering
KYC = Know Your Customer
Both of which have been heavy focuses of cryptocurrency exchanges here in the US. Where you could once open a trading account with just an email, it now requires a phone number, an email, an ID, a social security number, a hair sample, and a drop of blood. (I am joking about those last two, sort of)
According to the report:
"The only way to manage the illicit transaction is for Financial authorities in all jurisdictions to increase AML enforcement."
(Source: https://cointelegraph.com/news/bitcoin-laundering-less-than-one-percent-of-all-transactions)
Basically it sounds like they are calling for coordinated efforts across the globe to help each other combat illicit uses of cryptocurrencies.
I am assuming that is exactly what South Korea is about to do as well as several others.
Too bad China decided to bow out early and make it illegal...
Oh well, don't let the door hit you on the way... cough cough, I mean what a shame. :)
Stay informed my friends.
Image Source:
https://www.paymentlawadvisor.com/2016/07/08/nydfs-issues-regulation-addressing-anti-money-laundering-transaction-monitoring-and-filtering-requirements/
Follow me: @jrcornel