BTC - Represents rare opportunity with prices below Stock to Flow model
Bitcoin may offer a unique opportunity right now with prices below its Stock to Flow model
Bitcoin has been beaten up pretty badly the past few weeks.
Something that many hadn't seen coming a month ago after bitcoin rocketed off the $7k lows to briefly go over $10k.
It looked like the bottom was in and prices were ready to begin their pre-halving ascent.
Except the bottom wasn't in.
Fast forward several weeks and every bit of that move up has been erased, and then some.
Bitcoin briefly touched $6,500 last night as bitcoin saw it's lowest price level since May of this year.
This recent plunge may represent a rare opportunity...
Looking at Bitcoin's Stock to Flow model we can see that bitcoin is now below that model line: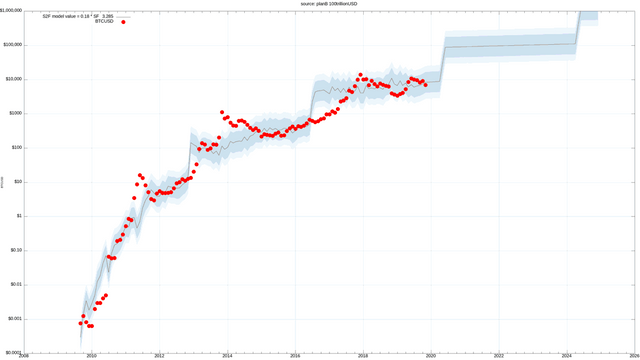 (Source: https://twitter.com/100trillionUSD/status/1198994998655672321)
When taking this information in isolation, it's not that unique as there were plenty of times where bitcoin traded below its stock to flow model trend line.
After all, the stock to flow model trend line is more of a general guideline/trend for where prices should(could) trade as opposed to a hard and fast line that they cannot cross.
However...
And this is a big "however"...
There are only a few instances where bitcoin has traded below it's stock to flow model trend line AND been less than 6 months from its next halving event.
It's only happened a couple times, for a very short period of time, and it represented the lowest price point for the next several years.
Is this time different?
It very well could be as we have only had 2 other halving events to go off of.
However, it seems worthwhile to at least pay attention to the setup and possibly worth speculating that it might play out in a similar fashion as the previous two times we saw this same thing happen.
Which means...
BTMFD!
(buy the mother truckin dip!)
*Again not financial advice, just the opinion of some random dude on the internet
Stay informed my friends.
-Doc