This time it's different?
Famous last words uttered by traders right before it turned out not to be different at all.
What is different you might be wondering?
Well, the fiat fund flows into crypto are different, that is what.
In the past you would often seen bitcoin rally first and then once bitcoin would start to reach overbought conditions or brush up against some major resistance level, you would see money start to flow out of bitcoin and into other coins.
In fact you can clearly see evidence of that related to Ether.
Take a look at this chart of Ether/BTC: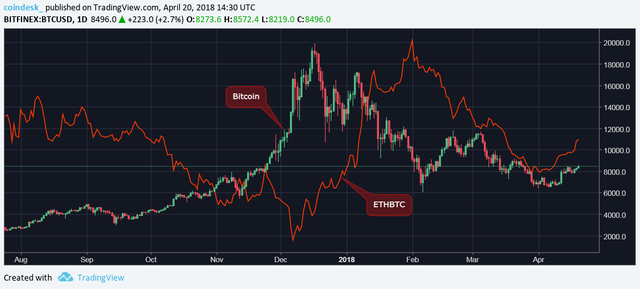 (Source: https://www.coindesk.com/bitcoin-bull-trap-not-says-lesser-known-price-indicator/)
As you can see, bitcoin clearly lead ether in December when bitcoin ran up to make new all time highs.
Then a few weeks later, ether followed suit and made all time highs.
Looking very much like money rotated out of bitcoin and into other altcoins.
Things are different this time around:
What is interesting right now is that trend from last year no longer seems to be the case.
In fact, take a look at the second part of this chart: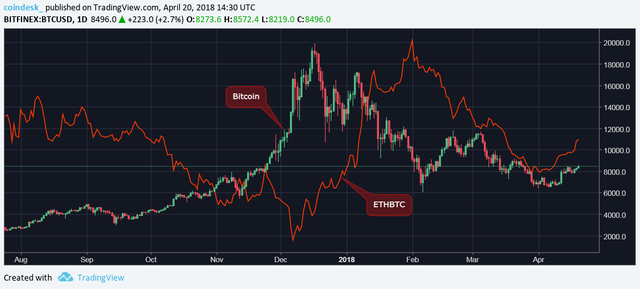 (Source: https://www.coindesk.com/bitcoin-bull-trap-not-says-lesser-known-price-indicator/)
You will see that now bitcoin and ether are moving basically in lock step with each other.
A rising tide lifting all boats?
Is this a good thing or a bad thing?
Well, in my opinion it probably means that if bitcoin were to breakout of it's recent doll drums there is a chance that it starts pulling money from altcoins again.
A phenomenon I like to lovingly refer to as the "bitcoin suck".
We saw it happen a few times in the middle of 2017.
It basically means that as bitcoin goes higher it starts to pull funds from other coins to further fuel it's rally, the net effect is soaring bitcoin prices and bleeding altcoin prices.
There is no guarantee this happens again, but in my opinion the current setup is looking like that might be the case to me.
Once bitcoin gets that catalyst to start it's next run, it may indeed be at the expense of many of the altcoins.
Or perhaps, they can all go up together in a beautiful symbiotic relationship. :)
Plan accordingly.
Stay informed my friends.
Follow me: @jrcornel