Turkey to setup a central bank to hodl Bitcoin for Exchanges... this after banning it as use for payments last week
You can't make this stuff up...
A week ago bitcoin and crypto world was ablaze as news was pouring out about Turkey banning bitcoin and crypto.
When the dust settled it was clear they weren't actually banning bitcoin, but instead just banning bitcoin and crypto from use in payments.
People were still free to invest.
Some speculated that would soon be banned as well, but the news out last night says there is no chance of that...
Turkey announced they are setting up a central bank to custody bitcoin etc for the crypto exchanges in the country.
Check it out: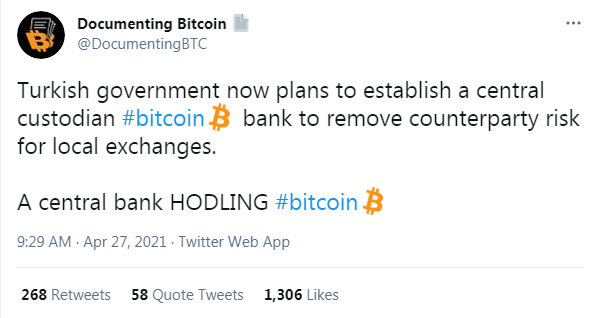 https://www.bloomberg.com/news/articles/2021-04-27/turkey-cryptocurrency-exchange-bust-spurs-move-for-regulation
This is pretty surprising and pretty awesome at the same time.
One of the main weak points of bitcoin investing currently is the risk of exchange hacks.
Now I know most people don't like governments around here, but would you rather have your crypto being held by a government insured and protected bank or by some high school dropouts running a crypto exchange.
I have a guess...
This confirms that bitcoin investing isn't going away any time soon, even in the places that may move to eliminate payments in it.
Which isn't that absurd when you think about it, I mean most places don't accept gold or stocks as a form of payment... which is closer to what bitcoin is currently.
Stay informed my friends.
-Doc