Ripple Update: Don't Miss GO GO GO Hurry UP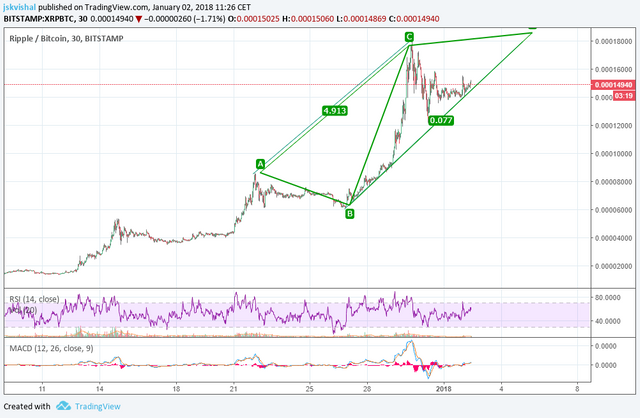 My previous XRP signal in December 2017 is performed perfectly. Today on every exchange I seen whales joined the XRP show so I decided to do a Technical Analysis on XRP.  
Trading idea is based upon overselling of XRP that RSI confirms price reversal. MACD histogram supports upward moment upto 45% and DMI allows to open a semi long term trade. XRP already done a good price correction and its going to explode because big whales coming for.
XRP is currently trading on .00014956 XRP/BTC on BITSTAMP. According to RSI and MACD Entry Level in XRP is .00015000 and Profit target is .00021000 and .00025000 XRP/BTC. Take stop level on .00013900 but I have faith in XRP so I am not using that because of some XRP events.
Market: XRP/BTC (BitStamp)
Buy: .00015000 (near by)
Profit Target: .00021000 or .00025000
Stop: .00013900
The trading signal is based on BitStamp chart.
Disclaimer: Leave that man.....
---
Request a technical analysis about any crypto-currency by commenting below.
If you found my work useful Please Upvote - Resteem - Follow - @jskvishal