Trade Recommendation BTS-BTC Based on Technical analysis
Hello Guys Welcome to my blog!!!
I am very happy because in my past post Trade recommendation: Ripple achieved first target and ready for the second. Today I am here recommending you to trade with bitshares (BTS).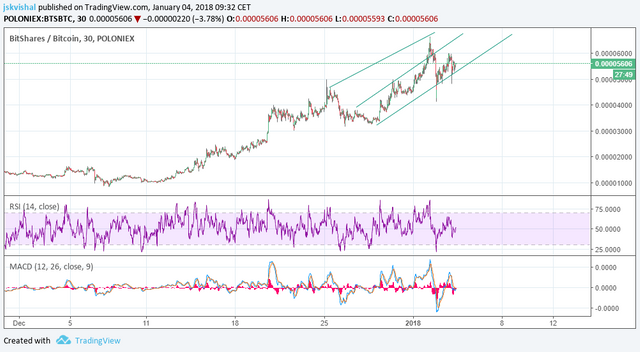 Currently BTS trading at 0.00005500 with BTC pair. Bitshares was breaked .000055 resistance on 11 july 2017. After reaching all time high its settled at .000007 with huge price correction on 03 November 2017. Bishares again breaked .000033 resistance and now trading on poloniex at .00005580. RSI Supports buy at current and MACD shows price up.
Our Target is firstly .000090 and after we go for .00011 BTS/BTC.
 Market: BTS/BTC (Ploniex)
Buy: .00005500 (near by)
Profit Target: .000090 or .0001100
Stop: .00004700
The trading signal is based on Poloniex chart.
Disclaimer: Leave that man..... Decide yourself what to do?
---
Request a technical analysis about any crypto-currency by commenting below.
Request: Please stop buying or selling upvotes and visit created to reward newbies...
If you found my work useful Please Upvote - Resteem - Follow - @jskvishal