Trade Recommendation: Digibyte (DGB) Bullish Signal!!!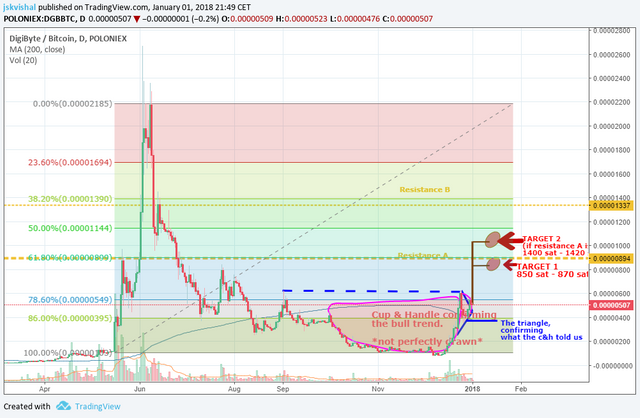 I was updated this idea as a consequence of seeing an impressive Cup & Hanlde confirmed. The triangle keeps confirming what we already know. The bullls want to come out.. Here are the new targets:

Market: DGB-BTC Poloniex
TARGET 1: 850 - 870 sat (near by)
TARGET 2: 1050 - 1100 sat (near by)
STOP LOSS: Below the triangle, a good one is in 400 sat (honestly, I have so much faith in DGB, thats why I don't have a Stop-loss.

As you know, the targets are all named as "near by" beacause they may be not exact targets.
I hope a strong price raise in the next two weeks from now on ( 01/01/18 )

Good luck on you invests, and don't forget to follow  @jskvishal &  upvote.