PepeVote Goes Live!!!! Decentralized, Crowd curated Rare Pepecards ontop of #BITCOIN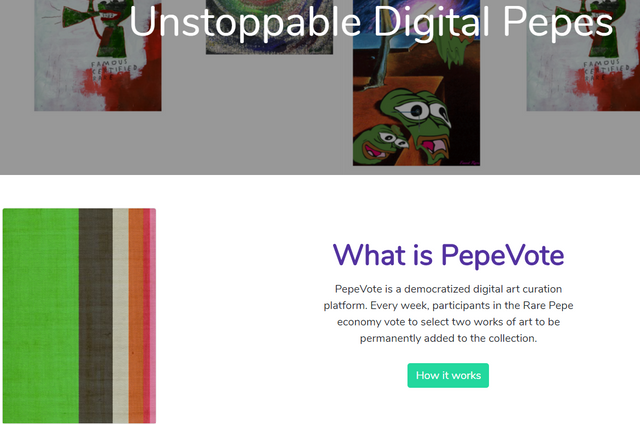 PepeVote.com is going live in a few hours with the first decentralized curation platform for Rare Pepe art cards!
This is a serious development for 'art on the blockchain', and for the Pepecash ecosystem, since up until now the curation of Rare Pepes making it into the RarePepeDirectory.com/ was fully centralized and not community driven.
PepeVote is meant to decentralized that process, allowing Pepecash users and card collectors to vote with a proof of their collection.
To learn more about the Pepecash ecosystem and how Pepevote works, check out their website, tune in to this live stream and have a read at this article I put together which collects some of the top Pepecash resources.
https://medium.com/@eljuangalt/pepecash-venezuelas-petrocoin-and-tokens-on-top-of-bitcoin-john-villar-47ed6e2a044
I hope you enjoy! I work memes, donations welcome at 1EQgSWHNZZ2q9VbJDUMwejTMvVPhzVftrD