The market cap of all coins has DOUBLED in just a month - and keeps climbing
I just had to stop and make a post about this amazing fact - the market cap of all cryptocurrencies has DOUBLED in the last month. For those of you who don't know, this essentially means all of the money invested in all of the cryptocurrencies as a whole. On May 5th 2017 we were at around $45 Billion market cap in all coins, today June 5th 2017 we are at $95 Billion market cap. This shows an enormous amount of growth and interest in the cryptocurrency sphere as a whole, including of course STEEM which as I type this is sitting at a price of 0.00061950btc or $1.62.
Just bask in the glow of this amazing chart (credit - coinmarketcap.com) below showing growth between May 5th and June 5th: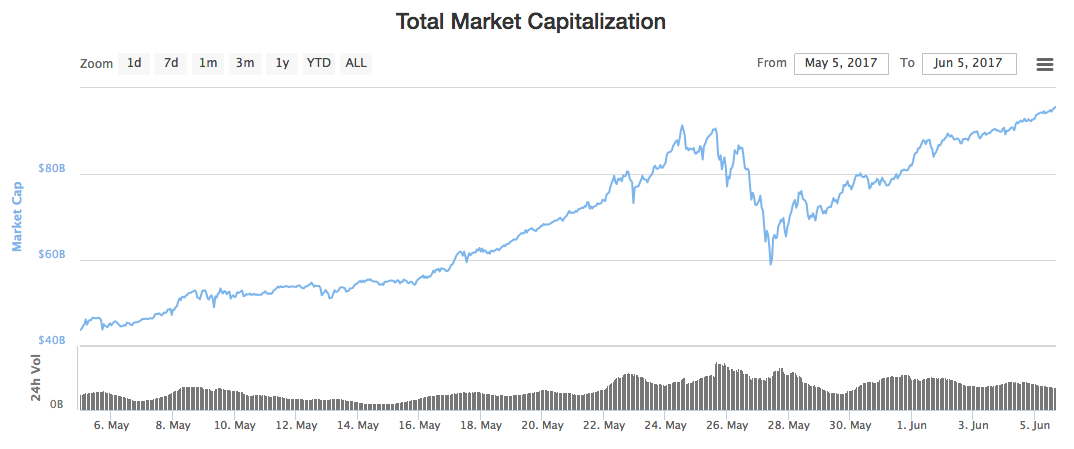 And even more amazing, the total market cap has almost quadrupled in two months. At the beginning of April we were at around $26 Billion, again, today, $95 billion. See below: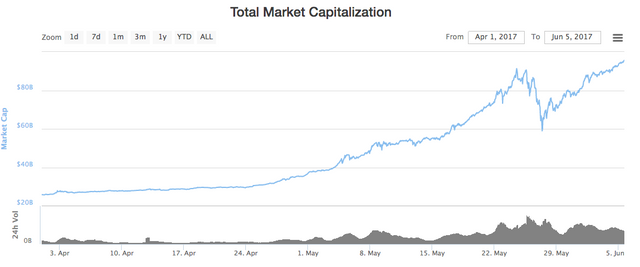 I think 2017 is shaping up to be the year of crypto - next stop, mainstream adoption with STEEM and steemit.com at the forefront and our amazing community that continues to grow at exponential rates similarly to the market cap.