Segwit 2X is likely to lose.
It's been a long time since my last post, i don't like to write because of my crap english, but i have thought about it recently, i want to improve my english skills, i probably can improve it faster if i write a few hundreds crap words every day, i thought about to write the crap words in my private diary, but it's no fun if nobody can see it, right? So i decided to write them on steemit, because it's the only place that i have one thousand followers, some of them maybe still remember me. If you find out any mistakes in my crap sentence, please let me know, thanks.
Now it's time for me to explain why i think segwite 2x is likely to fail, i have posted a vote on wechat recently, it's been forwarded to some wechat groups of the Chinese crypytocurrency community, and 290 votes were collected.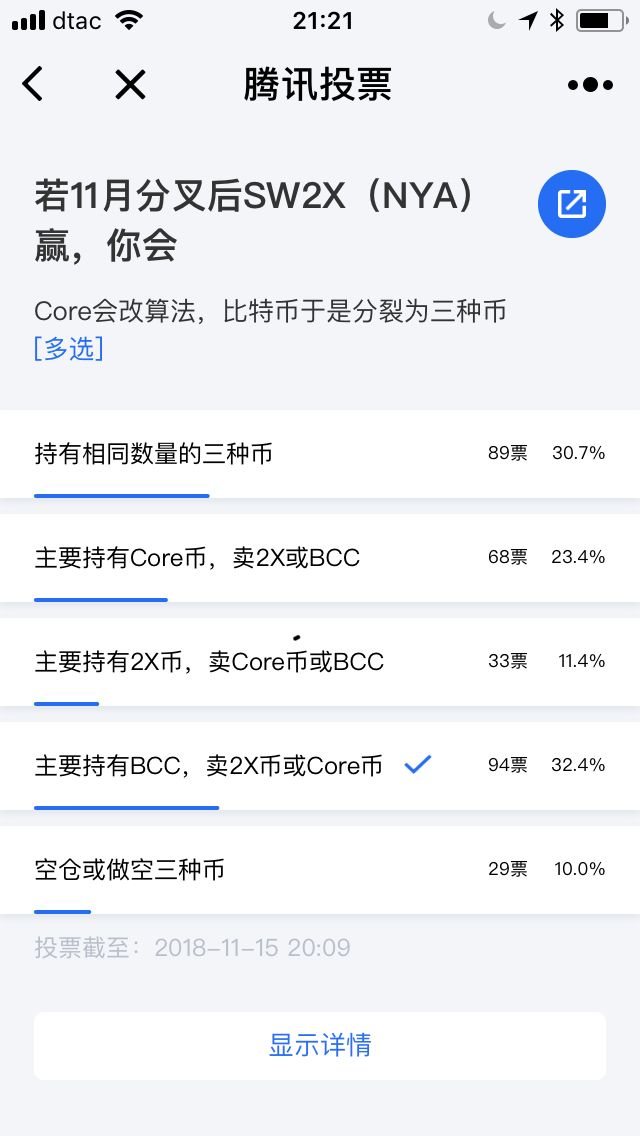 It's wrote in Chinese, i will explain it below:
If Segwit 2x wins at Nov, and Core has changed the mining algorithem , then there have three kind of bitcoins, what will you do?
Hold the same amount of the three coins. 89 votes 30.7%
Hold segwit 1x Core coins mainly, sell part or all of the other two coins. 68 votes 23.4%
Hold segwit 2x coins mainly, sell the other two. 33 votes 11.4%
Hold bitcoin cash mainly , sell the other two coins. 94 votes 32.4%
Sell all of them or even short them. 29 votes 10.0 %
It's possible to cheat on this polls, but i saw no sign of it, so i think it means something.
Bitcoin cash was born two month and 11 days ago, and the price is cheap, a lot of big blockers had bought bitcoin cash already, it's logical to stand at bitcoin cash side, and if you check the posts on /r/btc subreddit , most of the posts are talking about bitcoin cash. Few people like segwit 2x there.
On the core side, NO2X is everywhere on /r/bitcoin, twitter, facebook. So i think nobody likes segwit 2x on core side as well.
And the price of BC1(Core coin) and BC2(segwit 2x coin) on bitfinex.com indicate that core coins has more supportors. Right now, BC1 is trading at 0.8 BTC, BC2 is 0.2.
You may ask, how about the miners? It seems like 95% of the hash power are going to support segwit 2x chain.
My opinion is that miners would follow the profit, but not the opposite, they maybe will be mining on the segwit chain for a while after the fork happend, but most of them will switch back to the core chain if core coins have the highest price.
EDA is unlikely to be implemented to the code of btc1, so the segwit 2x chain is likely to die.
If segwit 2x dies, the 2x supporters will switch to bitcoin cash, Roger ver had said that if 2x failed, he will support bitcoin cash, he owns bitcoin.com , if you search 'bitcoin' on google.com , bitcoin.com is the second, bitcoin.org is the third, that will be a good channel to attract new users.
Considering the price of bitcoin cash is trading at 0.065 BTC only, i think it's the best time to buy some bitcoin cash right now.