Bitcoin Up 15% In Giant, 1-Hour Candle; Steem +40%, SBD +20%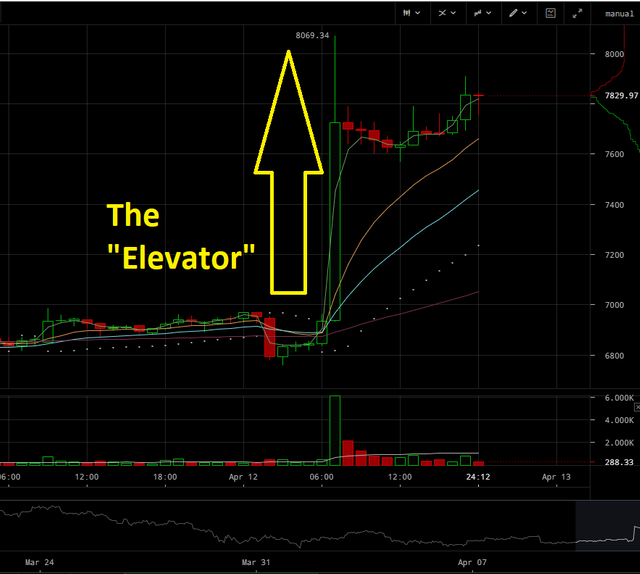 Good, because I'm tired of the long stairway down.
This is the largest 1-hour candle I could find in the data set going back in 2018, and going by my crude-eyeball estimation of the charts below, I'd say this is the largest green-volume candle we've seen since early February, and the largest absolute-increase since mid-January. We'd have to go back to right around New Year's to find a larger percentage gain, as last night's bump represented approximately 15% top to bottom.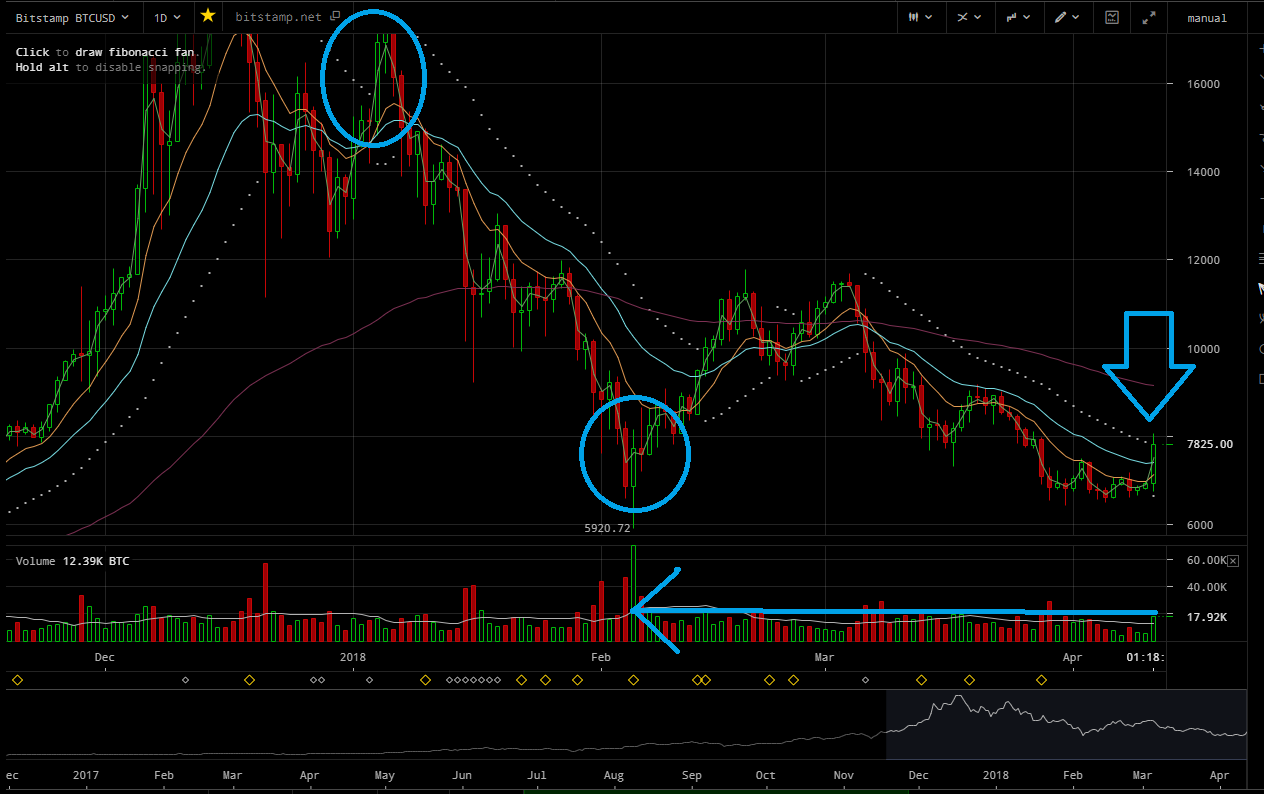 The longer we stay up in the $8000 range, the better this makes the charts look, but fundamentally this doesn't change much in the market. I still suspect the bottom was in (and can be seen on the above chart) at $5920.
As far as I have seen so far, the pundits aren't doing too much speculating on the cause of this bump. Perhaps they are (otherwise) finding it pointless to prognosticate on the unprovable. Apparently the Russian stock market is taking a beating due to new Western financial sanctions (owing to the increasingly hostile situation in Syria), even breaking below key support levels, and some are attributing a portion of this heavy volume to financial diversification on the part of same (oligarchical capital flight.)
Steem (+40%) and Steem Dollars (+20%) also both saw substantial gains on increasing volume, even greater percentage-wise than Bitcoin. Again, no particular news that I am aware of but it's certainly a good sign. An enormous amount of (paper) "value" was added to the Steem ecosystem last night, and the Steem price in Bitcoin is looking very favorable compared to recent medium-term averages.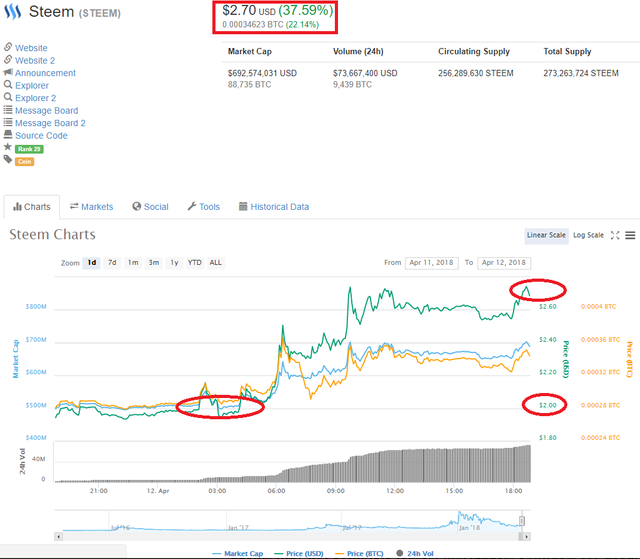 I'd expect more upside, but not until a pull-back has resolved.
I've heard speculation that further announcements on Smart Media Tokens could be with-held until a revival of investor sentiment in the crypto-(or Steem) market. With any luck, this could be the beginning of such a sentiment revival.
Try SteemEngine and get rewarded for every follow or vote!
See my explanation of SteemEngine here.
Post via Busy.org for added exposure and upvotes from Busy!
See how to get extra votes from Busy.org here.

See my explanation of SmartSteem here.
Try SteemFollower today and get rewarded for every vote!
See my explanation of SteemFollower here.

Join us at the Minnow Support Project! (click me)
We also have a Radio Station! (click me)
...and a 10,000+ active user Discord Chat Server! (click me)
Join the Steemit Poker League! (@spl)
World's Largest Cyptocurrency Freeroll Poker Site, open only to Steemians!
Sources: Google, Cryptowatch, Bitfinex, CoinMarketCap
Copyright: SmartSteem, PALNet, SPL, Cryptowatch, CoinMarketCap