How would you invest $10,000?
What if tomorrow morning you wake up and find someone gave you $10,000 tax-free?
How would you invest that money?
The answers may be different, many of them reveal wishes, worries and problems of a person.
LendEDU, a marketplace for private student loans, student loan refinancing, credit cards and personal loans founded in 2014, asked 1000 Americans from the general population to answer this question: "If you were given $10,000 tax-free and had the ability to invest all of it in one of the following options, which would you choose?"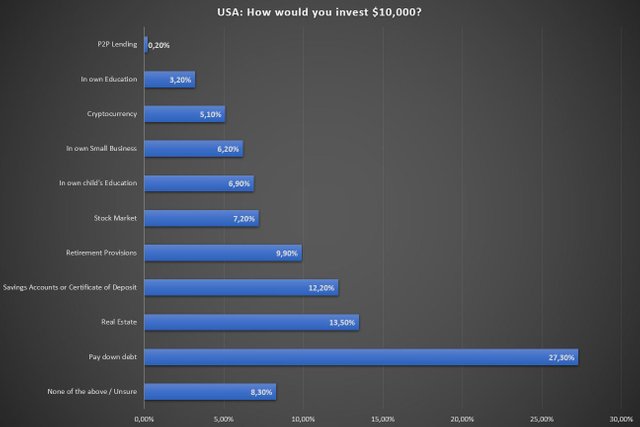 Considering that this question was addressed to the general population, it is not surprising that 27.30% would use the money to pay down debt. It appears debt is a constant for almost all age groups. Stock market is still a kind of investment more preferred than Cryptocurrency but the distance is not so big and probably going to zero in a few years from now.
What your answer to the same question is? Feel free to comment!
Thanks for reading and see you tomorrow with another post
source: LendEDU