Read Share Invite to earn Bitcoin - Pivot App
The new era has started, Now we can earn daily free bitcoin using this app.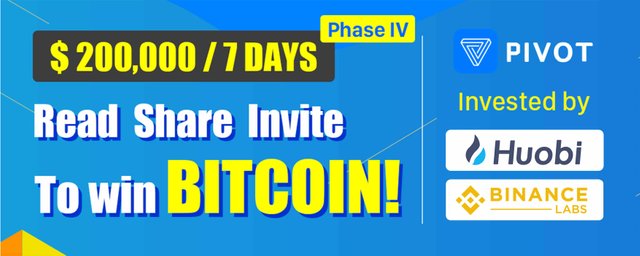 Pivot, invested by Binance Labs and Huobi, is used by millions of crypto investors.
Join NOW the hottest crypto community and the fourth phase of "Daily Bitcoin Bonus" campaign. Up to 4 BTC/day!
In this app you just need to read crypto related articles and you will get POWER and this Power will be auto redeemed for Bitcoin every 24hrs.
Now Let's learn What is Pivot and some Basics:
What is POWER?What is PVT ?
POWER is the certificate of "Daily BTC Bonus", which decides how much BTC Bonus you can get everyday. You can get POWER by reading, sharing posts and invite your friends. For example, if 10000 POWER is distributed to all users in one day, and user A gets 100 POWER, then he/she will receive 1% of the BTC in the bonus pool of this day.
PVT is the token of Pivot community. The total amount of PVT is 31.4 billion. PVT has noting to do with POWER.
How to get POWER ?
Invite a friend.

For inviting one friend to download/register/log in Pivot, You will be rewarded with 10000 POWER;

Read a post.

For every post that you read in Pivot app, you will be rewarded with 100 POWER. The maximum reward is 2000 POWER per day;

Invite bonus.

We'll give you 10% POWER of the friends that you refer.