Alt Season Has Started? - Yes, The Era That Alts Have To Prove Themselves Is Coming!
In 2016 and 2017, it was almost certain for any alt coin to realise gigantic gains. Projects that had only a white paper with some buzz words like AI, smart contract or IOT were worth in the billions within a few months and coins that were faster or cheaper than BTC created huge Gains too. Everyone was analysing new coins on fancy features and nobody was mentioning the base properties of a resilient blockchain like security, decentralisation and Scalability.
Now cryptocurrencies are maturing and catching attention, they will be tested and attacked, many will fail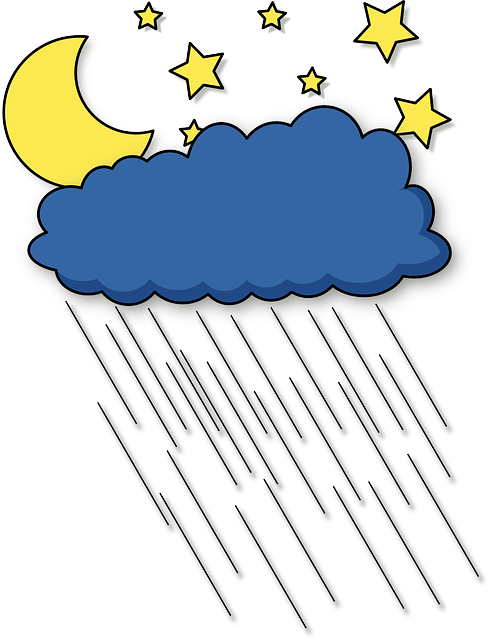 After the huge surge in good weather conditions we will see how the fancy alt coins will function in bad weather
Bitcoin will be proven right
Bitcoin Core devs are threatened like shit in the previous years, even by people that got rich by their hard work. They were called slow, arrogant and nerds who don't understand economics. Bcash proponents even say that they are compromised. People who are building the biggest tool for human freedom that has ever been available don't receive any respect from the community, only complains.
A part of the alt coin community has become anti Bitcoin. Their project will overtake Bitcoin and be Bitcoin 2.0 or even 3.0 and there have been a few (failed) 'flippening' attempts already. What they don't realise is that the main feature of every blockchain is security and decentralisation. When you add features to a blockchain you will make the blockchain more complicated and this always comes with a trade-off because there are simply more attack vectors (security) and there is need for more resources to run the code (decentralisation).
Bitcoin Core is the only team that is fully focussed on security and decentralisation on the main chain. On the main chain of Bitcoin is NEVER made a tradeoff yet, the key properties of the blockchain are always maintained at the original level. Fancy features and fast / cheap payments will come, but it will take some longer because it have to be implemented in 2nd layers to not harm the main chain. Only extremely intensive tested code that is backwards compatible will be implemented in the main chain (if no emergency).
Alt coins have been moving faster than Bitcoin because they DID make the trade-offs on the main chain. Thats why BTC lost dominance in the previous years. However, Bitcoin is the only relatively mature blockchain that has been battle tested in the scaling war and other events. Bitcoin survived every attack and came out stronger because it's resilience through the key properties that are maintained.
I expect that many alts will be hacked, successfully attacked, compromised or simply crash in the time to come because they made the main chain to complicated. The Core devs will be proven right after all the shit they got from the community.
The first issues with alts are coming up
During the bull run of 2017 everyone was interesting in cryptocurrencies and the landscape changed dramatically. Powerful people are investigating the environment and the honey pot for hackers became much bigger because of the huge gains in price. Before the bull run most alt coins were not relevant enough to attack, hack or compromise, but now they are. The years of smooth sailing are probably over and the season of battle testing has started. Many weaknesses are already being exposed:
Ethereum
Ethereum is maybe the best example of a blockchain that is way to complicated and will probably have a lot of headwind in the years to come, it wouldn't even surprise me when the project fails. There have been several hacks already because the code is way to complicated and the roll back after the DAO hack destroyed the decentralisation.
But a far worse problem is coming up, one that could be a perfect lesson for Bcash. There is no block size cap in ETH, and the block size has grown enormously. Full nodes start to fail to stay synchronised with the rest of network and will drop off. This will lead to centralisation at first, but eventually the entire network will crash. What will happen with all the ERC-20 tokens?
HERE you can read a detailed report on this issue MUST READ!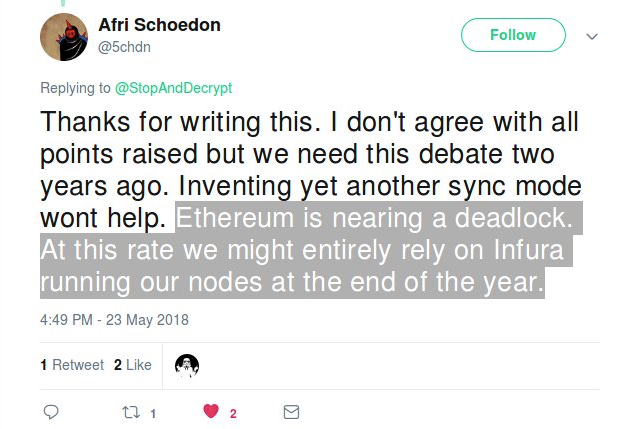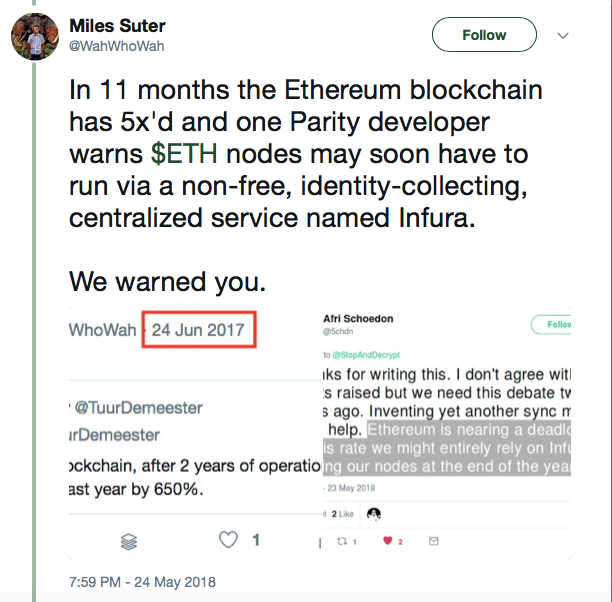 Verge and Bitcoin Gold
Both Verge and Bitcoin Gold were subject to a successful 51% attack recently. This is hilarious, because Bitcoin Gold forked off from Bitcoin to improve on mining and is victim of miners within a year. Every alt coin with a minority of hash rate is very vulnerable to an attack like this. Beside the fact that it shows how fragile alt coins are, it also shows how dumb alt investors are: The price of these coins didn't even tank relevantly, while when it happens to BTC it would be considered a failure of the entire project.
Bitcoin Cash
The previous fork of Bcash showed perfectly why the Core devs are conservative and only update the main chain with backwards compatible code. 20% of the nodes are kicked off the network because they failed to upgrade and some software doesn't work anymore for Bcash. When you held Bcash in certain wallets you are not able to use it anymore, you will need to import your keys to another wallet or wait till the problem is fixed. Bcash is promoted as reliable, but they left many users behind.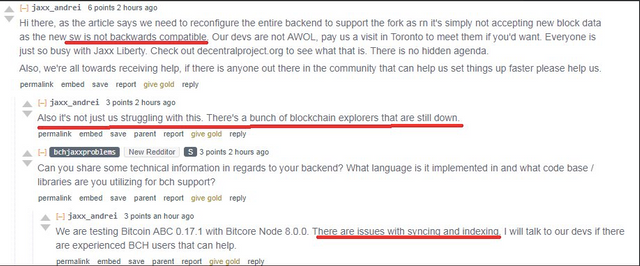 But this is not the only problem Bcash will face: Bcash has only 10% of the hash power, so it is very vulnerable for an 51% attack as happened with Verge and Bitcoin Gold. Furthermore, they will face the same problems as Ethereum because of big blocks (please read the article I linked to under Ethereum) and the decentralisation is harmed by hard forking regularly. Also the previous hard fork reintroduced old opcodes that were taken out of BTC because of serious bugs, so there is a possibility that a bug pops up, but anyway the attack vector is hugely increased.
Conclusion:
Alts been through a very positive era where everything went smoothly and security and decentralisation were forgotten by investors. As the value and scale grows, the resilience will be tested and weaknesses will be exposed. Alt coins were able to move fast, but many will hit a wall when it turns out they made to many trade offs on the main chain.
Meanwhile, the best devs of the world are writing backwards compatible code like Schor signatures, MAST, Bulletproof, etc for the main chain without compromising security and decentralisation. Also Segwit reached 40% adoption and is slowly but surely scaling and improving Bitcoin on chain while Lightning Network (instant and cheap payments) and RSK (smart contracts) are being rolled out to bring fancy features via 2nd layers.
I think alt coins will face headwinds in the years to come and many will fail while Bitcoin grows out to the internet of trust and value by adding extra features through 2nd layers while keeping the main properties intact.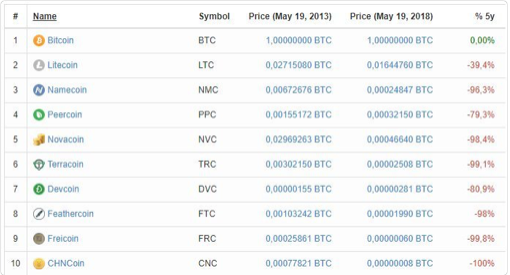 Top ten cryptocurrencies 5 years ago, alt coins come and go, Bitcoin is here to stay!
Disclaimer
This is no financial advice, just my view on the market.
Never stress in a bear market anymore: Follow my diversification protocol
Store your Bitcoins securely
Ledger hardware wallet
Trezor hardware wallet
Trade Cryptocurrencies
Binance Exchange
Buy Bitcoins anonymous with cash
Localbitcoins
Protect your privacy with VPN and pay with crypto
Torguard
Buy gold securely with Bitcoin and store in Singapore
Bullionstar
Like this post? RESTEEM AND UPVOTE!
Something to add? LEAVE A COMMENT!