WaltonChain is a sleeping giant, Now is the time to invest.
---
Reasons why I will be investing into WaltonChain.
---
The Walton project intends to develop a RFID beacon chip with independent intellectiual property rights. The chips created will be bound to the Walton Coins to create an intelligent Eco-sphere of applications on the WaltonChain.

The market space that Walton Chain can cover is in the trillions. The chain will be applicable to multiple industries like, clothing, production, storage ,logistics, and store fronts. It is also expected to be in other fields like electronic licensing and asset management.

The RFID hardware system will prevent bottle necking in commercial applications on the blockchain.

Waltonchain will create its own ecosystem around The Internet of Things, With the increasing popularity of RFID and being first to market Walton chain will be able to expand with the growing market accordingly.

Wealthy investors across Asia from different markets supporting the project.


WaltonChain will be the mother token of this blockchain, as a mother token it will collect dividends from all levels of the system including sub-chains built under it in order to give incentive to holding WTC.

A variety of RFID chips will be developed, including dual-band RFID chips, Biometric chips and various sensor chips.

an example of the ecosystem pulled from there whitepaper

PoSt (Proof of stake and trust) which on top of Proof of stake, Walton adds a innovative node reputation mechanism, this will add importance of reputation for which ever market plans to use WaltonChain, for example keeping a good credit record.

And lastly it is only being traded on one exchange and has a stupid low market cap for how legit this could be.
Time stamp of price for you guys.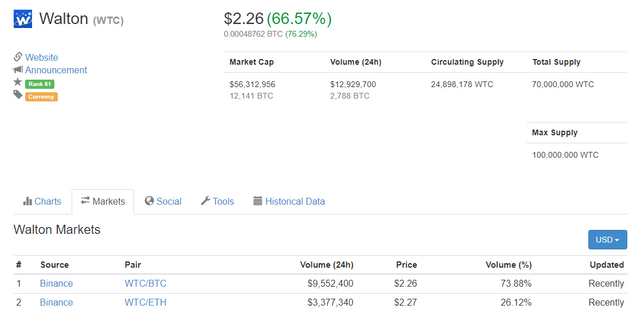 ---