UBCOIN MARKETPLACE FACILITATING CRYPTO TAKEOFF

Not so decentralized yet
Each and every day, more and more people are waking up to the realization of the fintech revolution that we are living in. For most of us, it is the beginning of a new dawn, but for the existing corporations it is the beginning of the end. Needless to say, it is not very surprising to find that cryptocurrency is facing too much resistance in the mission to revolutionize the world. Indeed, it would be very naïve for anyone in this space to believe that the status quo would give in without a fight. It is at moments like these that we draw inspirations from forebearers who had insurmountable obstacles to overcome. As Mahatma Gandhi put it succinctly,
'First they ignore you, then they laugh at you, then they fight you, then you win.'
Empower the people
Nine years since the introduction of Bitcoin, cryptocurrency as a whole is facing a pivotal moment regarding recurrent systemic barriers to entry. And if the above quote is anything to go by, then we have made progress so far. Crypto was created to create an alternative to the current monetary system however what good does it do to have a working product that nobody uses? Crypto is able to circumvent the most powerful quality of money, as a system of control, with ease. What is the function of money as a system of control? The government can censure your access to money with little to show for due to internal and external limiting factors. The biggest hurdle yet to be faced comes from the friction that exists between cryptocurrency and the current fiat system. Due to the lack of regulation, this has been a grey area that has been used by existing organs such as banks and payment processors to stifle the growth of the upcoming competition. While some countries and organizations have retracted in fear, others have taken up the innovation such as Japan and Switzerland. Likewise, there are extreme evidences of hostile reception leading to bans even.
There are multiple reasons that can be attributed to cryptocurrency projects success. One factor you cannot do without is an active community rallying behind it, because they actually use it. Creating a long-term community is not easy, as incentive mechanisms such as bounty programs have revealed. Most people are only interested in the financial incentive and vanish as soon as they receive it, better yet dump on exchanges to make a quick buck to invest in their other favorite projects.
What is UBCOIN?
Being able to integrate every day utility and cryptocurrency is impressive as it reduces most of the entry level barriers of any new technology. Users only need to learn how to use crypto for an everyday activity. Ubcoin is a peer-to-peer marketplace whose 'main goal is to bring 200 million new retail investors to crypto by eliminating all fiat obstacles on the way to crypto'.
The usual entry route to the world of cryptocurrency is through registering on an exchange and linking your bank account to it. At least for most parts of Europe, Asia and America. For those users in countries that adopt late, the alternative route is through over-the-counter purchases using sites like Localbitcoins. It is not new to hear these two routes cracked down upon by introduction of regulation, or by payment processors overcharging exorbitant fees. Not to mention that the users are exposed to counterparty risk, meaning the users are not given a minimum level of protection that is common in other asset classes such that in the case of failure they are not protected. Instances such as exchange hacks, or KYC information being lost by identification services providers hacks. Ubcoin has a different approach to onboarding retail investors to cryptocurrency. Ubcoin connects crypto holders and new investors through trade of goods with transactions payable in cryptocurrency. And this can be done at the convenience of your smartphone. Ubcoin Marketplace already has a mobile application for Android and Apple Store known as Ubank.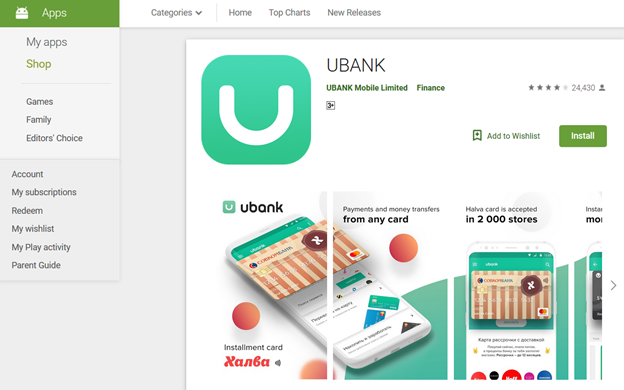 The Ubank application already has more than 16 million downloads. You can be able to register on the Ubcoin platform, and sell your iPhone for Ubcoins(UBC).
Ubank
Ubank is the leading mobile payments processor in Eastern Europe. Ubank has been providing financial services from the mobile app for a while. The Ubcoin Marketplace will be integrated into the Ubank to enable even more people to access crucial financial services in this age.
Smart Contracts
Transactions between buyers and sellers on the Ubank are facilitated through Ethereum smart contracts. This reduces the amount of overhead costs payable to custodians in traditional transactions, instant payments, easy verification of goods, and settling in case of unmet conditions and lower platform fees.
Milestones so far
Ubcoin project has already raised $8,000,000 from Runa Capital.
Strategic partnerhsips with Samsung, LG and Fly, which will see the Ubank app preinstalled on devices.
Ticker: UBC
Platform: Ethereum
Token Type: ERC20
Available for sale: 325,000,000 UBC (50%)
Total supply: 650,000,000 UBC
To find out more about the project you can follow the following important links:
Twitter: https://twitter.com/ubcoin
Medium: https://medium.com/@ubcoin
Facebook: https://web.facebook.com/ubcoinmarket/
Telegram: https://t.me/ubcoin
Announcement thread: https://bitcointalk.org/index.php?topic=3109856.0
Whitepaper: https://doc.ubcoin.io/whitepaper.pdf?v1
Website: https://ubcoin.io/en