1/20/2017 The Market View and Trading Outlook (EVENING)

My bad.. I know it is way too late to get this out there as a daily market report and say sell at $13,000 without looking like a tool so I won't. Been a busy day in real life, have a six month old with her first flu, girlfriend has strep, market is busy. So I have busy trying to trade while playing nursemaid to a recalcitrant infant and dealing with a momma bear that keeps telling me I'm doing it wrong. At 40, you do, but you don't have the patience sometimes.
Alright so I don't sound like a total tool trying to predict after the fact. If you go here: http://thepatternsite.com/at.html ( I like the no BS, just the facts writing style)
Do the math on the breakout with the provided formula. I got a target breakout before pull back of $13,075 so I was looking to sell at the $13,000 range. I did get a bit greedy and held a bit long, but not much.
I saw a doji on the hourly with declining volume, MACD histogram and figured I would wait it out. Then an upside down hammer, followed by a dragonfly on the 15 which kind of sealed the deal for me so I made a choice and was out at $12,855. Would have been nice to of told you folks about the target in the A.M.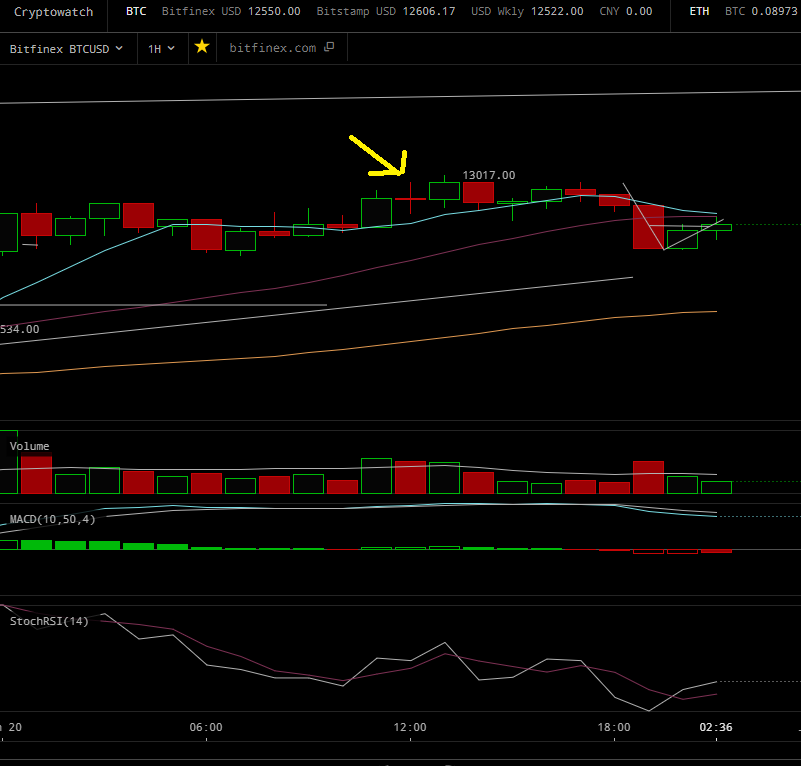 Hourly Doji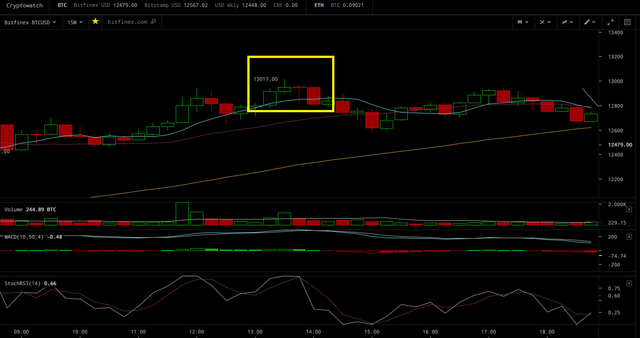 15 Min, Upside down Hammer, Dragonfly. Saw larger frames turning, this confirmed, set limit sell
Aside from that, those that follow me, read my random ramblings and meanderings and have an open mind likely made a good amount of money from both my market analysis yesterday ( https://steemit.com/bitcoin/@pawsdog/1-19-2017-the-market-view-and-trading-outlook ) -- (told you $11,200 was the battleground) and my pointing out a massive triple doji (Rickshaw man) buy indicator an hour before price broke upwards ( https://steemit.com/bitcoin/@pawsdog/doji-trading-input-desired ).
I did that on January 5th with Litecoin as well ( https://steemit.com/bitcoin/@pawsdog/1-5-2017-the-market-view-and-trading-outlook ) and some got a 60 point bump. So either I have a bit of experience and am trying to pass that on so you guys can make better choices or I just get lucky a lot; I'll take either so long as the community or my followers benefit. (Check the edits on the articles, I have not fiddled with them, they are as they were when posted)
While I am on this topic, followers I love you, I really do, but I need some more resteems, upvotes, comments etc.
I'm not pandering, nor am I asking for anything I don't do in return. I upvote nearly every comment made to me (not my own) and I liberally resteem from my audience as well when they hit me with some good content. Sorry if this seems classless but I like to just put things out there.. Let us help each other and keep this series alive... :) Moving on.
So briefly as it is late, I am tired, grouchy, considering where to bury two bodies in the Everglades (joking) and I have not been able to dedicate the time to the charts today to be truly informed I will give a brief, brief, set of possibilities.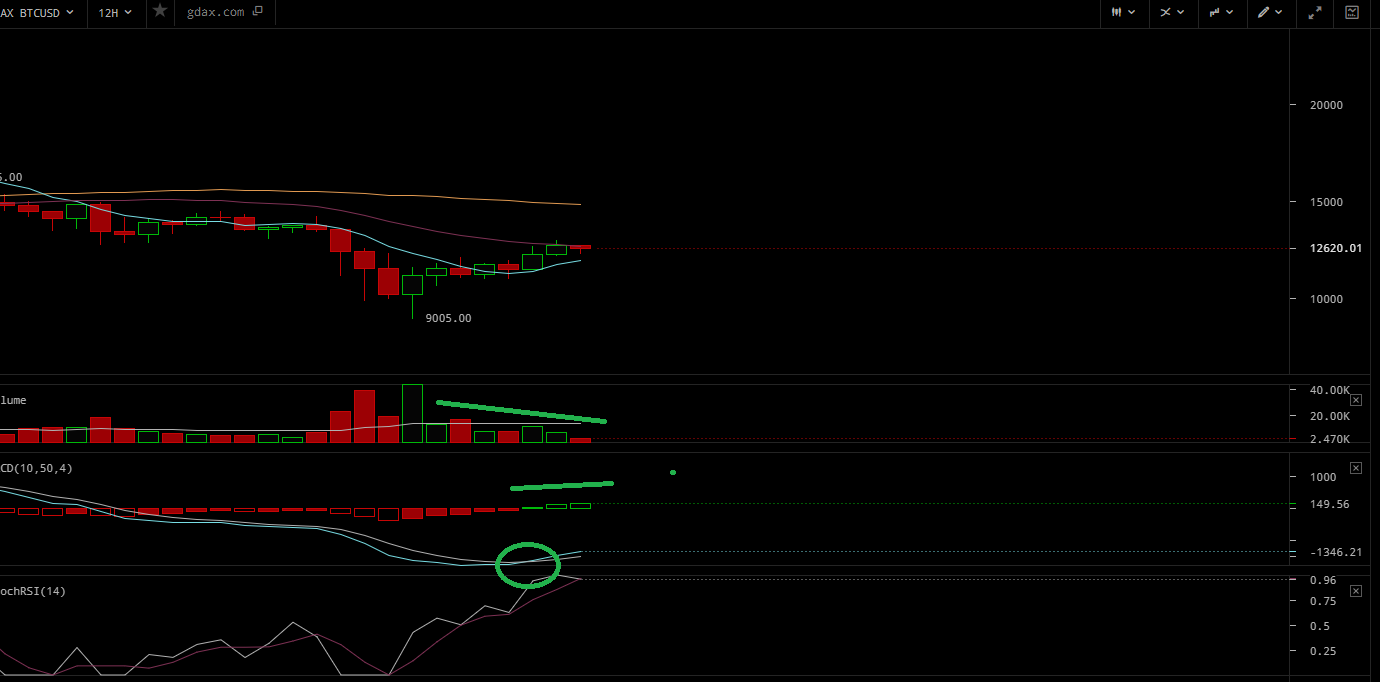 On the 12, things look good for the near term. Will the 12 turn the 1 day green? Maybe, not sure yet, don't really care as I'll find a way to trade whatever happens. Either way the 12 is battling the 21 MA for the moment, and we are at about the right time to pull back a bit on the lesser time frames. Bigger picture though is that $14,000 is likely a reality while a crash back to $9,000 is less of a possibility.
Short term this may or may not work out, but I missed the buy at $12,350 as I let my emotions get in the way. I had it set, then I saw the price dropping faster than I liked. I had a pissed off infant crying, a needy mom whining, my generally aggravated attitude growing, concentration failing etc. so I backed my buys down to my longer alternate of $12,100 down though $11,850. Missed the buy and I'm at alternate buy points now. The two of them together were messing up my mojo big time… grrr..
Why that low? Well this pattern has a nasty habit of coming back to test support at the point of breakout before making a larger move. We are also potentially rounding out the buying session on the two hour. $12,038 is the current 77 MA on the 2 hour and we just broke above it on the breakout, and again price likes to come back and test the longer term moving average. $11,600 is the 77 MA for the hourly which we are well extended from and also a 33% Fib of the 2 hour buying session from $9231 to $13,000; so it should be the lowest low if we get there. So it is possible that we will have a buying opportunity at better prices within the next 14 hours. Hopefully $12,300 was not it and we drop a bit more. Have to wait and see.
Also go here: https://steemit.com/bitcoin/@pawsdog/1-16-2017-the-market-view-and-trading-outlook (My alternate from the example in white is still in play for the moment, don't lose site of the potentially bigger picture. A double bust is also still on the table, as well.. )
That's it for today.. have fun, study, Steem on..
My Previous Analysis:
https://steemit.com/bitcoin/@pawsdog/1-19-2017-the-market-view-and-trading-outlook
https://steemit.com/bitcoin/@pawsdog/1-18-2017-the-market-view-and-trading-outlook
https://steemit.com/bitcoin/@pawsdog/1-16-2017-the-market-view-and-trading-outlook
https://steemit.com/bitcoin/@pawsdog/1-15-2017-the-market-view-and-trading-outlook
https://steemit.com/bitcoin/@pawsdog/1-14-2017-the-market-view-and-trading-outlook
https://steemit.com/bitcoin/@pawsdog/1-13-2017-the-market-view-and-trading-outlook
https://steemit.com/bitcoin/@pawsdog/1-12-2017-the-market-view-and-trading-outlook
https://steemit.com/bitcoin/@pawsdog/1-11-2017-the-market-view-and-trading-outlook
https://steemit.com/bitcoin/@pawsdog/1-10-2017-the-market-view-and-trading-outlook
https://steemit.com/bitcoin/@pawsdog/1-9-2017-the-market-view-and-trading-outlook
https://steemit.com/bitcoin/@pawsdog/1-8-2017-the-market-view-and-trading-outlook
https://steemit.com/bitcoin/@pawsdog/1-5-2017-the-market-view-and-trading-outlook
---
Who Am I? STEEMIT INTRODUCTION
---