Government will Regulate Cryptocurrency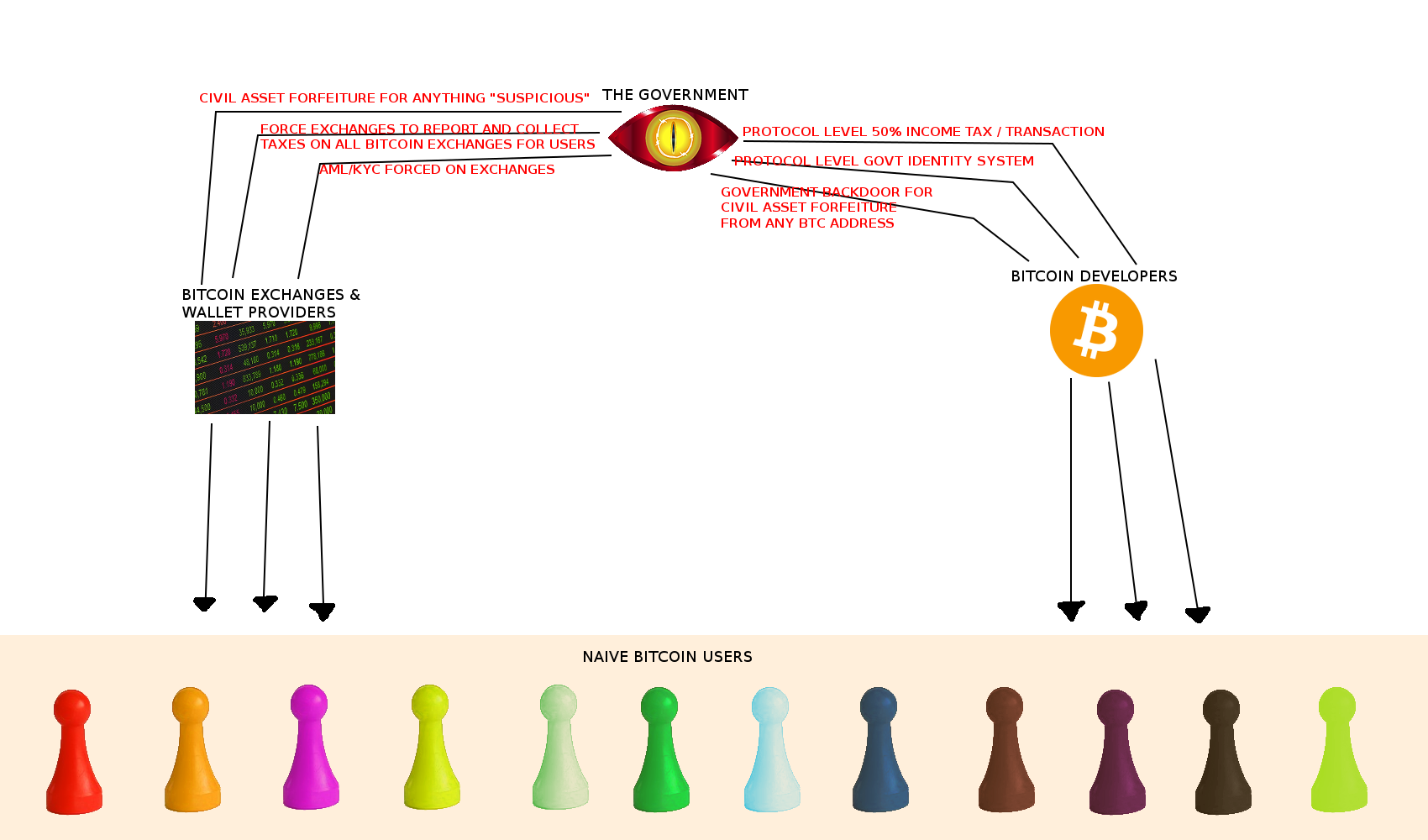 Just look at the illustration above, this is how easy it is to subvert Bitcoin and turn it into a Banking System 2.0. It's really nothing surprising, Bitcoin is not decentralized, it's centralized as hell as you see more and more custodians storing coins and more and more influence from the developers steering down Bitcoin into a path of no return.
Until this issue is not fixed, I'm afraid we won't have freedom through crypto-currency, but this wonderful project will easily turn into an Orwellian nightmare. In fact then the Anti-Bitcoin sheeple will be right, like the idiot trolls from here who are probably paid shills to discredit Bitcoin.
It's really interesting how much subversion is happening in the Bitcoin community. On one hand you have the mainstream media and their useful idiots promoting Anti-Bitcoin rhetoric, and on the other hand you see the exact same thing happening as I've illustrated in the picture above, that will legitimize the Anti-Bitcoiners.
There are alternatives:
The question whether Bitcoin users are smart enough to choose freedom instead of centralization? For example there is nothing wrong with private enterprises offering quick instant exchanges like Blocktrades, Shapesift or Changelly.
The problem is that Market Making should not be centralized, that is just too much power for an entity, and can be easily hacked or destroyed with Orwellian legislation. Market Making should be pure Blockchain based, like Bitsquare does, and then you can have instant exchanges built on that.
Obviously market making requires big servers, so this needs to be distributed while you can have smaller entities with full nodes drawing price feeds and API trade access from that. This is convenient for customers who don't want to setup a full node just to exchange altcoins, while also removing centralization from market makers.
---
Sources:
https://pixabay.com
---
Privacy Online