One Big Thing: The SEC/ DASH Giveaway/ ICO Spotlight/ Ep.14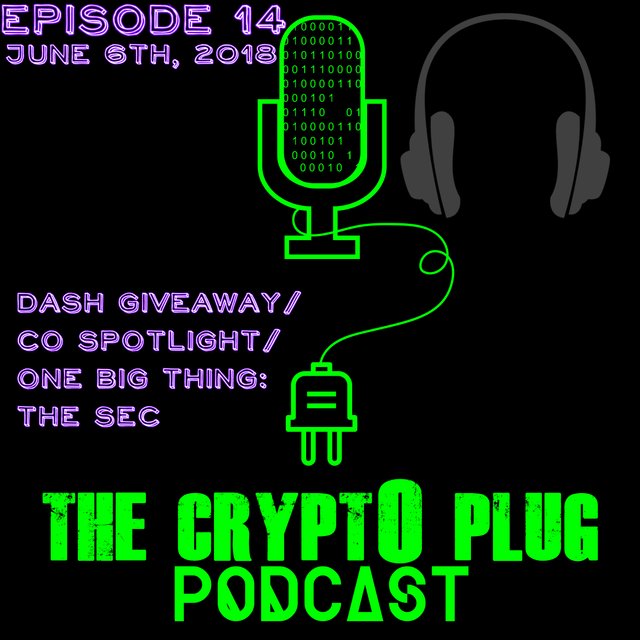 Soundcloud: https://soundcloud.com/the-crypt0-plug-podcast/one-big-thing-the-sec-dash-giveaway-ico-spotlight-ep14
Youtube:
This is Episode 14 of the Podcast! Thanks for listening! Follow us on all our platforms!
Twitter @Crypt0PlugPod
On Facebook: "Crypt0 Plug Podcast"
On Youtube: The Crypt0 Minute
On Steemit: @ricorolla
On iTunes :tinyurl.com/y9m9a278
On Stitcher:tinyurl.com/yaojt6cv
Check out the Rize App: rizeapp.io/
Use the code "crypt0" for 10% off your entire order at www.wearencrypted.com
►►Please Make Sure To Subscribe To Our MAIN Channel For Access To All Of Our Content In The Future: www.youtube.com/user/obham001
🚩Remember to hit the bell "🔔" icon to get notifications as soon as I upload a new video or start a live stream
📬Wanna Send Me Something? Mail it here!
Gabriel Henriquez
P.O. BOX 451218
Los Angeles, CA 90045
United States
HELPFUL LINKS
►Follow Our Our New "Crypt0 Plug Podcast" Soundcloud - @the-crypt0-plug-podcast
►Market Cap Of 40 Trillion For Cryptocurrencies Is Predicted - toshitimes.com/a-market-cap-of-4…ies-is-predicted/
►Ethereum Could Hit 2500 By The End Of The Year - www.marketwatch.com/story/ethereum-…says-2018-04-27
►France Changes Tax Laws For Bitcoin & Lowers Capital Gains - usethebitcoin.com/france-changes-t…n-capital-gains/
►Golem Network Token Is Added To Binance - twitter.com/binance/status/989755659506733058
🎩►Become a Crypt0's News Patron & Get Access To Our Exclusive Telegram Group: www.patreon.com/crypt0snews
🎉►Join The Crypt0's News Facebook Group: goo.gl/7zxDrt
🚩🚩🚩MUST HAVES
►The Ledger Nano S Crypto Hardware Wallet: www.ledgerwallet.com/r/77f9
►Hardware Wallet Superstore (Discount w/ Orders Of $100.00 Or More With Promo Code "Crypt0"): goo.gl/ftZL3w
⛄► My Amazon Store: www.amazon.com/shop/obham001
🌌►My Crypt0 Merch Store: crypt0.threadless.com/
►💎Donate Ether and Ethereum-Based (ERC-20) Tokens: 0x97f32d97D6Ce4dee3429279F04D5b96Aba7C969B
►💎Donate Bitcoin: 157qPNMQoSQvwcdTUaXB4jytuwnHK68JNq
►💎Donate Using Paypal: goo.gl/7m1X4Z
💻FOLLOW US HERE:
►Rize App by Props (YouNow) - Crypt0G
►Instagram: goo.gl/tV9kZh
►Twitter: twitter.com/Crypt0PlugPod
►Crypt0's News Official Site: goo.gl/mnWvPL
►Steemit: steemit.com/@ricorolla
-~--~~~--~-
*Nothing I state, share, express, or allude to should be considered professional advice or recommendations of action. This channel is intended for educational and entertainment purposes only. All content contained within is all just my own opinion and experience. Consult a professional (or two...or more) for any tax, accounting or legal related questions you may have.