Poor Man's Bitcoin - Why I use Crypto Tab Browser As My Free Bitcoin Mining Pool?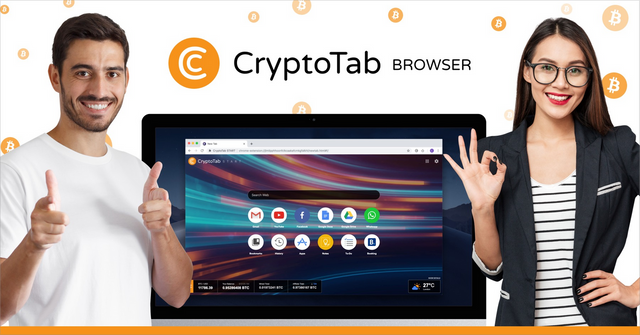 Source credit: https://cryptotabbrowser.com/12383019
In this poor man's Bitcoin series post, I want to discuss why I use Crypto Tab Browser as my free Bitcoin mining pool.
If you are new to free Bitcoin mining pools, do you know that you can earn Bitcoin for free just by installing the Crypto Tab Browser or similar Bitcoin mining app on your PC, laptop, tablet, or smartphone and letting it run in the background while you do the tasks you usually do on these devices?
Free mining pools make use of the unused CPU power of your devices to mine bitcoin and pays you a share of the Bitcoin it mined, based on your CPU power. The more CPU power you offer to the mining pool, the bigger your share of the Bitcoin earned.
There are many free Bitcoin mining pool apps out there. I have tried a few of them and finally settled down for Crypto Tab Browser. The main reason why I prefer Crypto Tab Browser compared to other apps is their referral program. The Crypto Tab Browser's referral system offers a 10 level deep program meaning you will be able to multiply your CPU power by referring people and getting a share from the earning of all the people you refer and the earning from the people they refer down to 10 levels deep. Most of the other pools offer only 2 or 3 levels deep referral program limiting your earning power.
This will increase earning power exponentially and it is 100% passive income for you once you refer and bring people to your own mining pool network.
You can let your friends and relatives know about this possibility to earn free Bitcoin and help them join the pool under you. You can also post and promote your referral link in your social media accounts such as Twitter, Facebook, Linkedin, Pinterest and Instagram. The Crypto Tab Browser has a lot of creatives on their website to help promote your link on social media.
To build your own mining pool empire for free, click here to join the Crypto Tab: https://cryptotabbrowser.com/12383019
Once you have signed up, DM me to get 100 Tamil Charity Coins(our own Hive-Engine tokens) as sign up bonus.
Grab your free Tamil Charity Coins by joining the Tamil Charity Coin Community in Hive:

https://peakd.com/hive-167922/@successforall/relaunching-tamil-charity-coin-with-hive-engine-on-hive
Poor Man's Bitcoin - Building Your Own Bitcoin Mining Pool For Free: https://peakd.com/hive-167922/@successforall/poor-man-s-bitcoin-building-your-own-bitcoin-mining-pool-for-free
Zero Carbon Project - An Eco-Friendly Crypto & Blockchain Use Case - A Way To Reduce Your Electricity Bill: https://peakd.com/hive-167922/@successforall/zero-carbon-project-an-eco-friendly-crypto-and-blockchain-use-case-a-way-to-reduce-your-electricity-bill