Benjamin Blunts made a big name for himself when he called the Bitcoin price drop to $3,200. It was a forecast that was hit and gained him some widespread attention.
The practitioner of Elliott Wave has another forecast for everyone.
He sent it out to his followers on Twitter.
Blunts feels that $10,000 Bitcoin is in the cards. He does foresee a drop to the $8,000 range first, which, if bought, would net a 25% return.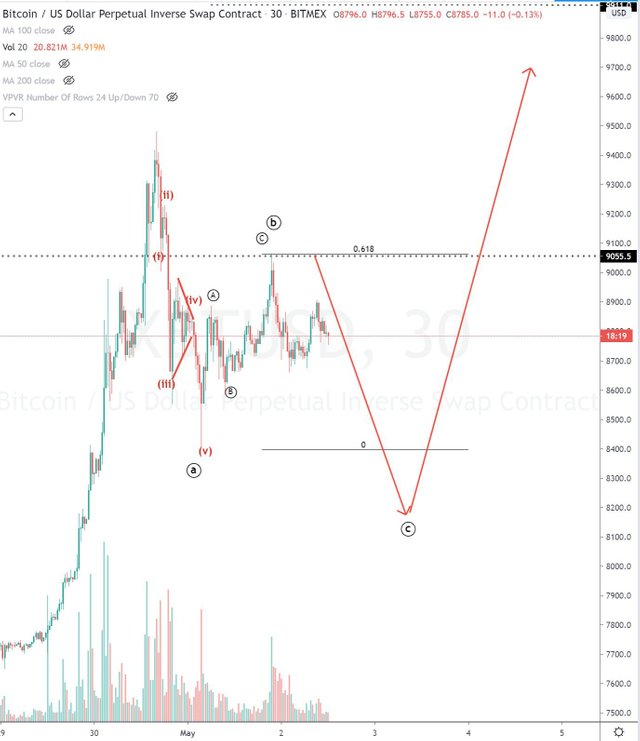 Source
"BTC made 5 waves down on the smaller timeframes, ABC back up and swiftly rejected the 0.618 almost to the [dollar] and now I think we get one more leg down into low [$8,000]. [In my opinion] this will be a buy the dip opportunity in [a] strong uptrend."
Bitcoin is receiving a lot of attention due to the economic crisis that is facing the world. While there was a run to cash (USD), many are wondering whether Bitcoin will step in as a defense against what is coming.
There are recent reports that Bitcoin activity is up in a number of countries around the world. They are primarily ones that were suffering before the crisis such as Greece and Venezuela. This shows that having an alternative to their national currencies and the traditional banking system is required.
The halving in a little over a week is putting a lot of speculation out there. Few are sure how the market will take it. Many feel that there will be a drift down in the short-term before market forces take over. The reduction in Bitcoin per block affects the miners.
Others believe that the halving will be the event that propels Bitcoin to astronomical heights. The last two halving events preceded massive runs up on the price of the token.
Will this time be the same?
We will know in a few months after things settle down a bit.