Bitcoin Chart Analysis 25 June 2018
Hello Fellow Steemers.
Introduction
Once in a while, I look at the Bitcoin charts and think of what they are telling me. I leave Bitcoin day trading to others and tend to look at the long(er) view. Below, I share my thoughts on the price developments and the directions that the charts may give. I note that charts and technical indicators do not predict the future; they only show the past. However, they may signal the probability of the next move.
Daily Chart
We are all familiar with the fact that Bitcoin price has dropped considerably the last few months. Technically, we are in a bear market and, as such, we should observe the trend. The trend is negative and that's just what it is.
Having said so, look at the Daily Chart.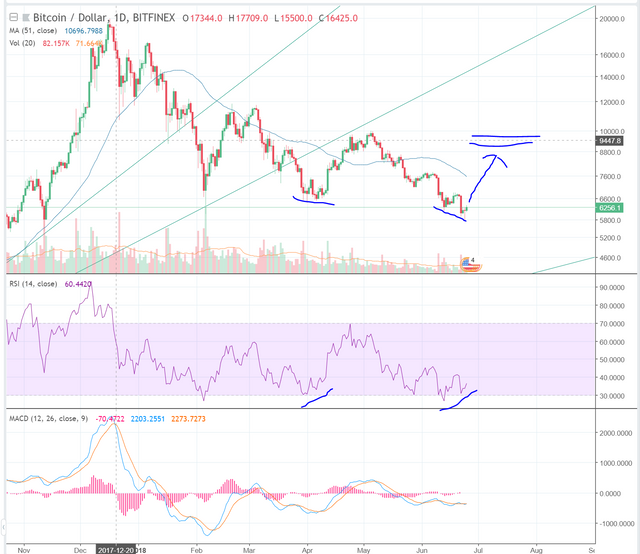 daily chart (Trading View)
The Bitcoin daily chart shows RSI at the bottom. It has just made a higher low, this while the price has made a lower low. This could be seen as a divergence between the price (lower lows) and the RSI (higher lows). A divergence can be interpreted as a potential sign for a reversal. You can see a similar thing happening in April 2018.
While I would consider trading on a divergence alone (too) risky, I expect the Bitcoin price to bounce and entering a small bull run phase up to $9,000 during July.
This is it for now. Happy trading (and HODL-ing).
DISCLAIMER: just sharing ideas, no trading advice. I am long Bitcoin.