Bitcoin Hard Forks to the MOON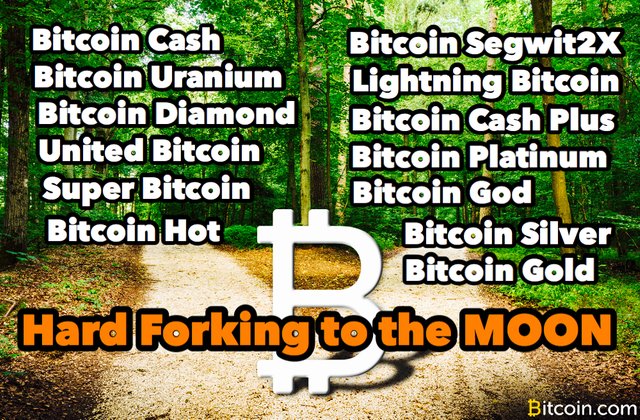 Do you think all these Bitcoin hard forks are over doing it?
When I began investing into cryptos, I ran into my very first hard fork, the Bitcoin Cash fork. It was difficult to understanding what a fork was at that time much less caring ... thinking a hard fork will get rid of the bad stuff and add more good to the Bitcoin like lower fees and faster transaction times, I thought, why not? At the time, I think I had 0.015 of a Bitcoin worth around $20.00 and was gifted the equal amount of Bitcoin Cash which I quickly sold not realizing that the price might well go up. And that was that, over, done with ... of course, I regretted selling that tiny fraction of Bitcoin Cash now ...
The strangeness comes from the tons of Bitcoin Hard Fork headed our way. Though, each holder is gifted some free coins, I fail to understand why so many splits are needed. There are now so many Bitcoin Forks that it's seems crazy who could be doing this? For greed, for the good of Bitcoin, for what? Are the people behind these forks thinking that Bitcoin is a sort of Pokemon or Digimon and they are the trainers, trying somehow to evolve Bitcoin?
The past and coming possible Bitcoin Hard Forks, I have listed below but some many not be true forks and even scams so please beware:
BITCOIN CASH
Forked August 2017 ✅
segwit NO
---
BITCOIN GOLD
Forked October 2017 ✅
segwit YES
---
Bitcoin Diamond ( BCD )
btcd.io
Forked on November 25, 2017 ✅
twitter @bitcoindiamond_
UNITED BITCOIN
www.ub.com
Forks December 11, 2017
BITCOIN HOT
Forks December 12, 2017
SUPER BITCOIN ( SBTC )
Forks December 13,15 or 17, 2017
498888 block
LIGHTNING BITCOIN
Forks December 23, 2017
BITCOIN PLATINUM
https://bitcoinplatinum.github.io
Forks the week of Dec 16 or 23, 2017
Segwit 2X
( 500000 block )
BITCOIN GOD
Forks December 25, 2017
BITCOIN CASH PLUS ( BCP )
bitcoincashplus.org
Forks in January 2, 2018
(501407 block)
BITCOIN SEGWIT 2X, retry
Forks January 28, 2018
☠️ is this the criminal elite's coin?
BITCOIN SILVER
December 2017 ???
BITCOIN URANIUM
December 2016 ???
Forks December 31, 2017
BITCOIN CENTURY ???
What are your thoughts? Do you feel that it's crazy and not necessary for all these hard fork to take place or are you just happy getting the free coins?
Happy Crypto World