Electroneum ICO initial coin offering
Electroneum ICO - 20% Bonus Coins ends soon
Electroneum ( ETN ) is the first Cryptocurrency that you can 'mine' right on your mobile device. Not only can you mine for coins on your phone, you can also play their 'games' to earn extra Cryptocurrency. Since Electroneum is a real crypto coin ... merchants, stores and companies may soon accept it as payment for items and products.
With Electroneum pushing out live the day after Halloween, on November 1, 2017 on both the Android and Apple apps, everyone who owns a mobile device will be able to earn extra ETN coins ( money ) even the suffering citizens living in 3rd world countries.
ELECTRONEUM ICO LINK https://my.electroneum.com/join/535E79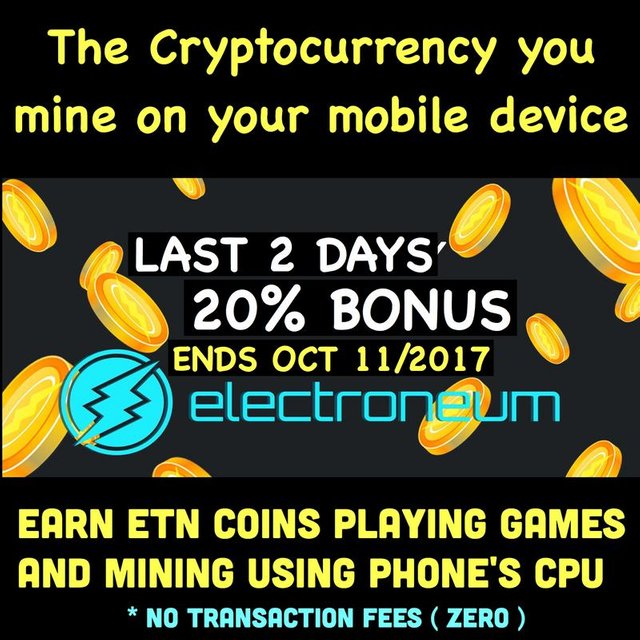 As Electroneum is reaching for global acceptance, they will be pushing out their platform Electroneum in over 40 languages and to more than 90 countries.
Not only will you be able to earn a passive income with Electroneum but you will also you can send the Electroneum coins to friends and family without being charged a heavy transactions fee, yes, there is zero fees for sending out ETN coins. Send and receive Electroneum as much as you please.
What is Electroneum and how can you get some now:
Electroneum will wake up the world that Cryptocurrencies are here to stay and no one, not even JP Morgan's Jamie Dimon can scare citizens of the world away from Bitcoin and other cryptos like Electroneum, Ethereum and Litecoin. Bitcoin is totally not in a bubble as many say because not even 3% of the world's population knows about it. As those who purchased stocks in Apple and Google when they first began, you as a purchaser of Cryptos will be at the forefront of things to come in the near future. Many have woken up and are fleeing banks as the financial collapse has been set up by the rich globalists who want to bring down the currency system using hyperinflation and the devaluation of the paper fiat currency, especially the American dollar will lose it'a value by as much as 40%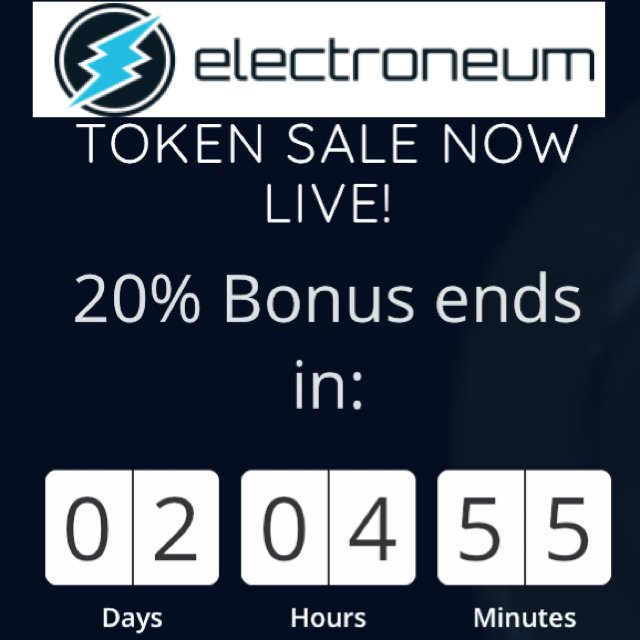 This is my own opinion, but I believe that the precious metals, gold and silver plus crypto currencies like Bitcoin, Electroneum, Litecoin, Ethereum ... will not only protect your families wealth and lives during these engineered events by governments but will make many of you rich in the long run.
As Jamie Dimon orders his European counterparts to purchase as much Bitcoin as possible, he's also working hard on Ethereum.
Lies are not only coming from the mouthpieces of the New World Order zombies but also from our own lying mainstream media. No cures for Cancer, who says?
The Truth about Cancer

Vaccines are good for You! You are kidding me, right?
The Truth about Vaccines

When you use my referral code: 535E79 you will get an additional 1% bonus on top of the 20% bonus given today at their ICO. So a total of 21% Bonus coins on your purchase.
Referral Code: 535E79
Get your Electroneum today before they're all gone:
https://my.electroneum.com/join/535E79
All words on my post are my own opinion and can be searched out with google.
I am by no means a professional financial advisor so please do your own research before investing into anything.
Never invest more than you can afford to lose.
Good Luck and Take Care!