Spark's New Roadmap 2018
As much has developed since Spark's last update, the team would like to introduce our newly updated Roadmap of Spark's recent and future progress.
If you are familiar with Spark's mission scroll down to Roadmap.
Your Financial Future, Bankless.
Spark is a bankless cryptocurrency money transfer ecosystem. Our goal is to remove the need for banks all together and ease the on-boarding of individuals and businesses into cryptocurrency with impact. When looking at countries in economic collapse like Venezuela it becomes clear the need for cryptocurrency on a mass scale is more relevant than ever - however when analysing solutions the crypto community has, it's not enough.
Mass adoption means full integration of cryptocurrency into everyday lives without need of traditional finance. It was reported in 2018, that 2.9 - 5.8M people are actively using cryptocurrency but the figures show 2.2BN are unbanked and 24 out of 59 low income countries are at risk of economic collapse. Those in high income countries are not safe either as Zero Hedge reports another stock market crash on the horizon.
First Steps
Spark believes the money transfer industry is the place to begin converting the world to use crypto. Above all other industries, its touch points range from unbanked cash based users who are sending and receiving micro-transfers to businesses being de-risked* and needing to transact billions of volume daily.
De-risked is a term for banks removing business accounts due to perceived risk. There has been 25% decline in global banking due to de-risking.
With Spark's volume growing 40% month on month, our customers are seeing value in Spark's ecosystem. We have proven that Spark's model solves adoption by removing barriers to send, exchange and receive money using cryptocurrency and we see a future where fiat and cryptocurrency are seen as an exchange of value and without distinction. We also see a future where stablecoins pegged to 180+ of the world's national currencies, cryptocurrencies and tokes will replace fiat and create a new form of finance.
The Solution
Since 2014, Spark has been building a self reliant ecosystem that removes the need for middle men. Middle men in the money transfer industry and cryptocurrency space stifles growth across industries as the more parties the more costs and inefficiencies. This is why Spark believes it's not enough to have a standalone product or service as an ecosystem is better suited to cryptocurrency adoption in money transfers. Spark's strategy involves an end-to-end solution for our existing and future customers. The architecture comprises of layers, each serving as an important solution.
Solving Usability
Often in crypto the onus is on the customer to know crypto. This does not work. At the customer level, we will have incredibly well designed products and services. Spark's web platform and API for enterprises to exchange money and mobile app for individuals to send money internationally or domestically will be designed based on customers needs, not theory or "build it and they will come" mentality. Our products are available to use now on Web and Mobile and has given Spark the ability to gather invaluable data of customer behaviour when sending and exchanging money worldwide. Over the next few months you will see our products transition to reflect market needs starting with the platform and then mobile app.
With this here is a preview of Spark's money exchange platform will look for businesses.
Solving Volatility
The engine to our ecosystem is the Sparkdex - Spark's own 100% decentralised exchange and Hong Kong's first. What's more is volume from Spark's money transfers from customers will be placed on the Sparkdex supplying the liquidity many decentralised exchanges lack. Traders should also expect to see new market pegged assets available for trading including 180+ stablecoins pegged to the world's national currencies which Spark will create to support our markets worldwide. With that, Sparkdex will have 1600 digital assets ready for trading out the gate.
Solving Accessibility
Accessibility is a big factor as well. Customers must have practical access to Spark's ecosystem where cash can be deposited and withdrawn from the system in an easy and meaningful way. This is why Spark has come up with Inclusion Points, a term to describe the physical locations where users can access our system. For businesses, Spark has set up an international vault system where > USD 12K cash can now be accepted and tokenised for a digital balance in their Spark accounts for exchange and cash out. For individuals, shops have now started to sign up to become an Inclusion Point for users to deposit a balance for their Spark mobile app to be sent and cash out. As we grow, we will begin to see Inclusion Points outweigh traditional options like banks, pawn shops and convenience stores Spark still offers for users.
Solving Applicability
At the end of the day, customers need to be won by the value a company can provide. Spark focuses on providing a bankless solution that has the best rates and worldwide Inclusion Points for customers but that is not all. Spark will be rewarding customers with it's rewards token, ZEPH. When integrated customers can expect to be rewarded when they send, exchange and top up with Spark and investors of ZEPH can expect buybacks from the ZEPH market. ZEPH will be an opportunity for unbanked users to begin their first investment in crypto or as an additional revenue stream.
Roadmap
Roadmaps will now be updated Quarterly to reflect most current developments.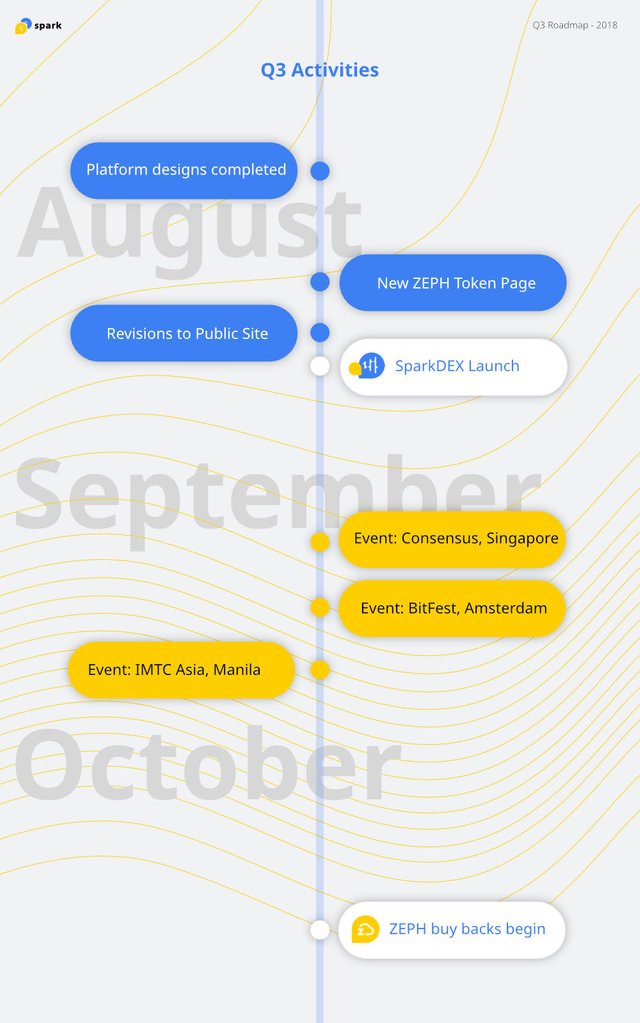 The End Goal
Spark's end goal is to have an international network of inclusion points for businesses and individuals to transfer and exchange money using cryptocurrencies without banks.
Join Us!