BITSHARES, EOS, PRIZE, STEEM, STEEMMONSTERS, VIRGROW, and more Giveaways (6/13)
Back to giving away tokens and open to sponsors and additional ideas as well as live giveaways at events in the future.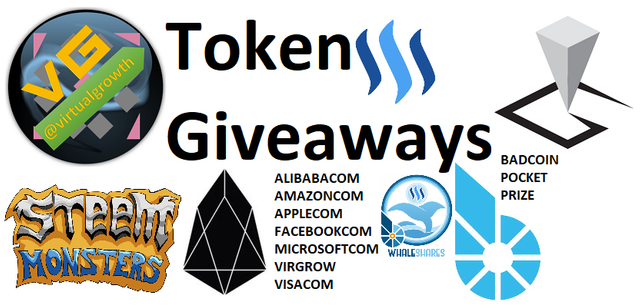 Leave your bitshares name for a (potential) PRIZE! Check out price data on some bitshares market trading pairs as well as possibility of Steemmonsters packs and singles!
Please vote and leave your Steem related choice or bitshares user name for possible giveaway. Check recent prices for steem(it) bitshares UIAs and others for BITSHARES, EOS, STEEM, VIRGROW, and more bitshares UIAs (User Issued Assets).
From now on your may receive an token names PRIZE this will be your prize and may be exchanged for whatever asset token you choose. You can find the PRIZE trading pairs in this post along with major trading pairs for some of the bitshares asset tokens that users and traders find of more interest. Such as PRIZE/VIRGROW
If you don't have a bitshares / OpenLedger account yet you may sign up for on here. And if/when you do please comment/reply with your new bitshares name and potentially reward you with a surprise based on your activity.

Also check out: Bitshares - State of the Network - 6th June 2018 by @steempower
(Top volume) trading pair on bitshares: BTS : CNY, PRIZE/BTS
| Market | Last Price | Last Price ($) | 24h Volume | Volume ($) |
| --- | --- | --- | --- | --- |
| BTS : CNY | 0.999 CNY | $0.1537 | 27,133,700 BTS | $6,365,566 |
| BTS : USD | 0.1537 USD | $0.1537 | 4,156,320 BTS | $975,073 |
GDEX.EOS
(Top volume) trading pair on bitshares: GDEX.EOS : BTS, PRIZE/GDEX.EOS
| Market | Last Price | Last Price ($) | 24h Volume | Volume ($) |
| --- | --- | --- | --- | --- |
| GDEX.EOS : CNY | 66.5 CNY | $10.23 | 6,005 GDEX.EOS | $61,255 |
| GDEX.EOS : BTS | 65.5 BTS | $15.36 | 1,091 GDEX.EOS | $11,133 |
RUDEX.STEEM
(Top volume) trading pair on bitshares: RUDEX.STEEM : BTS, PRIZE/RUDEX.STEEM
| Market | Last Price | Last Price ($) | 24h Volume | Volume ($) |
| --- | --- | --- | --- | --- |
| RUDEX.STEEM : BTS | 10.3 BTS | $2.416 | 3,924 RUDEX.STEEM | $6,213 |
| RUDEX.STEEM : OPEN.STEEM | 1.04 OPEN.STEEM | $1.68 | 1,734 RUDEX.STEEM | $2,745 |
VIRGROW
(Top volume) trading pair on bitshares: VIRGROW : CNY, PRIZE/VIRGROW
| Market | Last Price | Last Price ($) | 24h Volume | Volume ($) |
| --- | --- | --- | --- | --- |
| VIRGROW : CNY | 1,200 CNY | $185.8 | 0.054 VIRGROW | $10 |
| VIRGROW : PRIZE | 150 PRIZE | $78 | 0.053 VIRGROW | $10 |
Best,