BitSong ICO : A Decentralized Blockchain Based Revolution Is Coming In Music Industry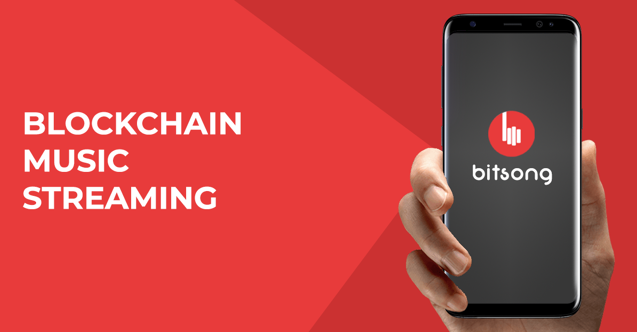 Now the demand of music and entertainment is on demand.
Music industry is one of the industry which is worth billions of dollars.music industry provides employment and luxury life styles to many talented artists in this industry.
The revenue by music industry is $17.4 Billion precisely
In 2017 and still increasing .there are so many ways in the music industry for generating revenue like Music Streaming, Advertising, Live concerts. To provide fair employment working actively within the industry ,this industry is lacking behind.
The problem lies in centralization,it really prohibits people to earn what they really deserve.That's why a Decentralized platform is needed which can get things right back to where they should. On Decentralized medium people can come, show their skills, set-up their profiles and earn what they really deserve without any centralized system to stop them. Centralisation becomes a hurdle in the platform.
Well, a Decentralized platform is coming which can revolutionize the Music Industry.
Bitsong Overview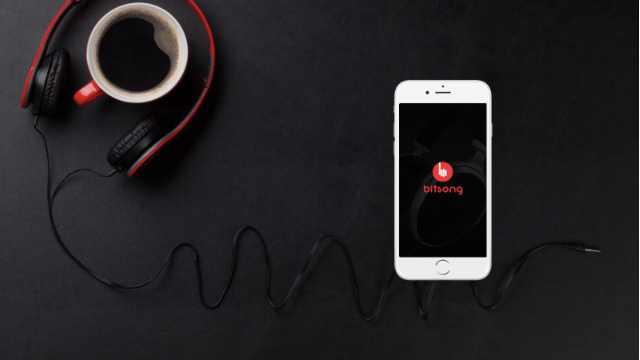 BitSong is a new music platform, which will be built using the Ethereum blockchain and the IPFS distribuited filesystem.
BitSong is a program that is dedicated to musicians and listeners.this project will solve all the major problems related to music world. Problems related to merging could be solved by bitSong.
On producing a song on BitSong platform, advertisers can attach advertisments. Users can also access from any device.the artist and the listeners will get upto 90% of the profits invested by the advertiser for each advertisement listened. Donations can also be received by the fans for your next album.
Musicians generally don't have enough money to write, compose and list that song on music streaming platforms.bitSong platform will give profits for the artists and the users who listen to their songs. This will create money saving opportunity for advertisers.
The main goal is to be available on any smart tv,through smartphone App Store ,on any personal computer with a software.
Bitsong Unique Features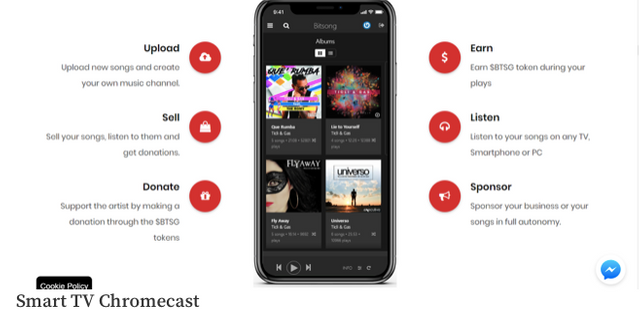 Smart TV Chromecast
Bitsong is focused on generating revenues for Musicians as well as listeners but it also didn't leave behind advertisers. Advertisers can save huge money while they are using Bitsong platform. Bitsong's goal is to be present on any Smart TV equipped with Chromecast, through Smartphone app stores, on any personal computer through a web interface or software and finally any car equipped with a Smart Radio.
Autonomy
Bitsong will provide artists the autonomy to write, compose and upload their song without the need of any distributor. They can even advertise their music stream via Bitsong's fanpage where artists can make their profile for free and also developing a fan base of their own.
Bitsong Platform
Bitsong will become a one-stop shop for artists to release their music videos, access it and also advertise it with whatever device they desire and in doing so, generating their own fan base.
Bitsong Framework
Bitsong, as I have explained above, is a decentralized Ethereum based project working to liberalize music industry. But all this became possible because of Bitsong's use of Interplanetary File System (IPFS).
IPFS is a peer-to-peer distributed file system which brings together all the computer devices into one system. In doing so, a high-throughput block storage will be provided, as well as content addressing with hyperlinks to them. Artists now can distribute their work on their own without having to rely on any centralized authority. Using Decentralized system will also provide security from plaigarism as well.
Bitsong (BTSG) Tokens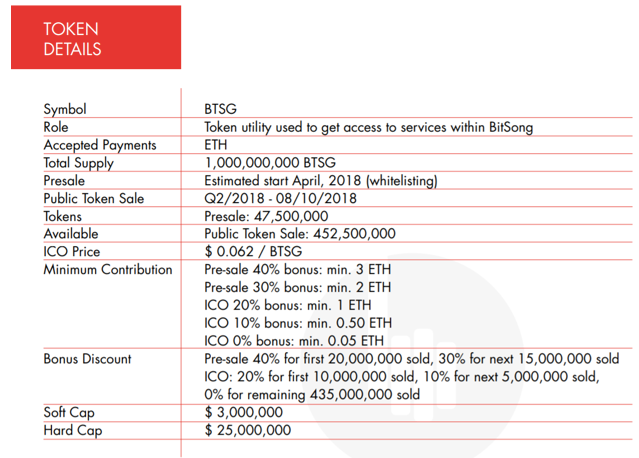 The BitSong Token which is BTSG is the in-built token which will help you to do various jobs like uploading your own songs, Selling your songs, donating trough BTSG token, earning $BTSG token during your play, you can also listen to your songs on any Televisions as well as you can get sponsor for your songs or your business in this industry. So, here is the chance to get more and more profit through music industry and in this BitSong will help you.
Bitsong ICO Details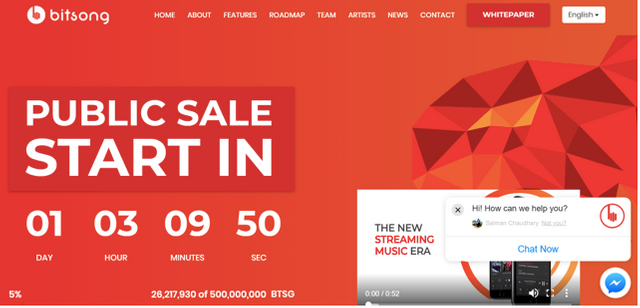 Bitsong Public Sale will start in few hours i.e 10th August 2018. Anyone can but BTSG token by ETH. And please do not buy your token from direct exchange. The token sale will remain live for 90 days. Hard cap of BitSong Token is 473.7 Million tokens.
It is the time time you should grab and get a lot of profit in your bucket as soon as possible.
Do visit on BitSong Official website for more live updates and join its social media platforms.
Whitepaper: https://bitsong.io/docs/whitepaper_en.pdf
Bitsong Website: https://bitsong.io/
Facebook Page: https://www.facebook.com/BitSongOfficial/
Twitter Page: https://twitter.com/BitSongOfficial
Medium Page: https://medium.com/@BitSongOfficial
Bitcoin Talk Thread :https://bitcointalk.org/index.php?topic=2850943
Telegram Group: https://t.me/bitsongofficial
THANK YOU