Lakers Win ... 117-91 over the Warriors - Bitsports Prediction Game
Did you predict that the Los Angeles Lakers would win ?
Then you won some Blurt on Bitsports.
Bitsports: https://blurtter.com/bitsports/@bitsports/nbalakersvswarriors20210301010000
Update: Bitsports is coming back to Steemit ... win Steem predicting the Winner.
I tuned in late and was nervous that the Warriors might win after hearing that they were on a 3 game winning streak and the Lakers were on a 4 game losing streak.
It goes to show that past performance is no guarantee of future success.... it was a time for streaks to end.
Here are the NBA Game Highlights ...
Source: Youtube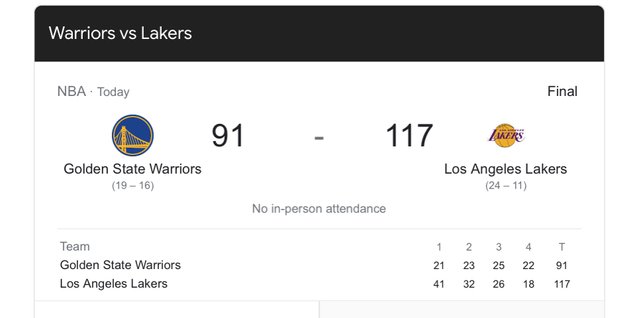 List of Winners to share almost 1,000 $ Blurt ... Did you Win ?
BASKETBALL
'It's challenging for all of us': LeBron James finally breaks his silence on a 4-game losing streak for the Los Angeles Lakers
Source: https://thesportsrush.com/nba-news-its-challenging-for-all-of-us-lebron-james-finally-breaks-his-silence-on-a-4-game-losing-streak-for-the-los-angeles-lakers/