Bittrex to remove 82 Coins by the end of the Month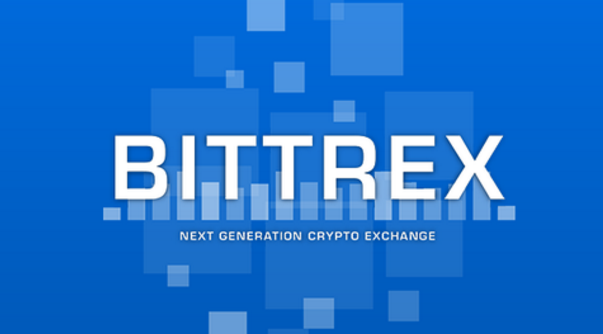 You can relax though, Steem and SBD aren't one of them.
In a blog post the other day, Bittrex announed that they would be removing support for 82 coins.
The post can be seen here:
https://support.bittrex.com/hc/en-us/articles/360001609031
Luckily for all of us here, that list doesn't include the likes of Steem or SBD.
Phew.
If it doesn't include Steem, who does it include?
The list in it's entirety can been seen here:
8BIT
ADC
AM
AMS
APEX*
ARB
BITS*
BITZ*
BLC
BOB
BSTY
BTA
CCN
CRBIT*
CRYPT*
DAR
DGC
DRACO
DTC
FC2
FRK
FSC2*
GEMZ
GHC
GP
GRT
HKG
HYPER*
HZ
J
KR*
LXC*
MAX
MEC
METAL
MND
MTR*
MZC
NAUT
NET
NEU*
NTRN
OC*
ORB
PRIME*
PXI
ROOT*
SCOT
SCRT*
SFR*
SLG
SLING*
SOON
SPRTS
SSD*
STEPS*
STV
SWING
TES
TIT
TRI
TRK
U*
UFO
UNIQ*
UNIT
UNO
UTC
VIOR*
VIRAL*
VPN
WARP*
XAUR
XBB
XC
XCO
XDQ*
XPY*
XQN
XSEED*
XTC
YBC*
*According to Bittrex, the coins with an " * " next to their name is due to there being an underlying problem with the blockchain or wallet for that particular coin that will not allow for withdrawals.
Why the removal of so many coins?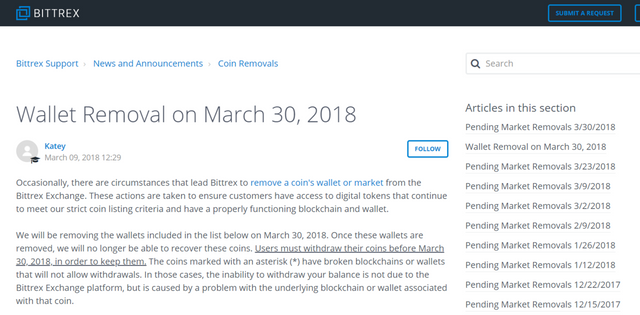 Bittrex states that the removal of coins and wallets has to do with meeting their listing requirements, or lack there of.
This from Bittrex:
"These actions are taken to ensure customers have access to digital tokens that continue to meet our strict coin listing criteria and have a properly functioning blockchain and wallet."
(Source: https://support.bittrex.com/hc/en-us/articles/360001609031)
If you have any of these coins, they need to be removed by March 30, 2018 if you would like to have access to them.
Personally, this sounds like part of the process of cleaning up the exchanges to better meet regulator requirements.
The sooner we can clean up much of the garbage out there, the sooner real projects like Steem can achieve more accurate valuations.
Stay informed my friends.
Image Source:
https://medium.com/@rahulsood/interview-with-ceo-of-bittrex-e372f16a336b
Follow me: @jrcornel