'Hellboy' Combines Hollywood's Two Most Popular Kinds Of Movies
🎬 Strong showings for Shazam and Pet Semetary offered yet more proof that the two biggest/safest genres right now in live-action filmmaking are the comic book superhero movie and the high-concept horror flick. The two biggies were Captain Marvel and Us. In a time when original movies struggle at the multiplex, the three biggest such offerings in the last few years were all high-concept horror flicks, while superhero movies have utterly dominated the box office since 2016. That alone will make Lionsgate and Millennium's Hellboy reboot an interesting proposition when it launches. The Neil Marshall-directed re-adaptation is selling itself as different from Guillermo del Toro's two Hellboy films by emphasizing R-rated horror violence and unapologetic gore.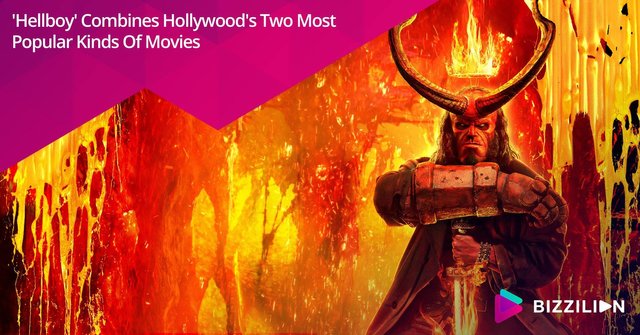 📽 Hellboy and Hellboy II: The Golden Army had their share of violence and carnage, but they were PG-13 entertainments that played like dark fairy tales as opposed to grindhouse horror. In an era when superhero movies and horror flicks rule the box office, Hellboy is positioning itself as a horror-tinged superhero movie.
Plenty of non-DC/Marvel comic book films have bombed, while plenty of horror films stumble or squeak by amid the biggies. But it may get a slight uptick by virtue of its genre blend. Conversely, especially if the movie isn't good, it may take a hit by virtue of existing alongside acclaimed and/or buzzy genre flicks like Shazam, Captain Marvel, Us and Pet Semetary. That's the double-edged sword of belonging to the two most popular genres. You're more surface-level attractive, but your quality is more important because there are other options for fans of either type of movie.
You can JOIN HERE