Ministry of Education and Culture of Indonesia Supports the Use of Blockchain | Bilingual |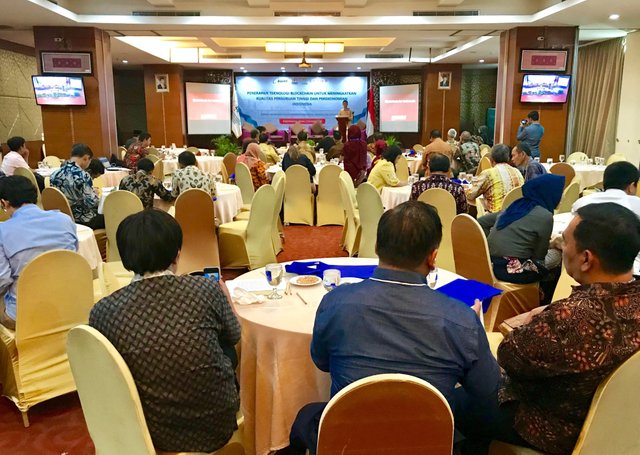 ---
The Director of Kemenristek Dikti Quality Assurance, Prof. Aris Junaidi, said that educational institutions support the use of blockchain technology to adjust the times. Human resource needs that understand blockchain in higher education are getting higher along with the development of digital technology today.
According to Aris Junaidi, advances in digital technology have been followed by various cyber crimes such as data theft, the spread of hoax news, hacking, and various other cyber crimes. Such is the affirmation of Aris Junaidi in the blockchain technology seminar to improve the quality of universities and the Indonesian economy.
The seminar took place at Balairung Hotel, Jakarta, Thursday 1 November 2018 in Indonesia. To support the increase in mastery of blockchain technology, Kemenristek Dikti has established cooperation with institutions in Australia.
According to Aris, blockchain technology needs are in line with the growth of the millennial generation in Indonesia. "They will then use blockchain technology in various fields," says Aris.
The seminar on the application of blockchain technology to improve the quality of universities and the economy in Indonesia was held by the Association of Indonesian Telematics Consultants and Consultants (Aspekti). Some of the presenters included Matt Starkey (@starkerz) and Dylan Leighton (@anarcotech) from @oracle-d, a British company based on Blockchain systems. The program was guided by the Chairman Aspektir Prof Dr Laode M Kamaludin, M.Sc.Eng.
Previously, the @oracle-d team was present in Banda Aceh, Malikussaleh University, Padang State Polytechnic, and Bandung Institute of Technology. Matt Starkey and Dylan Leighton will also appear on the Blockchain South East Asia Summit at Pullman Hotels, Jakarta, November 3 - 4. This event is the end of the @oracle-d team trip in Indonesia.[]
---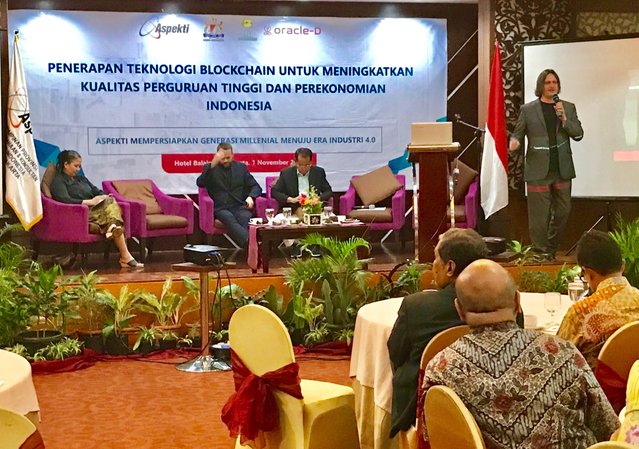 ---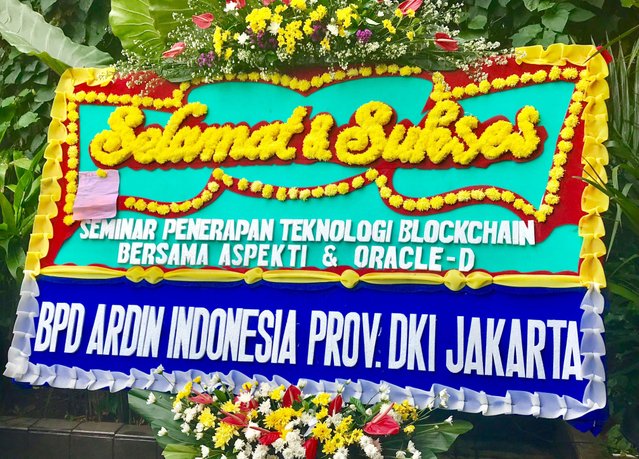 ---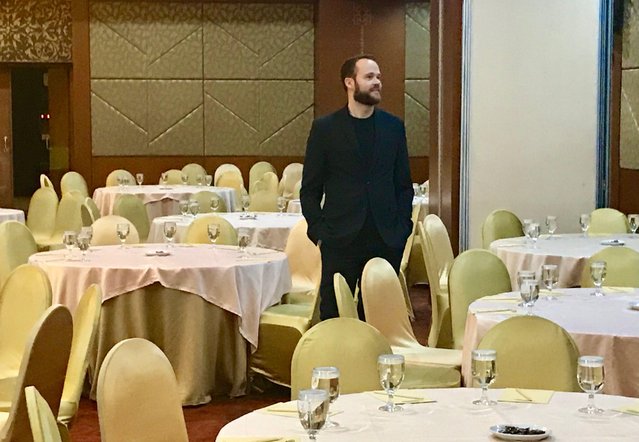 ---
Kemenristek Dikti Dukung Penggunaan Blockchain
Direktur Penjamin Mutu Kemenristek Dikti Prof Aris Junaidi, menyebutkan lembaga pendidikan mendukung penggunaan teknologi blockchain untuk menyesuaikan perkembangan zaman. Kebutuhan sumber daya manusia yang memahami blockchain di perguruan tinggi semakin tinggi seiring perkembangan teknologi digital saat ini.
Menurut Aris Junaidi, kemajuan teknologi digital diikuti berbagai kejahatan siber seperti pencurian data, penyebaran berita hoaks, peretasan, dan berbagai kejahatan siber lainnya. Berbagai tindak kejahatan siber itu menjadi bagian yang harus diwaspadai seiring dengan perkembangan teknologi digital dalam beberapa tahun terakhir. Indonesia membutuhkan sumber daya manusia yang memadai untuk mengantisipasi perkembangan tersebut dan dunia pendidikan memegang peran penting dalam mengisi kebutuhan sumber daya manusia.
Demikian antara lain penegasan Aris Junaidi dalam Seminar teknologi blockchain untuk meningkatkan kualitas perguruan tinggi dan perekonomian Indonesia. Seminar berlangsung di Hotel Balairung, Jakarta, Kamis 1 November 2018 waktu Indonesia.
Untuk mendukung peningkatan penguasaan teknologi blockchain, Kemenristek Dikti sudah menjalin kerja sama dengan lembaga di Australia.
Menurut Aris, kebutuhan teknologi blockchain sejalan dengan pertumbuhan generasi milenial di Indonesia. "Merekalah yang kemudian akan menggunakan teknologi blockchain di berbagai bidang," kata Aris.
Seminar penerapan teknologi blockchain untuk meningkatkan kualitas perguruan tinggi dan perekonomian di Indonesia digelar Asosiasi Perusahaan dan Konsultan Telematika Indonesia (Aspekti). Hadir sejumlah pemateri antara lain Matt Starkey (@starkerz) dan Dylan Leighton (@anarcotech) dari @oracle-d, sebuah perusahaan asal Inggris yang berbasis Steem blockchain. Acara itu dipandu Ketua Umum Aspekti, Prof Dr Laode M Kamaluddin, MSc, M.Eng yang membawa acara diskusi dengan segar.
Sebelumnya, tim @oracle-d sudah hadir di Banda Aceh, Universitas Malikussaleh, Politeknik Negeri Padang, dan Institut Teknologi Bandung. Matt Starkey dan Dylan Leighton juga akan tampil di South East Asia Summit Blockchain di Hotel Pullman, Jakarta, 3 - 4 November. Even ini menjadi akhir dari perjalanan tim @oracle- di Indonesia.[]
---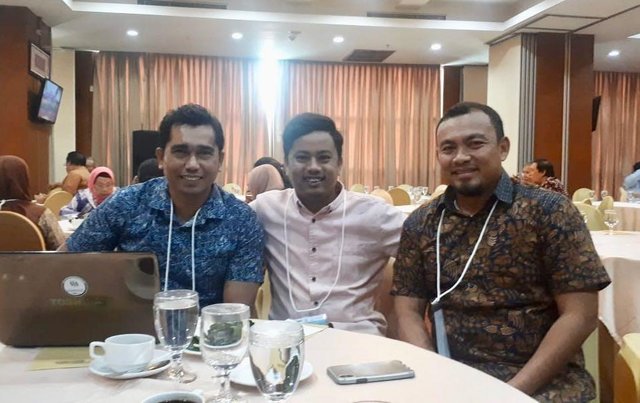 Berjumpa dengan @andrianhabibi dan @damanhurabbas di seminar blockchain di Hotel Balairung, Jakarta, Kamis 1 November 2018.
---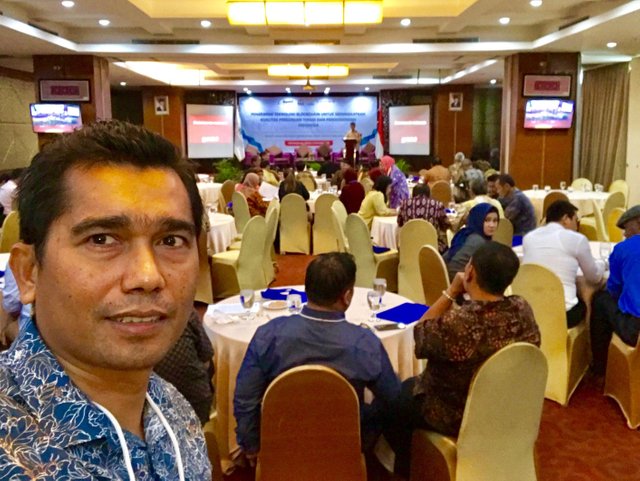 ---