Take Control the Blockchain = Take Control the Future [Malikussaleh University's National Economic Seminar Noted]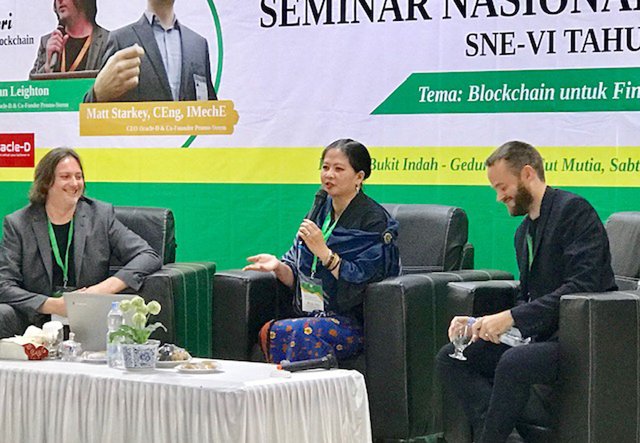 ---
The Sixth Economic National Seminar in Cut Meutia Hall, Bukit Indah Campus, Lhokseumawe, Aceh, Saturday, October 20, 2018, took place in a happy atmosphere with the presence of Dylan Leighton (@anarcotech), Chief Executive Technology @oracle-d who delivered the material hilariously. The long-haired man immediately attracted the attention of 220 participants, mostly consisting of students and lecturers from various universities, Steemians, bloggers, and banks. Gesture @anarcotech immediately caused laughter from the audience and the words that came out of his mouth often ended with long applause.
From the beginning, it was immediately visible @anarcotech had good public speaking skills. His final message to participants, especially students, was really touching. While standing, he asked @mariska.lubis who became a moderator and interpreter to translate each sentence clearly.
Technology continues to run
Dylan briefly described the differences a few years ago with the latest conditions, when there were no cell phones and the internet. Now technological advances are so rapid that if you don't prepare yourself from now, you will continue to lag. At present, the internet has become a necessity in all fields everywhere. "In the future, blockchain will become a necessity. Learn from now, and you will reach wider opportunities in the future," says @anarcotech ordered while standing in front of the audience.
Although the six large-sized refrigeration engines light up on every corner, @anarcotech, and @starkerz, CEO @oracle-d, have to open their blazers because of Lhokseumawe's hot air. With black t-shirts bearing the logo of @oracle-d in red, they convey the material smoothly.
Dylan told me, this was their first time in Indonesia and in Aceh. The temperature of Lhokseumawe which averages 34 degrees Celsius even in the rainy season as it is now, makes it hot. His face often reddish withstand hot air. "Where I live, even in the summer the temperature is only 10 degrees Celsius," Dylan said. The face of the father of one child only felt an aversion.
Previously, @starkerz had explained the advantages of blockchain technology in various fields; economic, financial, business, poverty alleviation, even in politics. With unlimited data, openness, not easily hacked, to the traces that can still be traced, will make all parties switch to blockchain in the future.
The seminar lasted more than three hours without being felt. Questions that come from participants are very classy. There are also those who do not ask, like Arman from the Dinar Dirham Coins which now also uses blockchain technology. Arman explained how blockchain technology now makes mosques and mosque administrators including priests get welfare.
Blockchain is more than cryptocurrency
There were also criticisms from Bank Indonesia in Lhokseumawe that saw cryptocurrency only from the legal aspect. According to the representative from Bank Indonesia in Lhokseumawe, the only currency as a legal payment instrument in Indonesia is the rupiah. "Trading, buying and selling cryptocurrency can violate the law," he said.
Maybe he doesn't really know about blockchain which isn't just about cryptocurrency. Maybe he did not follow the latest developments in which the Indonesian central bank is also now studying cryptocurrency from various aspects.
But, that's the dynamics of a seminar where the pros and cons are always there. Whatever it is, like @anarcotech's message, blockchain technology must be one of the disciplines that must be mastered by the younger generation because that's where a bright future awaits.[]
---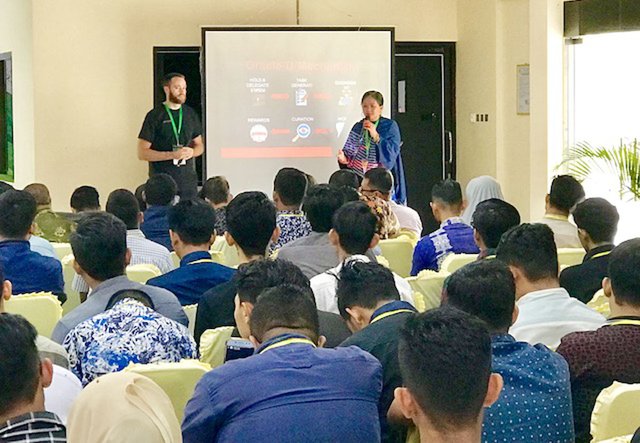 ---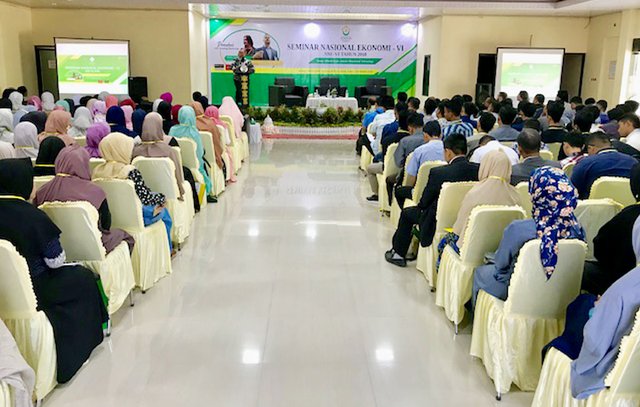 ---
Kuasai Blockchain = Kuasai Masa Depan
[Catatan Seminar Nasional Ekonomi Universitas Malikussaleh]
Seminar Nasional Ekonomi ke-VI di Aula Cut Meutia Kampus Bukit Indah Lhokseumawe, Aceh, Sabtu 20 Oktober 2018, berlangsung dalam suasana gembira dengan kehadiran Dylan Leighton (@anarcotech), Chief Excecutive Technology @oracle-d yang menyampaikan materi dengan kocak. Lelaki berambut gondrong itu langsung memancing perhatian 220 peserta yang sebagian besar terdiri dari mahasiswa dan dosen dari berbagai perguruan tinggi, Steemians, blogger, dan pihak perbankan. Gesture @anarcotech langsung menimbulkan gelak tawa hadirin dan kata-kata yang keluar dari mulutnya sering berakhir dengan tepuk tangan yang panjang.
Sejak awal, segera terlihat @anarcotech memiliki kemampuan public speaking yang bagus. Pesan terakhirnya kepada peserta, terutama mahasiswa, sungguh menyentuh. Sambil berdiri, ia meminta @mariska.lubis yang menjadi moderator sekaligus interpreter untuk menerjemahkan setiap kalimatnya dengan jelas.
---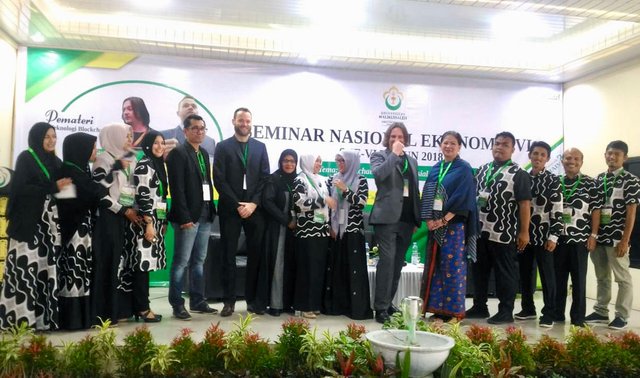 Panitia Seminar Nasional Ekonomi ke-VI Fakultas Ekonomi dan Bisnis Universitas Malikussaleh, Aceh, berfoto dengan kedua pemateri @starkerz dan @anarcotech serta moderator/translater @mariska.lubis. Ketua Panitia Pak Iswadi dan Sekretaris @ayijufridar.
Teknologi terus berlari
Dylan menggambarkan dengan singkat perbedaan beberapa tahun silam dengan kondisi terkini, ketika handphone dan internet belum ada. Kini kemajuan teknologi demikian pesat sehingga jika tidak mempersiapkan diri dari sekarang, akan terus tertinggal. Saat ini, internet sudah menjadi kebutuhan di segala bidang di mana saja. "Ke depan, blockchain akan menjadi kebutuhan. Pelajari dari sekarang, dan Anda akan menjangkau peluang yang semakin luas di masa depan," pesan @anarcotech sambil berdiri di hadapan hadirin.
Meski mesin enam pendingin berukuran besar menyala di setiap sudut, @anarcotech dan @starkerz, CEO @oracle-d, harus membuka blazernya karena udara Lhokseumawe yang panas. Dengan kaus oblong warna hitam berlogo @oracle-d warna merah, mereka menyampaikan materi dengan lancar.
Dylan bercerita, ini untuk pertama kalinya mereka ke Indonesia dan ke Aceh. Suhu Lhokseumawe yang rata-rata 34 derajat celcius bahkan pada musim hujan seperti sekarang, membuatnya gerah. Mukanya sering kemerahan menahan udara panas. "Di tempat saya tinggal, pada musim panas pun suhunya hanya 10 derajat celcius," ungkap Dylan. Wajah saja ayah satu anak itu merasa kegerahan.
Sebelumnya, @starkerz telah menjelaskan keunggulan teknologi blockchain di berbagai bidang; ekonomi, keuangan, bisnis, pengentasan kemiskinan, bahkan dalam dunia politik. Dengan data yang tidak terbatas, keterbukaan, tidak mudah diretas, sampai pada jejaknya yang masih bisa ditelusuri, akan membuat semua pihak beralih pada blockchain di masa mendatang.
Seminar berlangsung tiga jam lebih tanpa terasa. Pertanyaan yang datang dari peserta, sangat berkelas. Ada juga yang tidak bertanya, seperti Arman dari Dinar Dirham Koin yang kini juga menggunakan teknologi blockchain. Arman memaparkan bagaimana teknologi blockchain kini membuat masjid dan para pengurus masjid termasuk imam, mendapatkan kesejahteraan.
Blockchain lebih dari cryptocurrency
Ada juga kritik dari Bank Indonesia di Lhokseumawe yang melihat cryptocurrency hanya dari aspek hukum. Menurut perwakilan dari Bank Indonesia di Lhokseumawe tersebut, satu-satunya mata uang sebagai alat pembayaran yang sah di Indonesia adalah rupiah. "Memperdagangkan, membeli, dan menjual cryptocurrency bisa melanggar hukum," katanya.
Mungkin dia tidak terlalu paham tentang blockchain yang tidak melulu tentang cryptocurrency. Mungkin dia tidak mengikuti perkembangan terbaru di mana bank sentral Indonesia juga kini sedang mempelajari cryptocurrency dari berbagai aspek.
Tapi, itulah dinamika dari sebuah seminar di mana pro dan kontra selalu ada. Apa pun itu, seperti pesan @anarcotech, teknologi blockchain harus menjadi salah satu disiplin ilmu yang harus dikuasai generasi muda sebab di sanalah masa depan yang cerah menanti.[]
---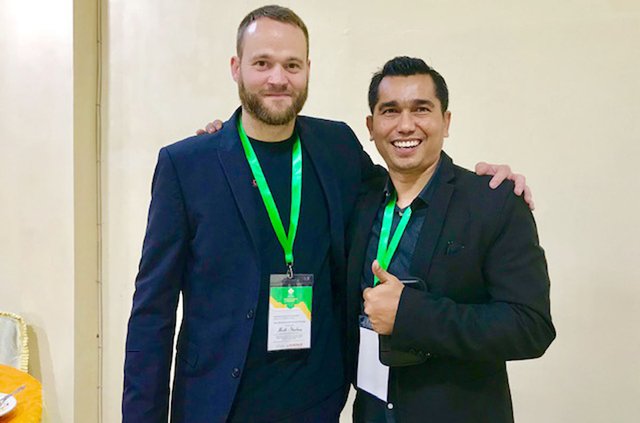 ---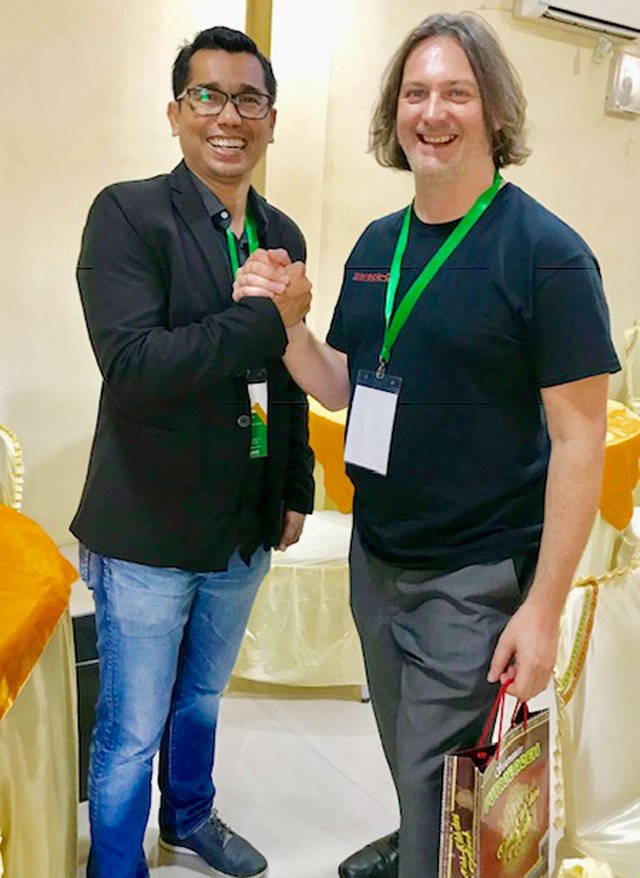 ---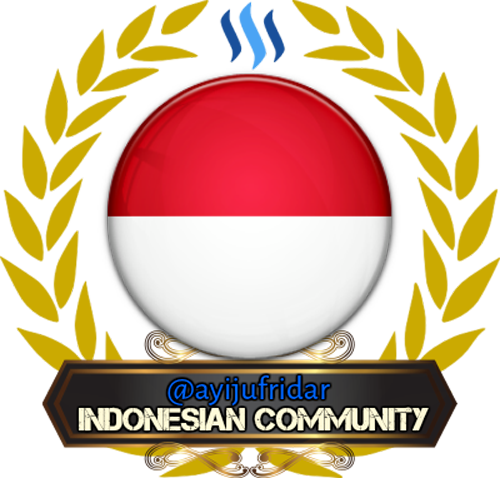 ---