Things we need to know about BitcoinCash HARDFORK♻️
Good day steemians! Today, I'll gonna make an update with regards to the upcoming Bitcoin Cash Hard Fork and to be executed on 15th day of November 2018. As we all know that yearly, Bitcoin Cash Community performs a blockchain network upgrade. This things to be keep an eye on their roadmap and future plans. One thing that I've notice before the hardfork was price accumulation and volume of its coin had a drastic change. When my own perception, every-time that hardfork to be conducted, crypto community believes that the team behind bitcoin cash was active and serious for the success of the coin in the future. This kind of update was very use-full to the community to feel them that it worth buying and HODLing this coin.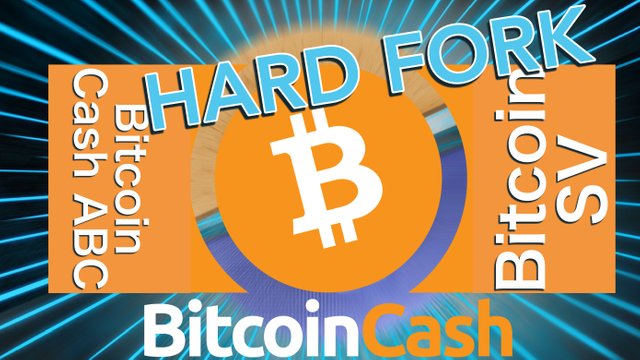 We'll, get back to the main topic, the hardfork. Many crypto people are very confused about it. By the way, in my own opinion, hard fork can be conducted because of; network latency issue, bugs inside the protocol of particular coin, mining dificulty, etc.
However, for the upcoming Bitcoin Cash network update. It's likely going to result in a split of the blockchain, also known as a hard fork.
And this will lead to two different protocols, Bitcoin Cash ABC and Bitcoin SV.
Bitcoin Cash ABC
Backed by Mining Giant "Bitmain" that is planning to Deploy 90,000 S9 Antminers Ahead of the Hard Fork. Bitmain is proposing a move beyond monetary transfers, opening up the possibility of smart contracts.
Bitmain Technologies Ltd., or Bitmain, is a privately owned company headquartered in Beijing, China.

It was founded by Jihan Wu and Micree Zhan in 2013. Prior to founding Bitmain, Wu was a financial analyst and private equity fund manager and Zhan was running DivaIP, a startup that allowed users to stream television to a computer screen via a set-top box.
Bitcoin Cash ABC, will introduce canonical transaction ordering, which is believed will support scaling efforts in the future.
Bitcoin SV
Led by Australian computer scientist and businessman, Craig Wright's nChain, proposing to quadruple the blocksize to support scaling efforts.
Craig, publicly identified himself as the main part of the team that created bitcoin, and has claimed he is the identity behind the pseudonym Satoshi Nakamoto.
nChain is a blockchain software development company currently creating "a high velocity enterprise class architecture that can be deployed on a global scale to facilitate the delivery of the emergent Internet of Transactions", explains the official nChain.com website.
These two antagonistic upgrades will result in the hard fork of Bitcoin Cash. And, based on my own research, here's the 7 crypto exchanges that Confirmed to support regarding the hard fork at press time:
List of exchanges that support upcoming bitcoin cash hardfork is just my own research ONLY, just leave a comment if you we have anything information with regards to other crypto exchanges that support it.
Hard fork is set to go occur on Nov. 15 at around 17:00 UTC
Also, Bitmex recently launched a fork monitor for bitcoin and bitcoin cash via; https://forkmonitor.info/
---
See more Crypto related links below;
Feel free to smash subscribe/follow;
Webtalk: Aldrin Rabino
Youtube Channel: Crypto4chun
Facebook: Aldrin Rabino
Twitter: BitcoinDrin
Reddit: Crypto4chun
Linkedin: Aldrin Rabino
Crunchbase: Aldrin Rabino
Steemit: Crypto4chun