Golem (GNT) | Decentralized Super Computer | Brass Mainnet Released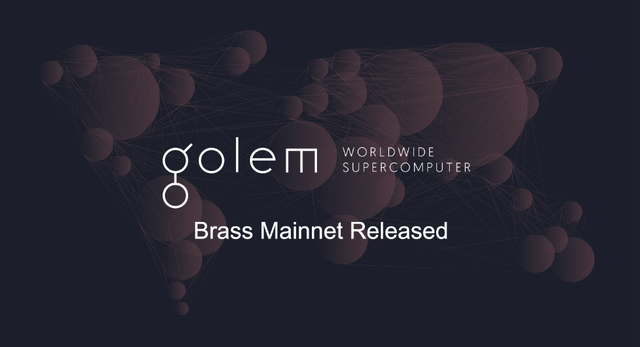 Golem is one of the early projects build upon Ethereum's smart contract platform. Although golem project is very promising to me and it's early-stage investors but a lot of investors were quite frustrated because of no further updates. Finally, golem has just released their mainnet in beta version on 10th April 2018 by the name Brass.
What is Golem?
Golem is based upon decentralized computing system which enables it to become a worldwide supercomputer which is accessible to anyone who requires.
If you are familiar with Storj or Sia both are based upon decentralized storage system which is connected peer-to-peer. Golem is using blockchain smart contracts for computational power in their case. Which means, just like mining you can rent out or share your computers processing speed on the network to earn a passive income.
Use Cases for Golem
Golem network can be used in many cases from data research to animation and even gaming. There are many tasks in various industries we know that requires high computational power which generates the option to buy a powerful hardware. With golem network, users can buy the processing speed they require by paying to individuals who are sharing it on the network.
Golem Token Status

Golem is currently trading at $0.61 and sitting at rank 48 in coinmarketcap. Token specifications as below:
Trigger: GNT
Total Supply: 1 Billion
Circulating Supply: 834 Million
Token Algo: ERC20
Official Website: https://golem.network
My Views
I have been noticing golem since last year. It is a promising project and an amazing concept. From the trading point of view, golem does have great potential once it starts getting real-life use cases which I believe can happen sooner than we think.
I would love to read your thoughts on golem network, do you guys hold it? or what is your opinion on their blockchain solution?
Disclaimer: I am not a financial advisor, everything I've mentioned above is my own opinion and should not be considered as financial advice. I encourage everyone to do their own research before investing in any cryptocurrency.


Join us on Discord: https://discord.me/SteemBulls