INS EcoSystem | Decentralizing FMCG / Grocery Market | Technology Review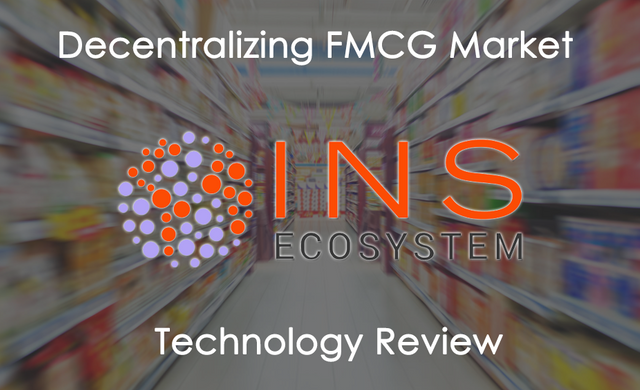 There are many ICOs and Blockchain Technologies evolving to provide us the better future with real-life use cases and it quite a fact that these technologies need adoption in the real world to sustain.

What is INS EcoSystem?
There are companies and projects getting built to ensure proper use cases. However, INS EcoSystem is completely different, in my opinion, as they are trying to build a solution for the most basic need of humankind, Groceries.
The primary motive of INS is to connect manufacturers and consumers on a single platform, removing the middleman required, in the retail business. To elaborate INS EcoSystem in easy words, It's a blockchain based supermarket with smart contracts.

How it Works?
According to their whitepaper, INS EcoSystem is on the edge of creating a platform where manufacturers will be able to list their items directly at the desired price for consumers. This will enable brands to provide their products at a discounted price as there will be no retail or middleman for profit cuttings. In short major benefits to manufacturers will be Full control of product pricing and listing, Marketing & promotion directly to consumers, Fast and detailed customer feedback
Consumers will have the option to pay for their groceries in Fiat as well as cryptocurrencies, which for now is limited to Bitcoin, Ethereum & INS Tokens. Apart from that their platform is also designed to provide additional benefits to consumers in shape of referral rewards, promotions, loyalty program as well as feedback rewards. Major benefits for consumers will be High-quality groceries cheaper than in stores, Groceries bought online easily and conveniently and Unlimited access to suppliers of choice.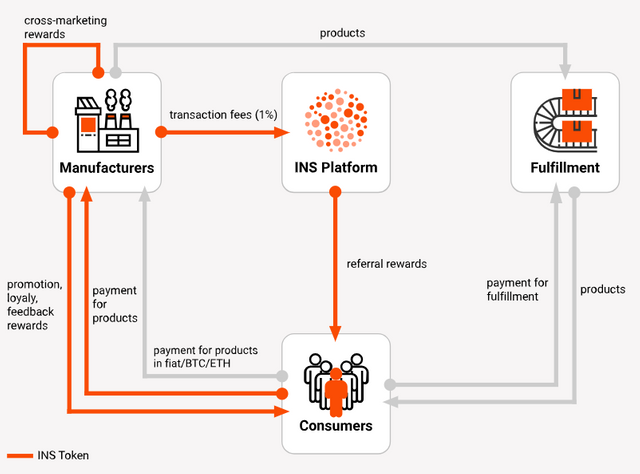 For better clarity, they also provide a demo of their consumer front end in beta version. I would highly recommend you guys to check out their demo at https://marketplace.ins.world/

INS EcoSystem Partnerships
According to their website, INS EcoSystem has already made partnerships with various blockchain technologies to support them in their endeavors such as Ambrosus, Civic, Bancor, Wings, and Blockchain Ventures.
They have also announced a partnership with PostNL (leading e-commerce logistics provider in the Netherlands) recently for their deliveries. It wouldn't be a surprise for anyone if we see more logistics partnership coming towards INS from different countries in near future.
Brands Interested in INS Platform
Since their platform is based on supplying groceries, they already have 100+ brands interested in listing their products on the platform which includes International Brands like Vanish, Veet, Dettol, Durex, AirWick etc. Some of the brands mentioned on their website: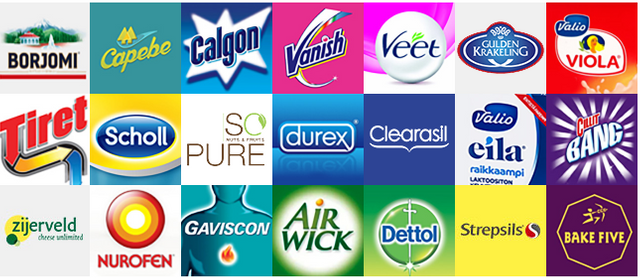 INS Official Wallet Release
As promised in their roadmap, INS has released their official wallet which will be available worldwide from 29 June onwards. to read more about their wallet and recent update announcement, I highly recommend watching their official video below:
INS Roadmap
According to their website, INS is all set to roll out their platform by end of this year and by next year they would be focusing on global expansion. A glance at their roadmap: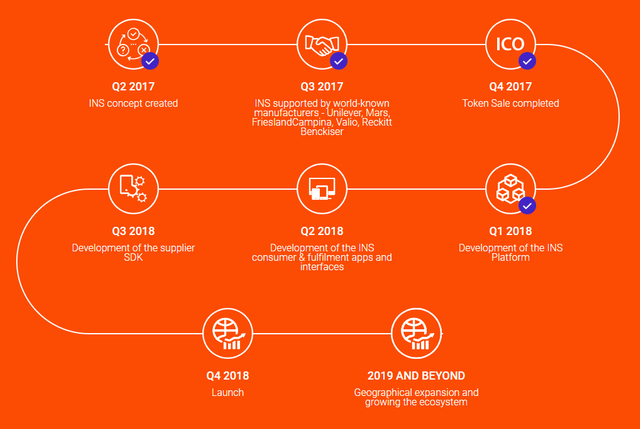 INS Token Specifications
Name:
INS EcoSystem
Trigger:
INS
Token Support:
ERC20 Token
Total Supply:
50 million
Token Distributed in ICO:
60%
Team (subject to vesting & lockup):
15%
Advisors, Early Supports & Bounty:
5%
Reserve Fund:
20%
Official Website:
https://ins.world
Current Token Price:
$1.01 (at the time of this post)
ICO Performance in 2017
It is also worth mentioning that INS, ICO was a great success. They launched their ICO in December 2017 and they not only reached their soft cap goal of 20,000 ETH in the very first hour but also reached 50% of their hard cap (60,000 ETH) on the very first day.
However, their ICO is already over but you can still buy INS on various exchanges like Binance, OKEx, Liqui, KuCoin as well as Cobinhood.

My Views
There are many companies around the world, selling groceries online where consumers can buy products at the same price as a retail store. According to surveys groceries has a huge $300bn market as of today worldwide which is expected to reach $8.5 trillion by 2020.
Since Blockchain's major purpose is to remove the middleman and connect buyers and sellers directly using peer-to-peer technology. I personally see this concept coming out with flying colors in near future. Especially, when we don't see any other blockchain technology working on a similar solution.
In my opinion, consumers buying online groceries from various apps or websites are easy to get targeted when they will be getting the same products, at a lower price value, but this is just a start of bringing more consumers to buy their groceries with INS platform as there are options to make purchases using fiat as well.
Disclaimer: Everything mentioned above is based on my own research and opinion, should not be considered as investment advice. I encourage everyone to do their own research before investing in any cryptocurrency.


Join us on Discord: https://discord.me/SteemBulls