SCAM ALERT !!! Laxmi Coin People are Threatening me | Check the Post and See their Engagements
Hello Steemians,
I am writing this post today to let you guys know about an incident that happened to me recently. I made a post about Fake Laxmi Coin 6 Months ago.
It all started when we get the news all over the internet that Indian Government announced LaxmiCoin which will be a fiat based cryptocurrency with the stable value of INR. After few days I came across a website https://laxmicoin.trade which is not working at this moment.
Before 6 Months, when it was in working condition, This website was claiming to be a government-backed pre-sale of laxmicoin and was misleading people by charging them 3.5 INR each coin.
I did my research on the website and posted my findings accordingly along with screenshots to let people know, whats going on and not to invest in this scam.
It was more of an awareness post for my fellow Steemians. I do this every time I find anything suspicious.
You can check my previous post from the following link.
https://steemit.com/cryptocurrency/@bunnychum/scam-alert-fake-laxmicoin-launch-beware-of-this-website
Last week, I was contacted on Facebook by a person (not revealing the name) claiming to be working in LaxmiCoin and forcing me to delete that post. I somehow made him understand about #Steemit that I don't have any option to edit or delete my previous posts since it's based on blockchain technology. (It was quite stupid for me to make a person understand how blockchain works, especially when that person is already working in a company working on blockchain itself.) Anyways that person was generous enough to understand it was not in my hands at all.
The second person, who contacted me on Facebook for the same reason is named "Amartya Singh". He directly sent a message to me by saying "You have only 5 days to accept your mistake."
Amartya Singh's Facebook Profile URL: https://www.facebook.com/amartyasingh.as & Screenshot: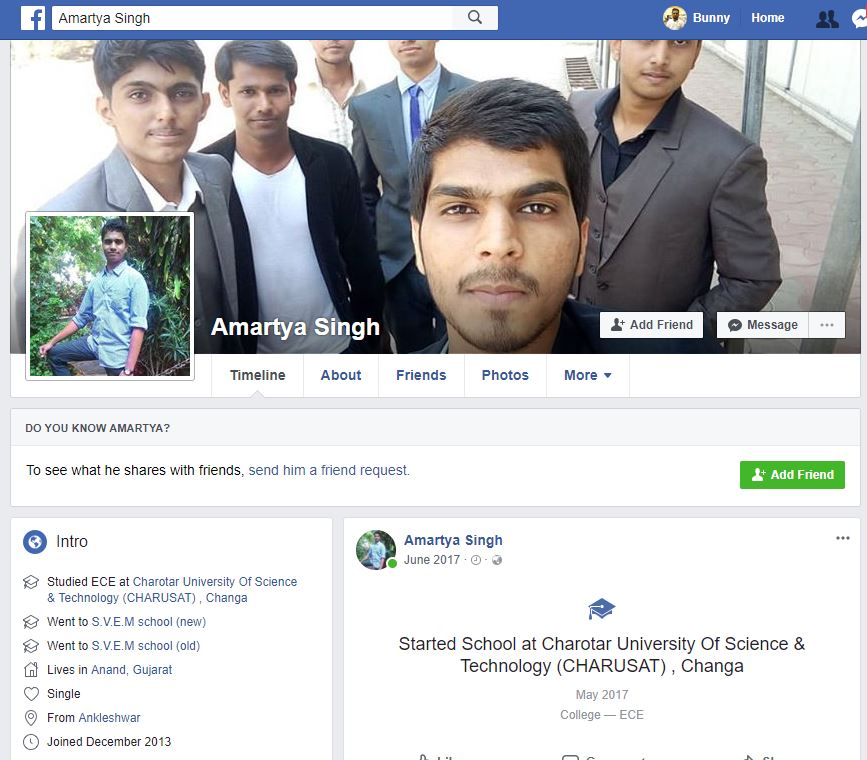 I tried to make him understand the same thing but he kept on pressuring me to make another post on #steemit about LaxmiCoin by saying that my last post was a misunderstanding.
Below are the screenshots of my Facebook Chat with this person: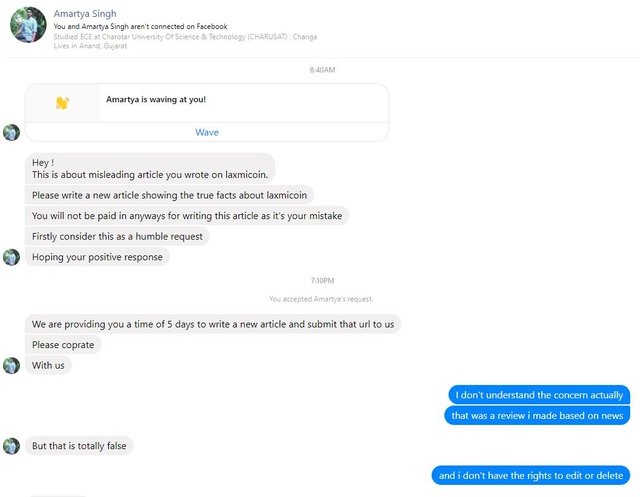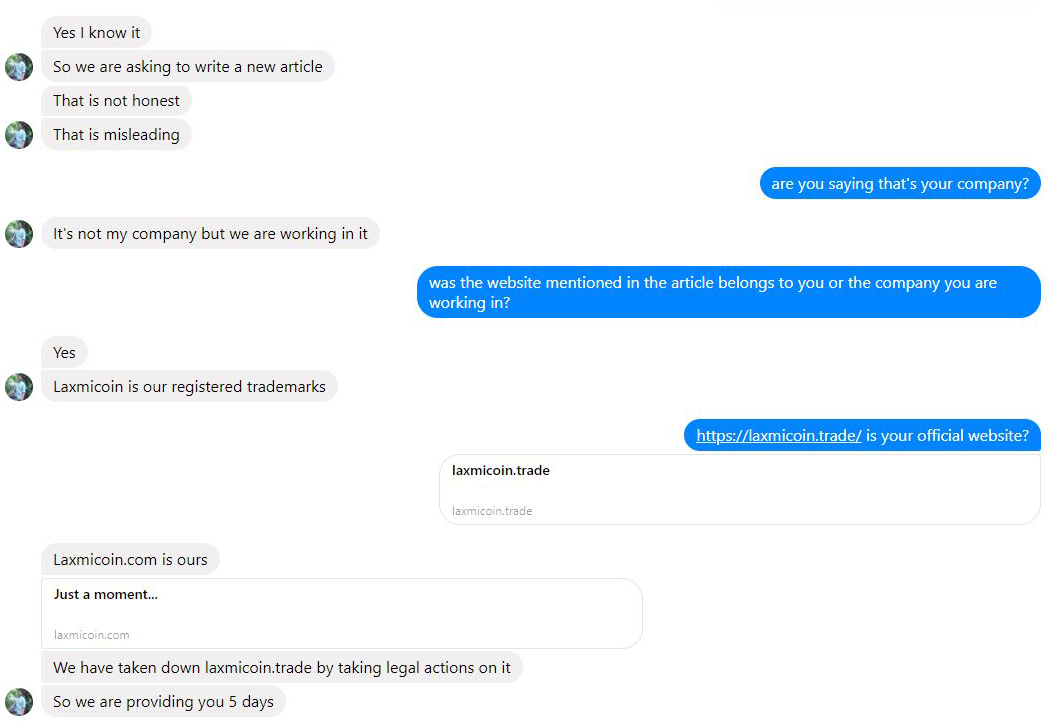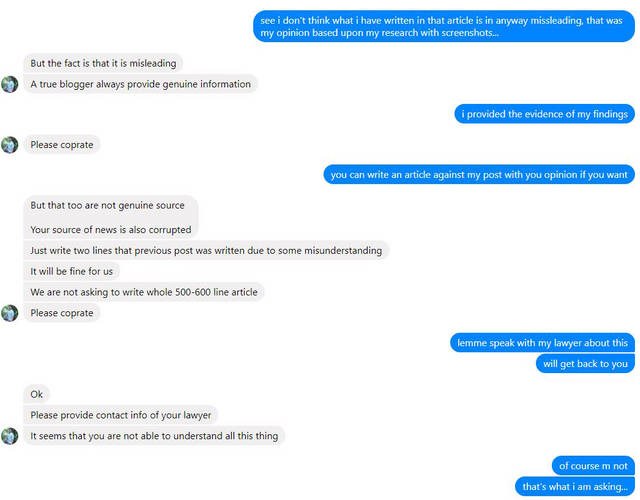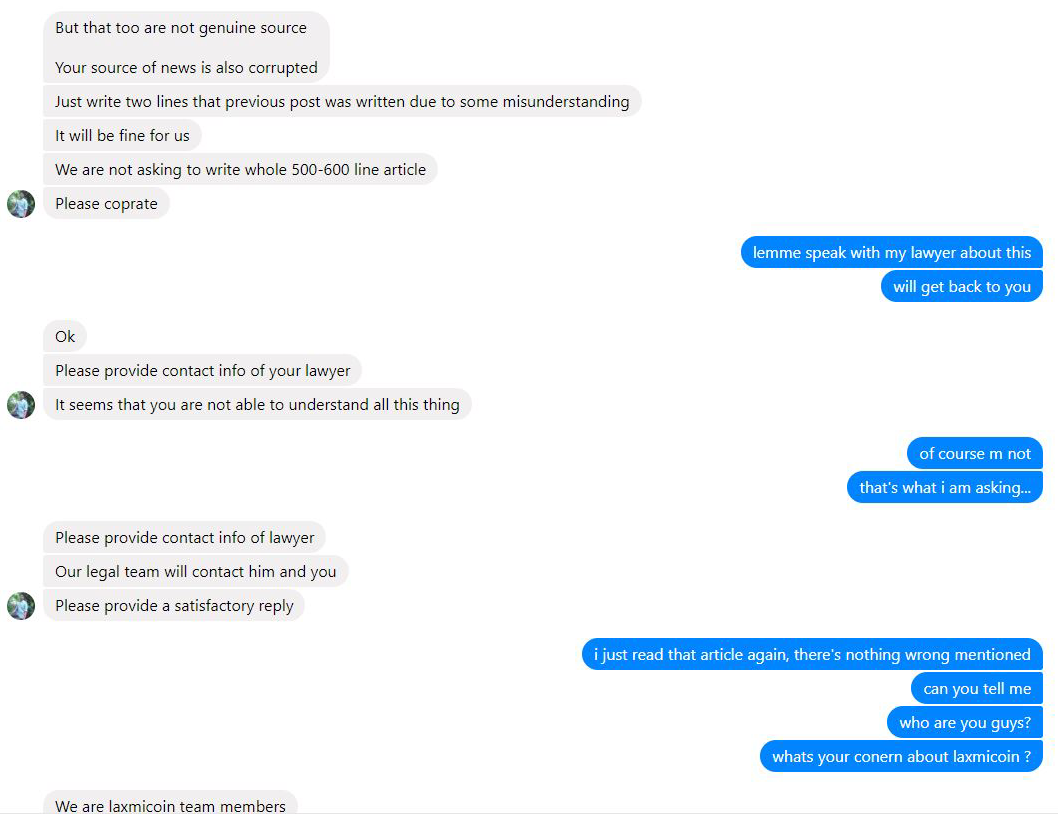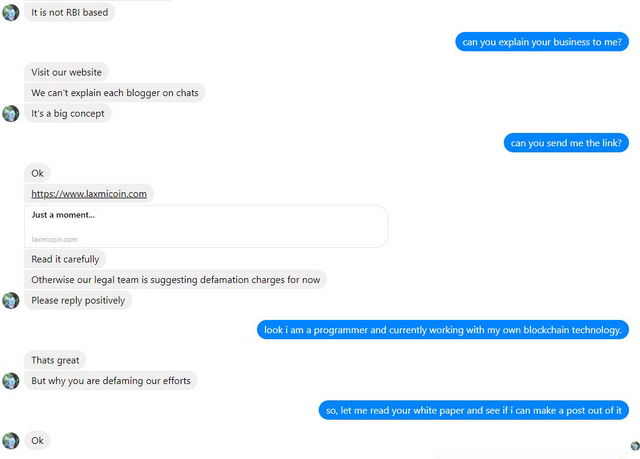 After all this chat, I went to the website he mentioned "https://www.laxmicoin.com". And found things very interesting. I read their whitepaper which, I personally found very misleading for their investors.
They are talking about mobile mining on CryptoNote Algorithm (Accroding to their Whitepaper) which is very much suspicious to me. As cryptonight/cryptonote is the same algo being used by Monero, ByteCoin as well as few other privacy coins. that's just for starters. Their whitepaper seems like a presentation to me not very informative but general text mentioning, how powerful blockchain technology is and what all can be done.
According to their white paper, they are going to bring mobile phone numbers, social media, voting system, real estate, live video streaming, smart contracts and lot other things to their blockchain solution.
Personally, I don't want to say anything more about this company that if it's another coin based MLM scheme or a legit company, I think it's better to leave this upto you guys to decide after reading this post, going to their official website https://www.laxmicoin.com and downloading/reading their whitepaper.
Since I was asked/forced to write a post about LaxmiCoin. So, I decided to post but as I mention to both of these LaxmiCoin guys that I reserve the right for an honest opinion. I would rather welcome any person to make their points about this coin contradicting my opinion. (THAT'S EVERYONE'S RIGHT)
Disclaimer: Everything I have mentioned here, based on my own experience and opinion. No one should take this as a financial advice. Please make your own decision by reading and understanding their website/whitepaper.
Please Help me Spread this post by Resteeming.

Join us on Discord: https://discord.me/SteemBulls