SMART CITIES – the future of blockchain mass adoption? (SEOUL and ICONLOOP as an example)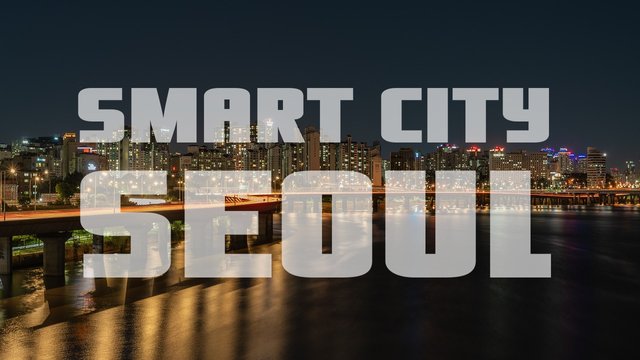 ---
SMART CITIES – the future of blockchain mass adoption? (SEOUL and ICONLOOP an example)
---
The urbanization of our time, and especially of the last 50 years, is a phenomenon that has never been present in human history in this form. Already, more than half of the people live in cities and the growth is progressing. According to an estimate by the United Nations, by 2050 around 68% of all people will live in cities. This will confront us as a society with a series of problems and structural changes that must be resolved if we wanted to maintain a certain level of life quality. In search of a solution, the term "Smart City" keeps falling over and over again.
But what are smart cities? - The term "Smart City" is quite comprehensive and, in short, is an intelligent city that can face the challenges of the future through the use of innovative technologies. In a broad definition, the term includes topics such as pollution, civic participation, alternative options for cultivating vegetables, better resource management, and more. As you can see, all relevant areas will be affected: economy, politics and governance, mobility, energy, civil society, our environment, logistics, nutrition, etc.
At the center of this adaption process are innovative technologies that make life easier and enable the necessary new structures. One of these technologies, which is an important link, is the blockchain. In some cities, blockchain technology is already being used in some areas and will continue to be adapted as the smart cities develop. Seoul is one of these modern and highly developed cities, which has attracted attention in recent months with some interesting headlines. For example, Park Won-soon, the mayor of Seoul, announced that he had budgeted around $ 108 million in his Blockchain Urban Plan from 2018 to 2022. In addition, the mayor also stated that his government plans to spend another $ 53 million to build two complexes by 2021 to accommodate 200 blockchain start-ups using parts of the Gaepo Digital Innovation Park and the Mapo Seoul Startup Hub issue.
One particular company that has won the favor of the South Korean government is ICONLOOP and the ICON Foundation. On 8 March 2019, ICONLOOP was awarded a prize for its mass introduction of Blockchain technology at the World Economic Sustainable Cities Business Information Session. The presentation by Josh Choi, Director of Public Affairs at ICONLOOP, showed a rich palette of already build applications and possibilities. The presentation also showed that the ICON ecosystem is focused on building various blockchain communities, solving the oracle problem through the use of private blockchain systems, expanding the blockchain ecosystem, ensuring interoperability, and the Building smart cities with blockchain.
---
What solutions are offered and implemented for Smart City Seoul?
---
A citizen Dapp (digital citizen card, payment option & voting system)
In November 2018, ICON presented a Blockchain based Citizen Card at the Seoul International Digital Festival; or in other words: a digital and decentralized way to identify. But this application had two more great options; namely to participate in votings, which in the future should guarantee more transparent and manipulation-free voting and secondly a payment system that can be used throughout the city.
"We have prepared this promotion for citizens to feel more confident about the practicality of blockchain technology," said JH Kim, the CEO of ICONLOOP and Council Member of the ICON Foundation. He added, "Blockchain technology will ensure privacy rights, realize direct democracy, and further promote the revitalization of local commercial and non-profit sectors in the form of local currency" source
---
BROOF – a blockchain based certificate issunace service
Another development of ICON is BROOF. This application enables the issuing of certificates of all kinds. These are thus stored on the blockchain, whereby they are protected against manipulation and prevent counterfeiting. In practical terms, this application is primarily for various institutions, such as universities, which can issue future certificates on the blockchain. The interoperability of ICON's network eliminates the need to create separate databases. Consumers can easily receive and display their blockchain-based certificates anywhere, anytime. BROOF offers significant time savings and handles processes in such a way that time-consuming procedures no longer have to be performed.
ICONLOOP's blockchain certificate issuance service has been used in the past to appoint members to the 'Blockchain Governance Team' and the 'Policy Communications Team.' In February, the Seoul Metropolitan Government appointed 100 members of its 'Blockchain Governance Team' through text form blockchain certificates. In April, the Seoul Citizens Hall appointed 162 members of its 'Policy Communications Team,' using image form blockchain certificates. source
In addition to these two outstanding applications, there are a few more services that will be managed by the ICONLOOPs Blockchain. These concern, for example, the used car trade, customs clearance or disease prediction services.
At the moment, the ICON network is in an exciting phase on its way to mass adaptation called ICONSENSUS. In September 2019, the on-chain elections will start and the top 22 P-Reps will start producing and verifying the blocks. ICON will be fully decentralized at this time! This will enable the network of networks and provide Seoul as a smart city with a solid platform on which to build many applications.
---
MORE RELEVANT LINKS
ICON Foundation website
ICON.Community & ICONSENSUS
ICON Foundation's FAQ
ICON Foundation on Reddit
---
Follow CHAINTRIBE on Twitter
Follow CHAINTRIBE on MEDIUM
---
Join the CHAINTRIBE Trail on SteemAuto to support this channel consistently (Click Here) and register to be a follower. Just search via "fanbase" @chaintribe-news - every support is highly appreciated!
---

---
Get your TREZOR here or Check out the new Ledger Nano X

---