Satoshi • Pie: Weekly Overview(32nd Week)
Satoshi • Pie token (SPIES), a token of the first investment fund traded on a blockchain, grew by 17% in a week from 04/08 to 09/08 reaching $33.589.
Satoshi•Fund is the first company that has several blockchain investment products, including Satoshi • Pie, and according to its strategy, invests in blockchain assets mid- and longterm making investment decisions based on analysis of fundamental factors such as compound monthly growth rate, adoption rate, development status, and team dynamics. Satoshi • Pie token, SPIES, is issued on Bitshares blockchain and is tradable on a decentralized exchange Bitshares DEX.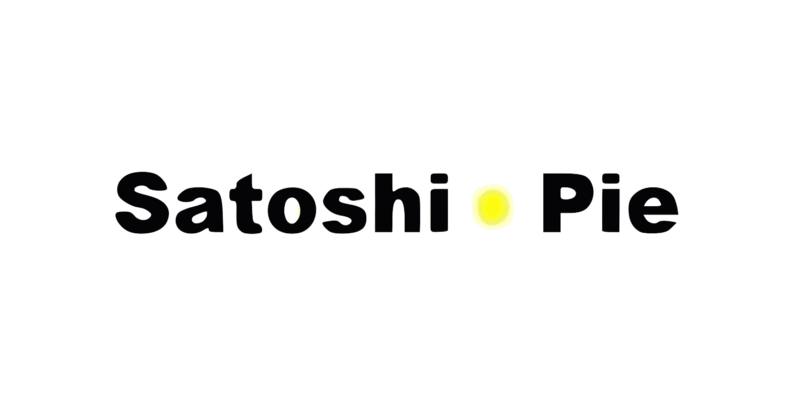 You can get more information on Satoshi • Fund here.
On August, 9, the portfolio structure of Satoshi • Pie was the following:
Bitcoin— 41.17%
Ethereum— 20.28%
EOS— 6.15%
Tezos—  3.72%
Bitcoin Cash—  2.96%
Byteball— 2.04%
DigixDAO— 1.86%
District0x—1.72%
BitShares— 1.45%
Ripple— 1.44%
Bancor— 1.16%
Storj ERC20— 1.10%
Sia— 1.07%
Monero— 1.04%
Cosmos— 0.96%
Golos— 0.91%
Aragon— 0.86%
DAO.Casino— 0.86%
Melonport— 0.86%
Steem— 0.82%
Golem—0.79%
bitCNY— 0.75%
FirstBlood— 0.64%
Wings— 0.57%
MaidSafe— 0.55%
Sonm— 0.55%
Aira— 0.55%
bitUSD— 0.54%
Augur— 0.49%
Aeternity— 0.44%
Dfinity— 0.37%
Factom— 0.35%
WeTrust— 0.32%
Stellar— 0.29%
Qtum— 0.19%
Storj— 0.12%
Ethereum Classic— 0.07%
Other—<0.01%
The total amount of assets under management is 40. Over the past week, the portfolio value grew from $23,805,957 to $26,840,942.
The growth of SPIES price since its inception on May, 09, 2016 is 3258.9% in US dollars and 366.5% in BTC. The portfolio grew from $47,382 to $26,840,942 in this period. The status of the portfolio in real time can be monitored in the fund's profile on cyber • Fund.

The top five portfolio assets contributed 89% to the overall portfolio growth since the latest report on August, 04, 2017. Their share in the portfolio constitutes 74.3%. Due to the resolved uncertainty around SegWit activation and a significant growth of Bitcoin's blockchain throughput, Bitcoin gained 21.1%. The price of Ethereum grew by 31.4%, EOS - 2.9%, Tezos - 21.1%, Bitcoin Cash lost 26.8%. Other assets grew by 7% on average.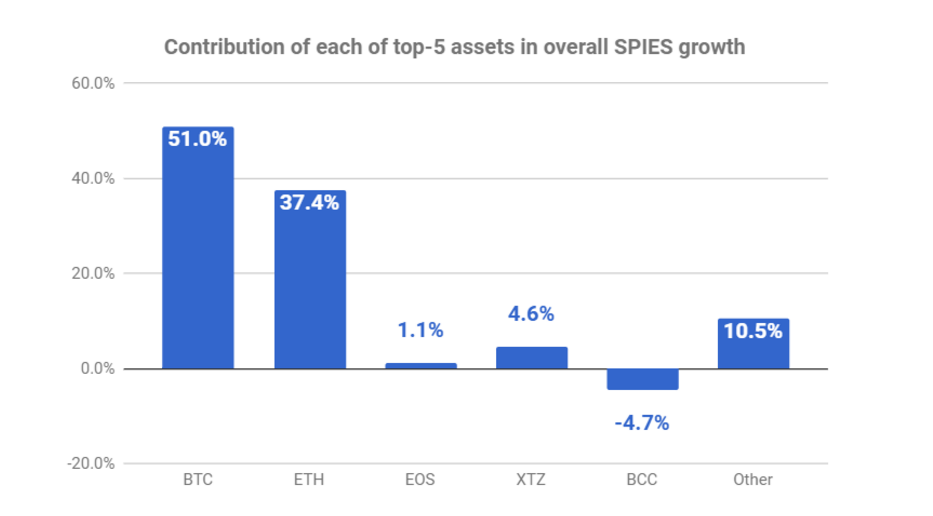 If you want to get more information about Satoshi • Pie or have any questions about the blockchain assets it invests into, please write to cofounders: Konstantin Lomashuk ([email protected]) or Marina Guryeva ([email protected]).
You can also read this article on Medium.