ENSURING DATA SECURITY, DATA SOVEREIGNTY & DATA INTEGRITY WITH ALRE


Image source
It use to be oil companies in the 18th century making the waves globally, because oil was a first choice resource, it was the key to the functionality of economies since without it, economies will shrink. Fast forward to the 21st century, data to the dismay of many is becoming the new oil, it has become the major ingredient for attaining economic prosperity, achieving political relevance (Cambridge analytical), organizations have used data to rake in massive profits with little or nothing to compensate the owners of this data. The current challenge with personal data is that it has become increasingly fragmented in different database, making it easy for the managers of this database to use this data solely for their own need without user consent or compensation. This leaves users with little or no control over their data and even identity.


Image source
Although some countries and continents like Europe have tried making laws like the European general data protection regulation (GDPR) to curb this menace. Unfortunately organizations/corporations are in the business of collating personal data in large volume for analytics and monetary benefits purpose. Thanks to recent case of Cambridge analytical and so many others, users are fast becoming aware of the value of their data and how much fortune they can possibly be making from it. This awareness is growing daily and different data oriented businesses are coming up to leverage on this age of data commercialization. The ALRE project is out to ensure equitability in distribution of profit made from users, it's indeed a new dawn for personal data generators.
ALRE SOLVES THE PROBLEM.
ALRE is all out to ensure the efficient use of data. At the moment every company or organization is only at liberty to store the information provided by it's online users and so it's quite difficult to get a complete and accurate profile for users. Alre is providing lasting Solution to this by providing a unified user data management system. This system gives users for the first time the power, grant, right & consent to dataprenuers. Alre mechanism is top-notch because it also offers a range of application to users. Some tech-savvy minds have even deemed it wise to call the Alre project "next generation bank" probably because it's digital wallet is not only comprehensive but also a vital tool for digitization. Every service provider with their service using token, all valuables will be seamlessly tokenized to operate as Security tokens via data bank sources like real estate, art,stock etc. All transfers/payments will be made using cryptocurrencies as a legal tender.
Alre is poised towards making creating a new and a better standard for evaluation and compatibility with the companies on the Alre platform. Alre will take it upon itself to ensure that it handles new concepts, new technologies and data management so as to enable that user data sovereignty is Sustained within the platform.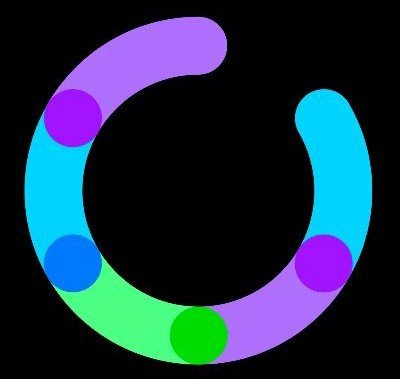 Image source
In other for Alre to attain a 99% success level, it has deemed it necessary to categorize it's market size into namely:
(1) information industry market: Alre will be focused on fulfilling the information banking initiative.
(2) Refugee market: will give life to the creation of a decentralized digital identity (DID) infrastructure using stored data in the information bank. This feature will make easy to also bring unbanked people into the fold of data sovereignty.
FUNCTIONALITY STRUCTURES OF ALRE.
The project Alre is made up of tripartite functionalities:
(1) Information input function: provides interface for users to basic personal information ranging from gender to addresses, this information are gotten from text, blogs, links, social media platforms. The frequency of data input and rate of utilization is directly proportional to the amount of incentive ( token) the user will get. The input feature is design to handle all facets of data complexity & with the incorporation of IoT more user data can be inputted.
(2) The information storage: the key essence of data storage in the data bank is to prevent compromise and then uphold it's integrity. The system will automatically calculate hash values for data & then store it on blockchain. With this, data integrity can be verified.
(3) Information utilization: this feature uses APIs to create a seamless integration of businesses & application with already existing data bank. The ecosystem is responsively designed to accommodate the peculiarities of different technologies.
ARCS TOKEN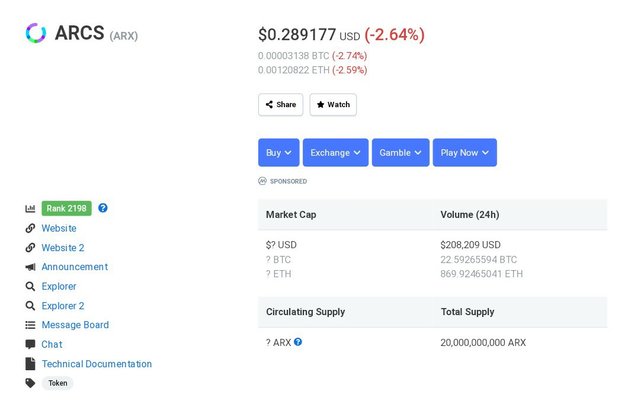 Image source
The image above is screenshot of today's details for ARCS from Coinmarketcap. ARCS (ticker : ARX) is the official token of the ALRE ecosystem and can be held in any wallet that supports ERC-20 token, it's also tradable on exchanges. It will also be used to incentivize users, grants right or entry into Alre service.
You can see various exchanges/markets ARX is traded on the image below or click the coinmarketcap url and go to markets. Here is the coinmarketcap link : https://coinmarketcap.com/currencies/arcs/

TEAM
ALRE has a solid team with great profile and vast knowledge and experience which will foster the project goal attainment. Below is a cross section to preview key team members.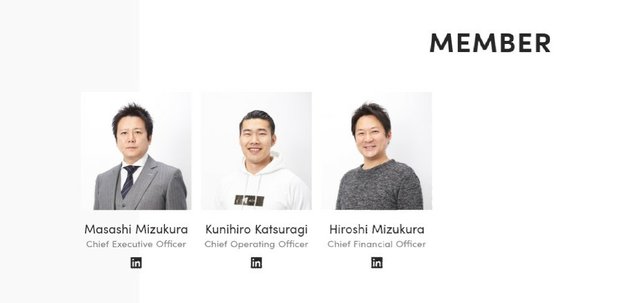 Image source
CONCLUSION
Alre is no doubt a superb ecosystem that is focused on serving as data banks, for data creators and data users. It provides quality functionality for the smooth operation of data banks so as to ensure transaction effectiveness for both individuals & businesses alike. It offers data sovereignty guarantee mechanism using blockchain technology as an underlying infrastructure.
Do check out the links below for more insight on this remarkable project
🌐 Website : https://www.arcs-chain.com/
🗒️ Whitepaper : https://www.arcs-chain.com/whitepaper_en.pdf?v=20191122b
🎯 Telegram : https://t.me/ARCS_ARX_EN
🐦Twitter : https://twitter.com/ARCS_ARX
Medium : https://medium.com/arcs-arx-official
writer's info
Bitcointalk Username : deodivine1
Bitcointalk profile link : https://bitcointalk.org/index.php?action=profile;u=1390292
Proof of authentication : https://bitcointalk.org/index.php?topic=5244177.msg54801111#msg54801111